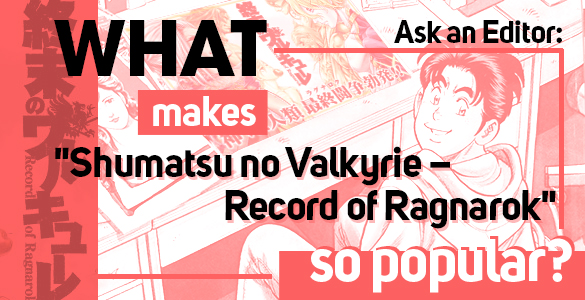 Q: What makes "Shumatsu no Valkyrie – Record of Ragnarok" so popular?
By @Jokerfacex, via Twitter
A battle between "God" versus "Mortal Hero" is a dynamic concept that everyone (especially young people) will understand. The potential for unique and memorable characters throughout myth will catch the reader's attention instantly!
At the close of the first volume, there is a list of characters that were set to appear, which gained a lot of publicity on SNS, particularly Twitter. Ajichika-sensei himself then went onto publishing the first chapter on his Twitter account to much the delight of fans.
Though this is a typical "high octane" action story, it's unusual to see two hugely important characters like Zeus and Adam go up against each other so early in the series! But then that's the strength of "Shumatsu no Valkyrie – Record of Ragnarok".
Additionally, the amazing art of Ajichika-sensei, Shinya Umemura-sensei and Fukui Takumi-sensei make the action feel like it's literally jumping off the page. A solid sign of a great manga!
Thanks!
Suguru Kakishita