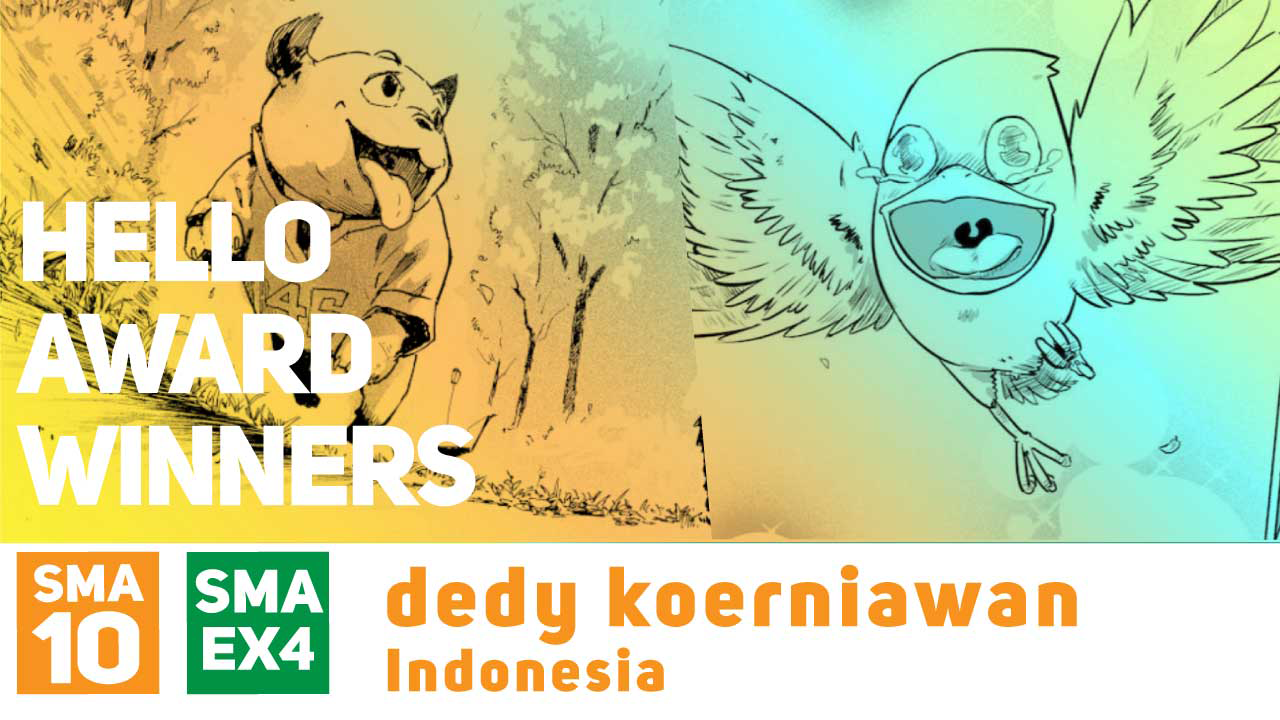 SMA 10 / EX-4 Interview #4 – Dedy Koerniawan
Name: Dedy Koerniawan Soesanto
Age: 25
Country: Indonesia
Favorite manga: Eyeshield 21
Favorite movie: The Harry Potter series
Favorite quote: Live happy, pray, and do not lie.
"…It's true that hard work is a given, but patience is also crucial."
1. How does it feel to win back-to-back SILENT MANGA AUDITION® awards?
Because I've been entering SMA since the 3rd round, it felt like God finally allowed me to win. Going on to win another award for EX-4 right after SMA10 also made me happier than words could ever explain.
2. What were your first impressions of themes for SMA10 (Effort/Friendship/Victory) and EX-4 (Exam & Trial)?
Confused at first! Hahaha! I didn't know what kind of story to do. EX-4 was the toughest for me since I tried out so many ideas, but in the end I went with the crazy story about the birds.
3. What was the inspiration behind your winning work?
I'm not really sure! Hahaha! I think I got the inspiration for "Let's Play" after the weird expression of the dog suddenly came to mind and made me laugh. I think the idea for "First Flight" came about in a similar kinda way too. At first I thought exclusively about human exams, but I couldn't really see where the fun expressions could be found in that kind of situation.
4. What challenges did you face when making your manga? How did you overcome them?
Story telling maybe? I don't feel that I'm a talented artist, so I just keep practicing. Joining SMA since the 3rd round has been a long journey, but it's been very helpful. I think each person has their own way of learning. Personally, I need to watch and learn directly from creators better than me so that I can see how they work and incorporate their techniques. It's true that hard work is a given, but patience is also crucial. Failure, too, holds its own set of lessons. My method might not be the most effective, but one thing's for sure; there's no shortcuts!
5. What did you learn from making your manga? Did you pick up any new skills or techniques?
I learned that expressions are REALLY important! My advice for improving them? Use your own face. Not in public though!
6. How important is entering the SILENT MANGA AUDITION® in relation to your professional goals?
In truth, I join the audition in the hope of winning a trip to Japan. When I dig deeper though, I realize I want to make my parents, friends, and sensei proud of me. Winning two awards in a row has also had an impact on my professional career since more people know now.
7. What advice would you give to people entering the SILENT MANGA AUDITION®?
Keep fighting!
Thank you Dedy!
For those of you that might have missed his award winning entries, click on the banners below to get your fix of lighthearted hijinks!
👇JOIN THE AUDITION TODAY!👇