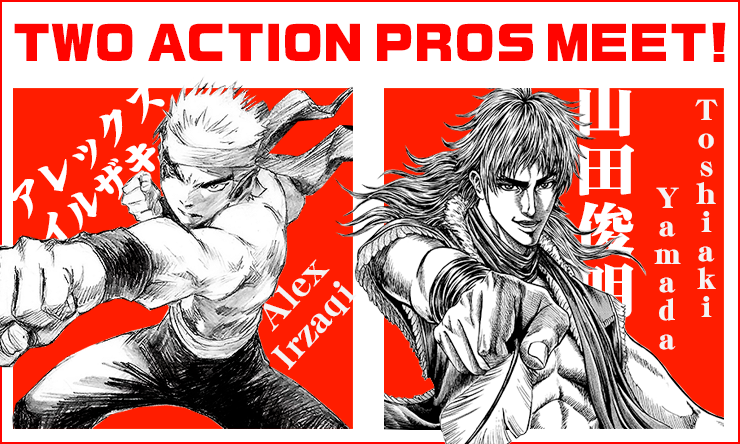 Indonesian SMA Star makes Japanese Debut!
Indonesian "fighting manga" master and long time SILENT MANGA AUDITION® MasterClass alumni, Alex Irzaqi makes his Japanese manga debut!
Alex, the SILENT MANGA AUDITION®'s first ever Grand Prix winner shot to SMA fame with his entry Excuse Me. Impressing the judging panel with his dynamic depiction of speed and emotion, Alex proved the obvious choice to take on the next Zenon Creator Audition…!
Alex's oneshot Hujan di Tepian Rindu, a humorous fighting manga that left readers all over the world entertained, gave us a glimpse of this young Indonesian manga artist's talent for dynamic action.
Click the picture below to read Alex's original OneShot
Building on the back of his success as a "fighting manga" master, Alex was chosen by the Monthly Comic Zenon editorial team to take on a name originally created by Toshiaki Yamada, the manga pro behind Zenon's huge, Hara-sensei influenced historical hit The Tactician of Wind -Kuroda Kanbei – (Gifuu Doudou!! Kaze no Gunshi)!
Hit the banner below to read more about Toshiaki Yamada's work
"I am a long time fan of Yamada-sensei. To me, it is an honour to be selected to recreate a manga name he worked on." Alex says.
Two masters of action manga combine their creative output to give you a story so explosive, you'll have to sit in a dark room for a month! An action packed tale of redemption, where a champion of the oppressed will rise and dish out JUSTICE with a tool bag!
Alex is the third SMA MasterClass member to debut their incredible manga talent to a Japanese audience with our exclusive Zenon Creator Audition! If you are a manga artist who yearns to unleash your work into the Japanese manga market, then join the SILENT MANGA AUDITION® today!
---
Title: 
"Reformer" by Alex Irzaqi
Original Work: 
Toshiaki Yamada
Format:
 Free in digital manga magazine, 
Web Comic Zenyon
Length: 
35 pages
Release date:
 Friday, 13th December 2019
Language:
 Japanese
Hit the banner and learn more about the FIRST Zenon Creator Audition, "Midnight Shadow" by SIDEBURN004
Hit the banner and learn more about the SECOND Zenon Creator Audition, "Joze and the Magical Mansion" by Dedy Koerniawan