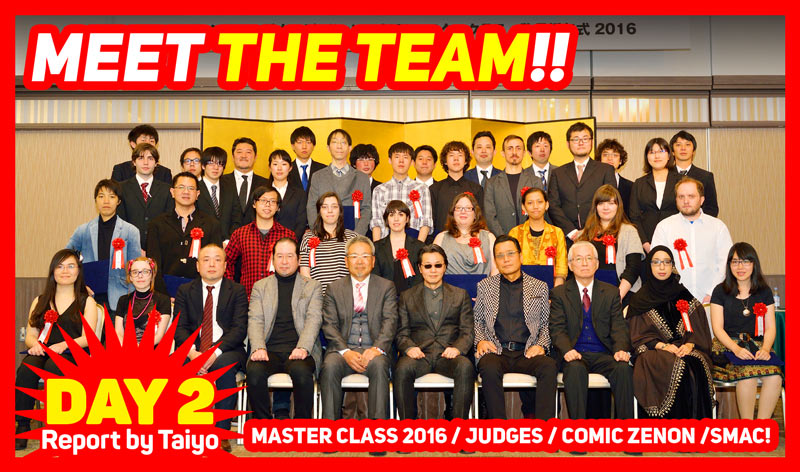 The SMA MASTERCLASS 2016 Special Report Day 2 : The Ceremony + Guest workshop!!!
Today is the big day! When we introduce the new members to the elites. Can't wait! The day begins with guest workshop with Hojo Tsukasa sensei. He joined us out of his busy schedule, to provide the new MASTER  CLASS with a workshop of Manga Panelling "Basics".
The meeting room, in theatre mode! Sensei shared with us, many of his trade secrets! (Some of which even our long term editor didn't know.) Exciting one hour workshop soon ends! It was so fun, felt like 15 mins. 😉 The workshop was exciting, MASTERCLASS 2016 goes for lunch @ Sora Zenon…. Lovely weather today!
Meanwhile, at Kichijoji Dai-ichi hotel… All three sensei, judges are already waiting in the other room… Yes it's time for the MASTER CLASS Certification ceremony 2016! All judges of SILENT MANGA AUDITION are here, and they are happy to see the chosen elites, new members of our manga creation team! After the speech, it's time for everyone to be certified, one by one. ( Our special mentions goes to Inma.R from Spain. Even though she couldn't make it to Japan on this occasion, you are now a proud member of the SMA Master Class! ) Following the ceremony, is our afternoon tea with the sensei! All masterclass can ask our judges, anything and everything 😉
An opportunity like don't come very often. Make it count 😉 But best of the times must come to an end! It has been an exceptional 90 minutes of non-stop manga talk, with legendary creators as guests. Many inspirational talks and tips, details of which are for the masterclass to take home… And the day is too exciting to end here! We moved into CAFE ZENON, for more endless talk of manga in to the night… 🌛