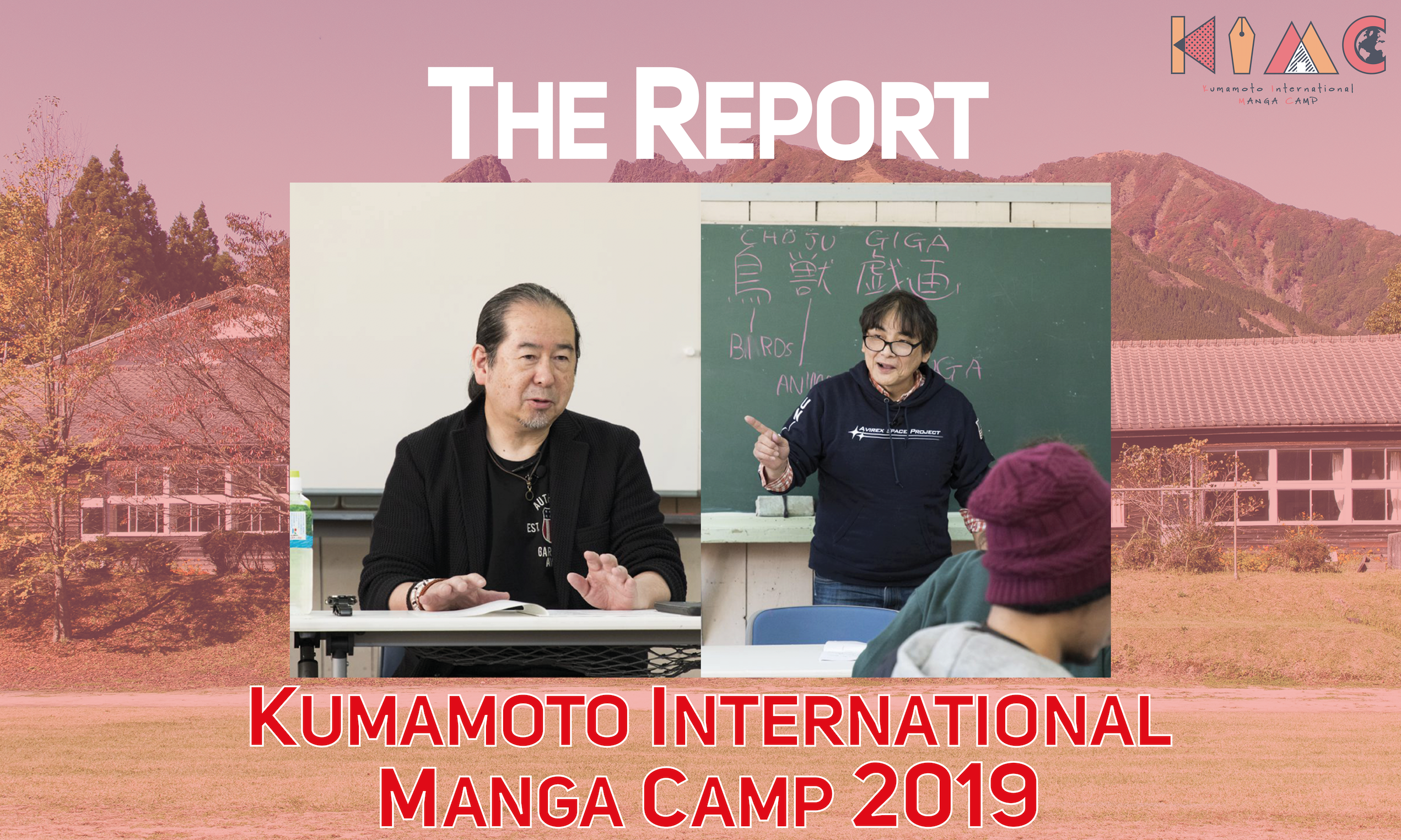 The Kumamoto International Manga Camp 2019 REPORT – Day 4
THE STORY SO FAR …
After an intense day of manga making under the guiding eyes of the Monthly Comic Zenon editors, our international guests have earned a little R&R! So with that in mind, the fourth and final day of the Kumamoto International Manga Camp 2019 offered the opportunity to experience traditional Takamori with guided tours of the region's hidden gems.
As the sun rises, members of the Kumamoto International Manga Camp 2019 gather for an unforgettable experience. Hidden amongst the bows of ancient trees is the ornate and etherial Buddhist temple of Ganzo, where our group will be introduced to the mediative practice of Zazen.
It is said that a visit to the Ganzo temple will ensure a successful future for young people starting out on their careers. What could more apt for our manga making MasterClass and their mission to debut in Japan?!
The head monk introduces himself and gives our rapt guests a brief explanation about the Zazen meditation method. Adopting the "lotus" position, the international manga artists place both hands on knees, palms down, and form a circle with their thumb and forefinger before gently swaying. With this calming motion, one can eventually the reach incredibly calming levels of enlightenment.
But be careful not enjoy the calming sensations too much, for any monk found snoozing is in for a short, sharp wakeup call! With a brief demonstration involving a large stick and willing volunteers, it's time to bid farewell to our holy hosts and set out on a mission of discovery.
Splitting into groups, our guests are offered the chance to experience three of Takamori's thriving industries…
The first group visits a Tatami manufacturer. Made from soft rush straw, the Tatami has been used to cover the floors of traditional Japanese homes since before the Heian period (794 to 1185). Fascinated by the ancient process of creating these traditional floor coverings, the business owner ensures we never forget our visit by gifting us some beautiful samples of decorative Tatami. ありがとう!!
With time to spare before lunch, the group then made their way to a bookshop where our manga artists pored over the inexhaustive selection of manga for sale. 
The second group embarks on a much more tastier experience, with a visit to Takamori's celebrated Miso and Soy Sauce factory!
Miso, a traditional seasoning produced by fermenting soybeans with salt and kōji is a staple addition to most Japanese dishes. But perhaps an even more popular condiment is Soy Sauce, made from fermented paste of soybeans, roasted grain, brine, and Aspergillus oryzae. The factory, where both of these delicious Japanese delicacies are produced use methods that have hardly changed for hundreds of years. 
With pots of miso soup greedily sampled, the owner of this delightful factory surprises us with Soy Sauce flavored ice cream! (Believe us, it was much tastier than it sounds!)
Have you ever seen inside a Miso factory? Enjoy this magical place by clicking on the pictures below…
The third group experience a more modern take on Japan with a visit to a pachinko parlor followed by a guided tour of Japan's national tipple… sake! 
Originally built as a children's toy in the 1920's as a take on the pinball machine, Pachinko has a more adult fanbase today thanks to its "jackpot" feature. Modern Pachinko machines feature short anime sequences to enhance the gambling experience, which instantly piqued the interest of our anime loving guests! Escaping the deafening din of the Pachinko Parlor, the group delved into Japan's "partying" past with a visit to a Sake brewery. The origins of sake are lost to the mists of time, with the earliest mention being attributed to the 3rd century Chinese text 
Records of the Three Kingdoms
with a reference to the Japanese "drinking and dancing".  Made from fermented rice (rice wine), the process is more akin to brewing beer than wine making. Whatever sake's origins or brewing process,  our international guests all agreed on one thing… sake is tasty!
Fresh from their traditionally merry (looking at you "sake" group!) experiences, our guests regroup for an unforgettably "festive" lunch!
A "Matsuri" festival is a traditional celebration attributed to the rice paddy harvest. With games including Goldfish scooping (or in this case, rubber ball scooping) and shooting galleries, the festival is a yearly highlight for children and adults alike.
With fresh bento boxes (lunch box) handed out to our hungry guests, the wonderful people of Takamori guide the manga artists on a whistle stop tour of their mini-Matsuri!
Even Tsugihara sensei has joined the party (Wonder if he's thinking about his editor with that determined look in his aiming eye??)
With the festive morning over with, its time to get back into the classroom and learn more about the wonderful medium of manga!
This time, we take a look at idea generation with Tsugihara sensei and the origins of manga and its impact on how we create pages today with Tomizawa sensei. Paper and pens at the ready, our students of manga settle into their seats and begin an invaluable learning experience.
NOTE: Due to the highly secretive nature of manga making, we can only show you a couple of snapshots from these exclusive lessons!
"What I will try to explain you today, is how to generate a manga-style idea… It all begins with a beautiful lie…"
"Did you know that our eyes automatically follow the panel layout you create? Let's try to create a very easy to follow page of manga today!"
To benefit from the wisest of words from these two manga masters, join the MasterClass through the SMA! But in the meantime, please check out the gallery for a little taste of what the SMA MasterClass has to offer.
And with those final lessons over, the 2019 Kumamoto International Manga Camp comes to a close. But thankfully, the fun is just starting with a spectacular BBQ and entertainment from the incredibly talented students of the Takamori High School!
With stands offering sizzling meats, fish, vegetables and drinks, not to mention the ever present rice and noodle dishes, our international guests settle in for the entertainment. First is the incredible sound of the High School band playing every anime hit you can imagine, followed by a death defying display of martial arts thanks to the Kendo Club!
What an incredible send off from the welcoming people of Takamori!
So that's the last KIMC 2019 Report… or is it?? Join us next week for Report 5, where we leave the picturesque surroundings of Takamori and head to the big city of Kumamoto, including a visit to the COAMIX Inc. Kumamoto Manga LAB!!

Don't miss it!