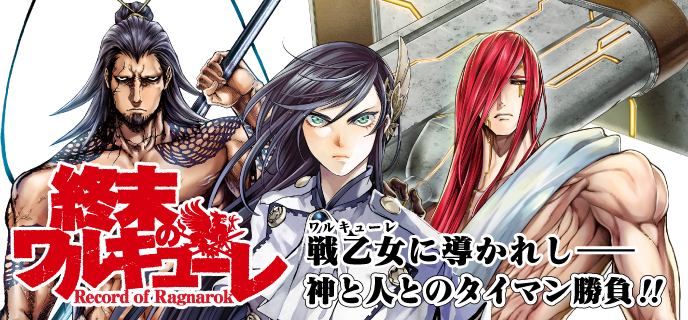 MANGAKA SPOTLIGHT Q&A: AZYCHIKA
"I do love Marvel, by the way."
We sent out the call for questions and you didn't disappoint! We chose 5 of the best, from how to draw epic battle scenes to work in a team of creative. So without further ado, we are pleased to bring you…
AZYCHIKA-sensei
!
QUESTION 1: Hello sensei, how do you create epic battle scenes, while still being able to credibly show the personalities and emotions of the characters? 
The panels tend to be very "noisy" during big battle scenes, so I make a real effort to increase the contrast between black and white around the eyes, fists and other areas to give the impression of strength. This technique also draws the reader's eye into the action. 
QUESTION 2: In Shuumatsu no Valkyrie, you have designed your own version of familiar gods that reflect the cultural origins. How did you approach redesigning such well known and recognized figures from mythology? Were you tempted by the designs from other comics, like Marvel's Thor for example? 
To be honest, I didn't see many works involving gods when I began designing the characters. My main inspiration came from gangster comics or famous actors, so sources very far removed from the subject matter of the manga. I do love Marvel, by the way. 
QUESTION 3: Which character so far did you have most fun drawing?
Jack the Ripper. I had a lot of fun drawing him because of the huge range of expressions he has. I put in a lot of effort when initially designing Jack the Ripper, which turned into sheer joy by the time I was finishing up his appearance. His scenes are just so stylish! 
QUESTION 4: What was your first reaction to the concept of Shuumatsu no Valkyrie? A tournament between gods and humans, where they fight to the death even though they don't know each other. 
The writer and editors initially came up with and developed the concept, then they approached me. It seemed there would be a lot of elements to pay attention to, but after reviewing the concept, I knew it would be a very interesting project. 
QUESTION 5: What are the benefits of working as part of a team involving a writer, a name artist and of course an editor? What challanges when trying to keep everyone happy?
The more people involved in making a manga, the more ideas you have. It's difficult for one person to come up with a lot of ideas, so I think this collaboration of ideas is the best part. As the artist, my goal is to use these ideas and create visuals that will surprise people. I always strive to create something that will exceed expectations.