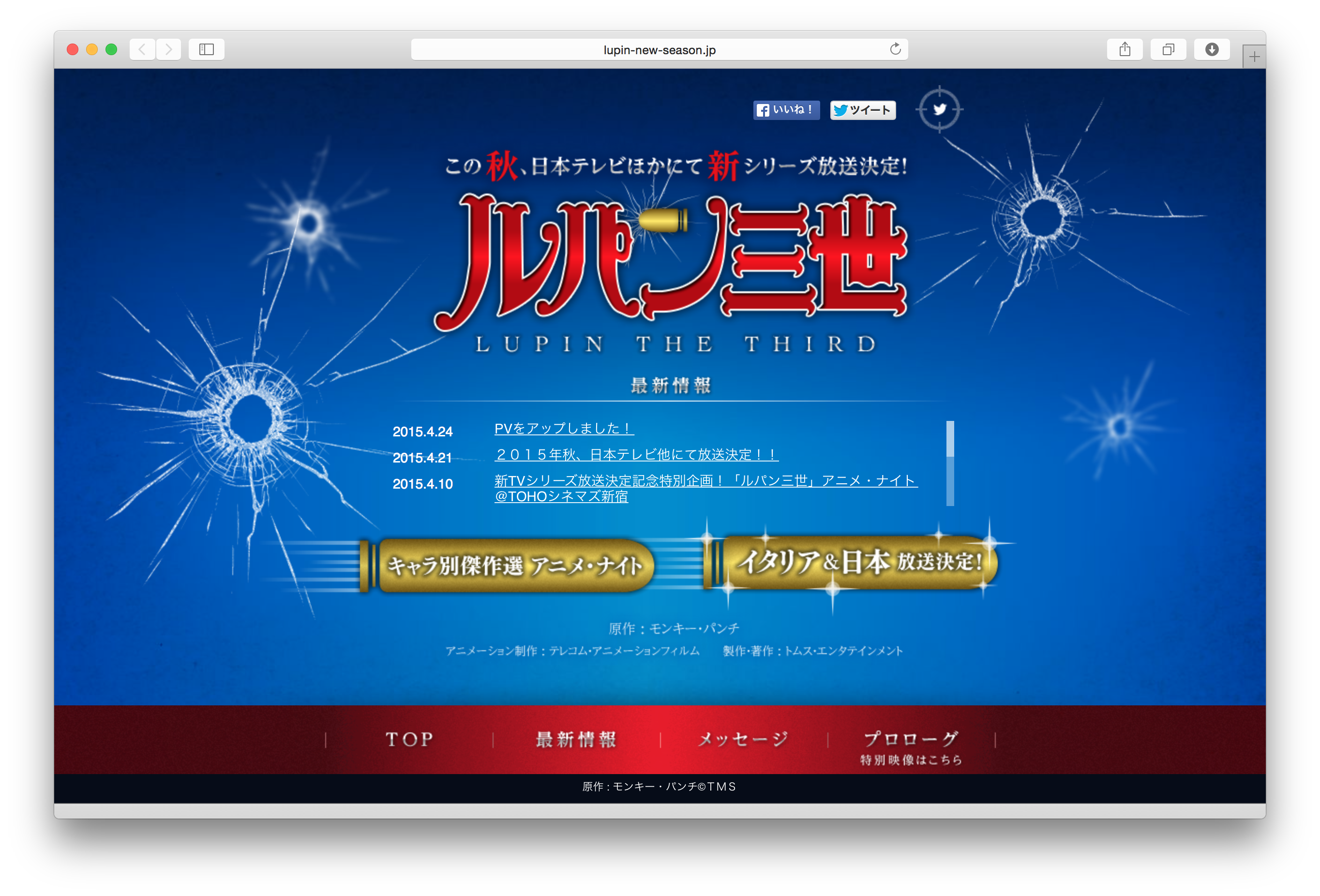 LUPIN the 3rd – A New TV Series after 30 years!
LUPIN the Third
– A New TV Series after 30 years! The new
Lupin the Third
TV series, which was announced in October last year at the MIPCOM Trade Fair held in Cannes, will be broadcast in Italy starting this month. This is the first new series since
Lupin the Third
Part 3 was broadcast from 1984 to 1985.
Lupin the Third
's official website
http://lupin-new-season.jp/
Since the end of
Lupin the Third
Part 3, there have been several theatrical films, TV specials, and the spin-off series
LUPIN the Third: The Woman Called Fujiko Mine.
Last year also saw the release of a live action film. However, this is the first pure TV series in 30 years. The catch phrase "The Greatest Thief Under the Sun, The Beginning of a New Chapter in the History of LUPIN the Third" gave me goosebumps! The original
Lupin the Third
was written by Monkey Punch in 1967 and began serialization in the first issue of a magazine called Weekly Manga Action. Having been strongly influenced by American comics, this stylish work received great critical acclaim and in 1971 was made into an anime. It became a household name in Japan from there, its popularity spread overseas. The pen name "Monkey Punch" was given to the author by his editor. They wanted to keep the author's nationality vague in an attempt to generate publicity. Of course, the author's real name is Kazuhito Kato so he's definitely Japanese. In an interview with Monkey Punch last year, he was asked the reason why
Lupin the Third
was able to achieve worldwide popularity and keep going for almost half a century. His response: "Lupin is a great character because he can be adapted for any era. Each person who has worked with him has had their own idea of what he is about, and I gave those creators free rein to do as they please. This is the key to keeping a series running for a long time." I can't wait to see what kind of mischief Lupin and his gang will get up to in the Italian peninsula! – Korosuke Narasaki
Editor's note: Lupin the Third is a manga about the world's greatest thief, inspired by the fictional French gentleman thief Ars
è
ne Lupin, created by Maurice Leblanc. The author combined elements of Arsène Lupin and James Bond, making a suave, care-free sort of character.
I thought that the author hiding his nationality to help promote his manga was really interesting! What do you think of that strategy? Would you pretend to be Japanese if you thought it would help you manga sell? Please leave your comments below!