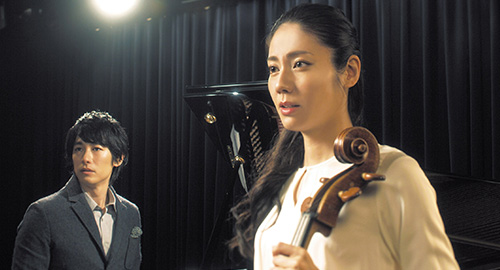 JAPANESE FILM ICONS TO STAR IN "SILENT MANGA AUDITION®" MOVIE!
The main cast of the first Silent Manga movie project, directed by Tsukasa Hojo to include Japanese movie stars Nao Matsushita and Dean Fujioka.
The live-action movie Angel Sign, the directorial debut of City Hunter and Cat's ❤︎ Eye creator Tsukasa Hojo, is a cinematic adaptation of SILENT MANGA AUDITION's® award winning entries from Asia, Europe and South America. Featuring five individual stories, selected from 7000 international Silent manga entries, the movie is a feature length anthology bookended by two original works penned by Tsukasa Hojo himself.
With a "Prologue" and "Epilogue" written and directed by Hojo, each Silent Manga vignette is inextricably linked to form a heart warming whole. The lead cast for the "Prologue" and "Epilogue" features Nao Matsushita, an actress and accomplished musician who performs all over Japan and Asia, and celebrated actor Dean Fujioka.
"Matsushita plays the role of Aika, a cellist, with Fujioka starring opposite as Takaya, a pianist."
The two talented actors play a young couple chasing their shared dream of performing music on the world stage.
"The first thing that surprised me when I received the script, was that it was a storyboard without  any dialogue. What's more, I was really impressed to see that the storyboard was drawn entirely by Hojo-sensei himself!  Shooting the movie required a great deal of concentration for me since I have never acted in a silent film, nor have I played the cello before. Since the film has no dialogue, Dean and I would work together in expressing our feelings in each scene, which created the perfect level of tension between us. Regardless of where you're from or which language you speak, the feelings of the protagonist will be easily understood by everyone. Being on the set of this movie really made me feel this. Along with the beautiful music, I hope this movie is one that brings joy to all who see it."
Nao Matsushita (Aika)
"Hojo-sensei looks really great in sunglasses! Come to think of it, the only people who can make sitting in the directors chair while wearing sunglasses look cool, are probably Wong Kar-wai or Hojo-sensei! (laughs).
Despite his hard-boiled image, he was unimaginably kind and allowed us a great deal of freedom on set. I'm pretty sure most guys from my generation grew up dreaming of becoming Ryo Saeba, so having the opportunity to work with Hojo-sensei was a tremendous honor for me."
Dean Fujioka (Takaya)
Be sure to pay close attention to each of their silent performances as they tell their story under the close direction of Tsukasa Hojo.