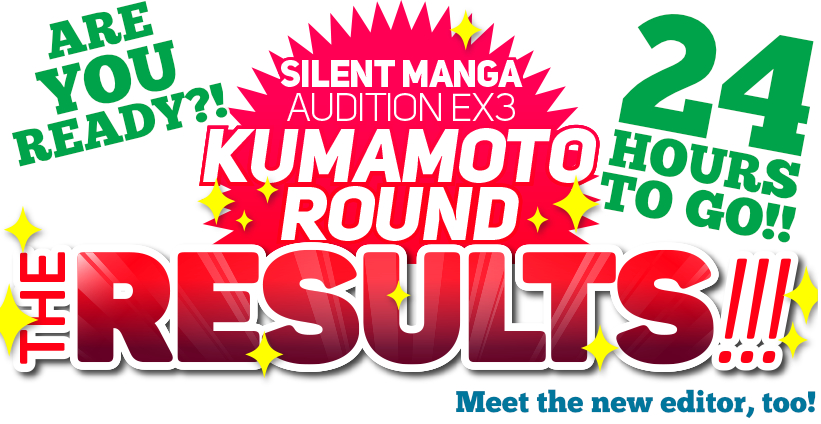 ONE day to go!! SMA EX3 Results announcement & A NEW editor joins the team!!
Come one, come all for we are now only 24 HOURS away from the moment you are all waiting for; the announcement of the SMA EX3 RESULTS!!
We have enjoyed reading your amazing entries for our Kumamoto round, and were really impressed by everyone's interpretation of WASAMON! However, the time is almost upon us to reveal the works that we feel best represented the theme! That's right folks, it's time to set those alarm clocks because
TOMORROW at 13:00 (JST)
we will be making our grand announcement right here on the main site! Also, as we're sure many of you may know, we are on the cusp of hosting a huge International Manga Festival & Manga Camp in Kumamoto over the coming week and will be sharing lots of photo's and reports both here and via usual SNS channels! It will be a grand event for sure, so be sure to tune in both tomorrow and beyond to get a real taste of how we are bringing together the global manga creating community in sunny Kyushu! Wait, where are you going? There's more!! That's right, the SMAC! editorial team has grown yet again with the addition of it's newest member, Ken! We're sure you're gonna love working with him since he's a super friendly guy (don't let the photo fool you, he's not nearly as tough he makes himself out to be!) so, without further ado, lets say hello to the man himself! Take it away, Ken!!
Ken "Dene" Yoshii

From Tokyo, Japan

My first encounter with anime/manga was Mobile Suit Gundam and Galaxy Express 999, which I ritually watched every morning before leaving for kindergarten! It wasn't long before I came across Urusei Yatsura, where I first fell in love with Lum, not to mention Hokuto no Ken, Dragon Ball, and Lupin the Third. My first manga memories began with Kinnikuman, but my prized collection suddenly vanished after being told to study by my mother when I was ten! (sob!)

Returning to Japan after graduating from university in the U.S., I worked for several years here in Tokyo within the media industry, and was involved in many broadcasts and productions.During that time, I had a strong inclination towards reading samurai-themed manga such as Vagabond and Hyogemono, as well as revisiting old favorites like Akira, City Hunter, and the classics by Osamu Tezuka. Today, I'm excited to join the SMAC! editorial team and look forward to further integrate my experience in media, as well as sate my insatiable appetite for entertainment!

Favorite manga: Akira, Hana no Keiji, The Laughing Salesman, Golgo 13.

Favorite anime: Paprika, Spirited Away, Lupin the Third

Favorite film directors: Kusturica, Jodorowski, Almodóvar, Kore-eda, Kurosawa

Favorite musician: Hiromi Uehara, Soil and Pimp Sessions

Favorite manga quote:"I shall fulfill the gap in your mind… and of course, I shall receive no payment at all" – The Laughing Salesman
Since you're here, why not say hello to the other editors in the team by clicking on their fancy looking photos below?
SEE YOU TOMORROW AT 13:00!!