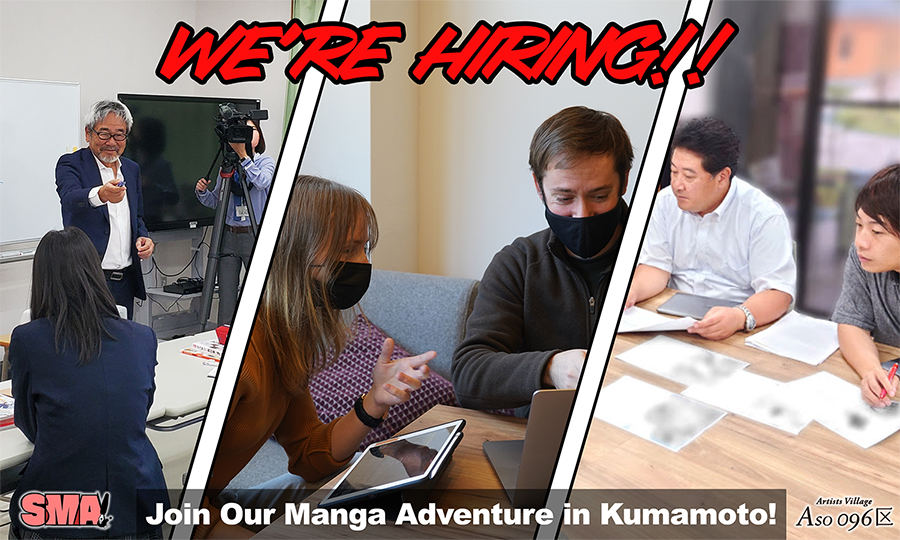 WE'RE HIRING!! Join Our Manga Adventure in Kumamoto!
If you're as passionate about manga as we are, you're in for a treat! We're on the lookout for dynamic individuals to join our international team at our manga publishing company's branch in the picturesque Takamori Town, nestled in the heart of Aso, Kumamoto. This is more than just a job; it's a chance to become part of a worldwide Manga phenomenon!
Our mission at Kumamoto
At our Kumamoto branch, you'll be taking on a role that transcends borders and cultures. As part of our global initiatives, you'll have the incredible opportunity to manage and develop international manga competitions, collaborate with talented manga creators, and delve into Kumamoto's culinary and cultural landscapes.
But here's the exciting twist: it's not just about manga. We're on a mission to explore and showcase the rich, diverse offerings of Kumamoto, from its delectable cuisine to its cultural treasures. Your job is not just a desk job; it's a passport to an adventure that brings manga, food, culture, and creativity together!
Nurturing Tomorrow's Manga Stars
One of the gems of our mission is to support rising talents in the manga industry. We're connecting international manga creators with the scenic landscapes of Kumamoto, and we're backing manga courses at Takamori High School. So, if you're keen on seeing the next manga superstars rise to fame, you're in the right place!
As you immerse yourself in the world of manga-making, you'll be the guiding hand for our talented artists as an editor, working closely with them to help bring their incredible stories to life. Your creativity will play a pivotal role in shaping the next big manga hits!
Your Visa to an International Career
Worried about visas? Don't be! We offer visa sponsorship to the right candidate, so you can focus on your passion for manga, without any hassles.
The Ideal Candidate
To succeed in this exciting role, you should be an excellent communicator who can effortlessly switch between English and Japanese. You'll need to be eager to learn new terminologies daily to support Manga artists to the best of your abilities. Familiarity with social media and its ever-evolving trends is a huge plus.
In addition, being a team player with fantastic interpersonal skills is a must. Your passion for manga and anime will be your driving force, and your critical eye for the latest news in the world of entertainment will set you apart. Adaptability is key, as you'll be part of a dynamic editorial department with a bold mission.
A Day in the Office
As a part of the world's biggest manga competition, the SILENT MANGA AUDITION® (SMA), your day-to-day responsibilities will include:
・Curating engaging updates for social media and engaging with our international followers.
・Expanding the reach of SMA to new audiences worldwide.
Building trust and fostering strong relationships with both international and Japanese creators.
・Crafting and editing articles with the support of your brilliant editorial team.
・Immersing yourself in manga and international trends to bring fresh, innovative ideas to the manga creators you'll collaborate with.
・Developing a profound understanding of our users, the market, and our company's mission.
Required Skills & Certifications
To step into this exciting role, you'll need:
・Exceptional written and spoken English, and it's a bonus if you have experience in the publishing or social media sectors in English-speaking markets.
・Proficiency in Japanese equivalent to JLPT N2.
・A Japanese Ordinary Vehicle Driver's License, if possible.


In this picturesque corner of Japan, the world of manga awaits your passion, skills, and creativity. If you're eager to embark on an international manga adventure in Kumamoto and beyond, then we'd love to hear from you. Let's create manga magic together! Join us and be part of the future of manga storytelling, right here in Takamori Town!
SEND US YOUR ENGLISH AND JAPANESE RESUME AT THIS EMAIL: smac@coamix.co.jp