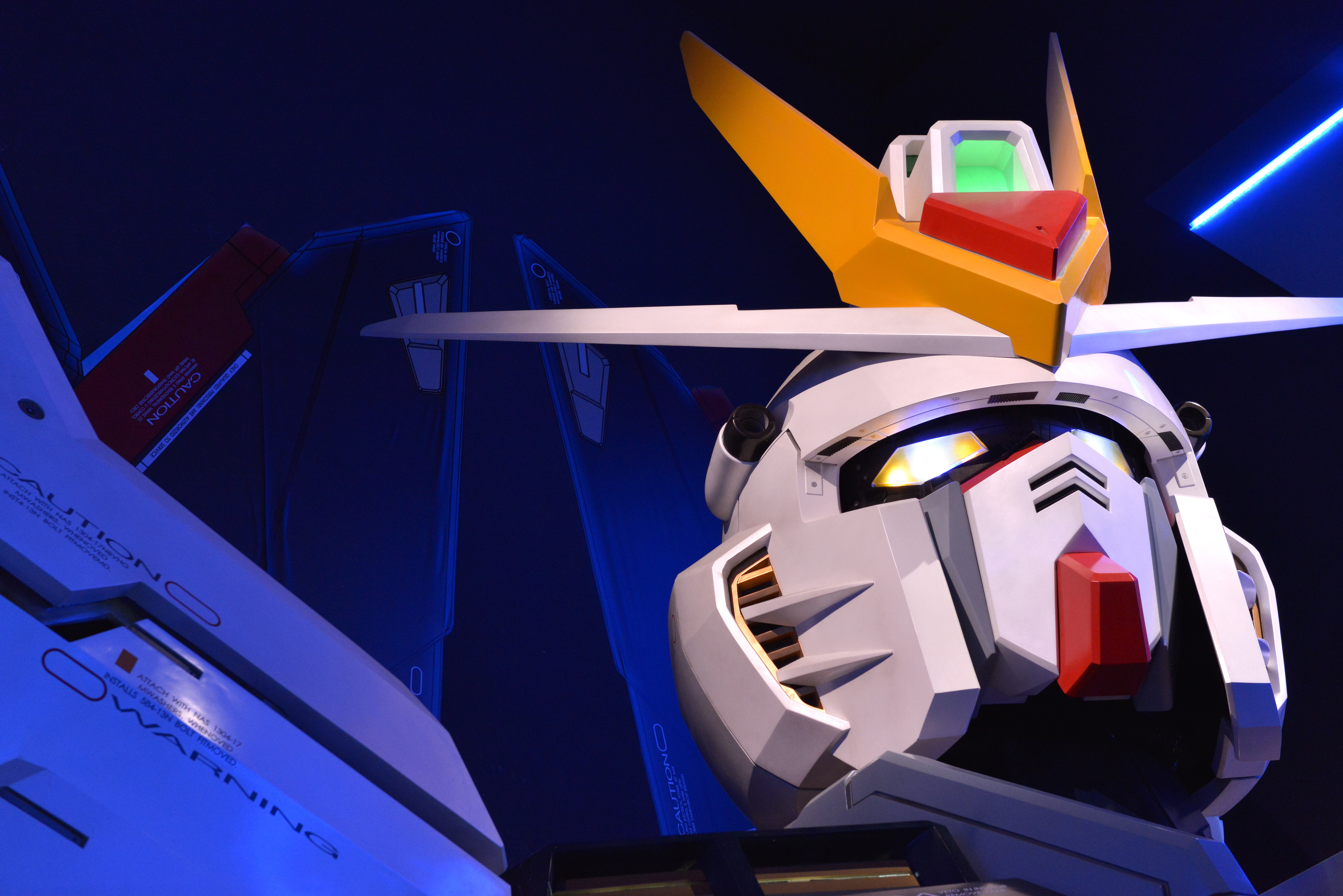 TOKYO MANGA DEEP WALKER #011
The hottest places in the Manga & Anime industry, brought to you by the SMAC! News Team… This is TOKYO MANGA DEEP WALKER!
Mobile Suit Gundam
… a series that's known and loved around the world. But did you know that we have several Gundam-themed spots in Tokyo? Today, we're going to be introducing one of Tokyo's most popular tourist destinations:
Gundam Front Tokyo
!! We want to report the charm of this location to the people of the world, so we're heading there right now!
We've arrived at the nearest station: Tokyo Teleport!
The closest exit is Exit B!
This is also the closest station to Odaiba, another major tourist spot in Tokyo!
Go straight for a while, and eventually you'll see this staircase.
Go up the stairs…
Then turn left…
Now go down these stairs and… BAM!!
There it is! Our destination:
The Diver City Tokyo Plaza.
This is a giant shopping mall, with everything from fashion to food crammed into its corridors. And on the 7th floor, we'll find Gundam Front Tokyo!!
Come on, let's take the escalators up to the 7th floor…
I see a Gundam orbiting overhead! This is our destination for today's report! A huge space-age looking gate greets visitors. But just as we're about to go in, Dai runs to the loo… tsk tsk.
However, in the bathrooms, we made an interesting discovery!
There are pictures of popular characters, and famous lines from the anime on the walls!!
Can you believe it? They're even catering to the fans inside the toilets!!
After buying a ticket, you can enter the "pay zone" area. Inside, the first area that you see is the
Front Lane
!! Along the walls are portraits of popular mobile suits!
And if you walk a little, and then look back… There's a giant Wing Gundam staring right back at you! It's almost like trick art!! There's so much detail in the art here, it almost looks alive! If you come for a visit, please don't miss this!! Leaving the Front Lane, we entered the
Experience Field
, which has various attractions designed to delight visitors! The first thing that jumped out at us was…
H-hey, that's
Abaoaqu
!! Yes, this is Abaoaqu, a space fortress which featured in the final battle scene of
Mobile Suit Gundam
. This approximately 1/7500 scale model is 4.5m high by 3m wide, so you can just imagine how large the real thing would be!
And look at that! You can even see the attack on White Base, and the ensuring mobile suits battle! This exhibition space includes many more things which will leave hardcore fans watering at the mouth!
This is the
1/1 Core Fighter Ver. GFT
 from
Mobile Suit Gundam's
moving finale, revised and refreshed with new decals and LED lighting, especially for Gundam Front Tokyo!
The cockpit is extremely realistic! You can even see a piloting manual on the floor!! It's that kind of attention to detail that really makes it exciting!
For a second, we thought it was the real thing!! Oh my, what is Dai looking at…?
This is the
Archive Counter.
It's a table-style archive machine, loaded with images and keywords from the Gundam Series. Simply touch something, and you can pull up a file on it. The intuitive controls make it great entertainment!
For example, if you touch the "red" keyword, all the red units or characters wearing red uniforms pop up. This terminal has a huge amount of information about the characters and suits, so it's a lot of fun fishing for the information that you want! This time, Dai makes a discovery!! This is the
character photo spot
. You can choose any two characters you like, and then take digital photos with them!
You can select characters from any of the series, from
Mobile Suit Gundam
, right up to and including the final series
Gundam Build Fighters.
 And as you can see, they're life-sized! W… what's this!?
RG1/1 ZGMF-X20A Strike Freedom Gundam Ver.GFT
It's the torso of a giant Gundam!? This is a recreation of the main mobile suit from Gundam Seed Destiny:
Strike Freedom Gundam
! What a sweet scene!!
With a 1/1 scale, it feels really intense!! Having enjoyed the Experience Field to its fullest, we made our way to the
GunPla Factory
(Translator's note: GunPla = Gundam Plastic Models. Assembling and painting these models is a popular hobby!)
This zone, which was renovated in 2015, features exhibits that you can both see and touch. Here you can also see and experience the processes and technology that the Bandai Hobby Center uses to create plastic Gundams!
Dai, drinking in the scene. He has never see the actual molds and machines used to create Gundam models before! After tearing ourselves away from the exhibits in the GunPla Factory, we slowly make our way back to the free area… We've left the "pay zone", but we're not nearly finished! There's still loads more Gundam goodies and sights to see! In fact, there's so much that we want to show you, we're going to have to continue next time! Please check out the follow-up article on  7/2! ↓↓↓ Missed our past artcles? Read them all below! ↓↓↓
■Gundam Front Tokyo■
 Official Site
Ticket booked in advance: Adults, university students, high school students: 1000 yen. Middle school students, elementary school students: 800 yen. Ticket sold at the gate: Adults, university students, high school students: 1200 yen. Middle school students, elementary school students: 1000 yen. ※Infants and toddlers admitted free ※Up to 5 tickets may be reserved by one person. ※ID may be required for middle school / elementary school student discount. ※Depending on the amount of bookings, tickets may not be sold at the gate.
Pay Zone: 10:00 – 19:00 (last admission18:00) Weekdays: Free time system Weekends and holidays: 3 hour system ※1 hour system during busy periods such as Golden Week or the Obon holidays. Free Zone: 10:00 – 21:00
Address: 1-10 Aomi 1-chome, Koto-ku, Tokyo
Link
to English google maps (c) SOTSU・SUNRISE Photographer: Yoshio Kobayashi