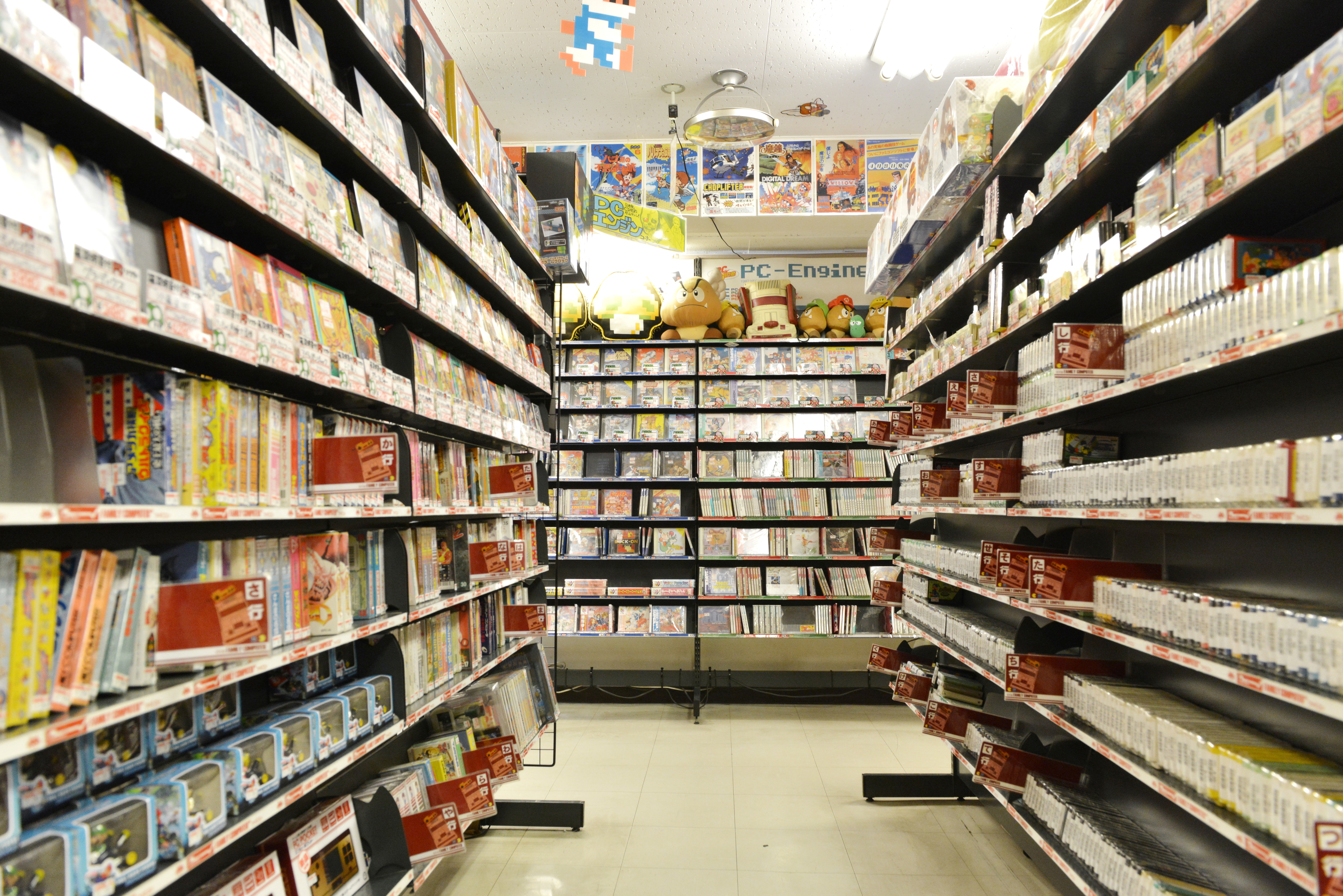 TOKYO MANGA DEEP WALKER #014
The hottest places in the Manga & Anime industry, brought to you by the SMAC! News Team… This is TOKYO MANGA DEEP WALKER!
Diving into Akihabara for round 2! This week, we're introducing a popular spot that's frequented by tourists and gaming enthusiasts alike! Without further ado, let's take a look!
The store that we're visiting today is none other than the
Super Potato Akihabara Branch
!!
This is it! The 3rd floor of this building is Super Potato!
The store that we're about to enter is a games store… but not just any games store! This is a specialty store that deals exclusively in retro games!! What treasures of the past will we discover?
We've just stepped in the door, and we've already spotted some visitors from another country!!
The amount of software in this store is absolutely breathtaking!! So many classics that I played in my youth!
Pokémon, Kirby 
and others that you just don't see anymore!
And they also have the hardware!! There are loads of items that you just can't get hold of these days. This shop is definitely worth visiting if you're a collector!!
This store attracts customers from all over the world! While gathering material for this article, we saw many tourists browsing and purchasing game software.
Here's a commemorative shot with some English visitors! These two lovebirds were having fun looking at all the games here!
And Super Potato is not just limited to games! It also has a huge selection of character goods! Nintendo's goods are especially popular!!
Iconic game characters like 
Pokémon
and
Mario
have become house-hold names all over the world!! Surrounded by all these lovely goods, it's almost like returning to one's childhood!
Ah! And look who we've bumped into here! It's Kenshiro!
They also have
Fist of the North Star
games!! Besides having anime & manga versions,
Fist of the North Star
 also has quite a few video games behind its name! In Japan, it's not uncommon for a popular manga series to get made into a game. They even have a
Fist of the North Star
game for the old NES system… I'd love to try that!
There's nothing like playing as your favorite manga hero! As such, games made from manga are a core genre here in Japan. Here we have the gold cartridge editions of 
Obake no Q-taro
and
Kinnikuman
! These are super rare, limited edition goods, with a value of over 1 million yen!!
We had great fun here but… it seems that we've come to the end of Super Potato…
But wait… where do these super retro stairs lead? Actually, there's a wonderful surprise waiting at the top!!
There's a game center above the games shop!! The young couple that we took a photo with earlier are already engrossed in a game here!!
This retro games center on the 5th floor of Super Potato has actually been nominated for "coolest game center in the world"!
As a retro game center, it's full of machines that you won't find in any normal arcade! It's a treasure trove of super rare games!
Street Fighter!!
  Wait… what's this note pasted on the machine… ?
Command input for the HADO-KEN written in English! That is most thoughtful of management! You can see that this store is popular with people from other countries!!
Last but not least, a photo with the store's giant Mario! Super Potato… a hot spot that's worth visiting! Even if you're not a gamer, it's still a fun place to check out. Be sure to drop by if you're in Akihabara!
Super Potato Akihabara Branch "Retro-Hall"
Official Site
1-11-2 Sotokanda, Chiyoda-ku, Tokyo Kitabayashi building 3F/4F/5F 101-0021 Business hours: 11:00 – 20:00 (open all year round!) Weekends & holidays: 10:00 -20:00 Telephone number:  03-5289-9933
Link
 to English google maps Photographer: Yoshio Kobayashi ↓↓↓ Missed our past articles? Read them all below! ↓↓↓