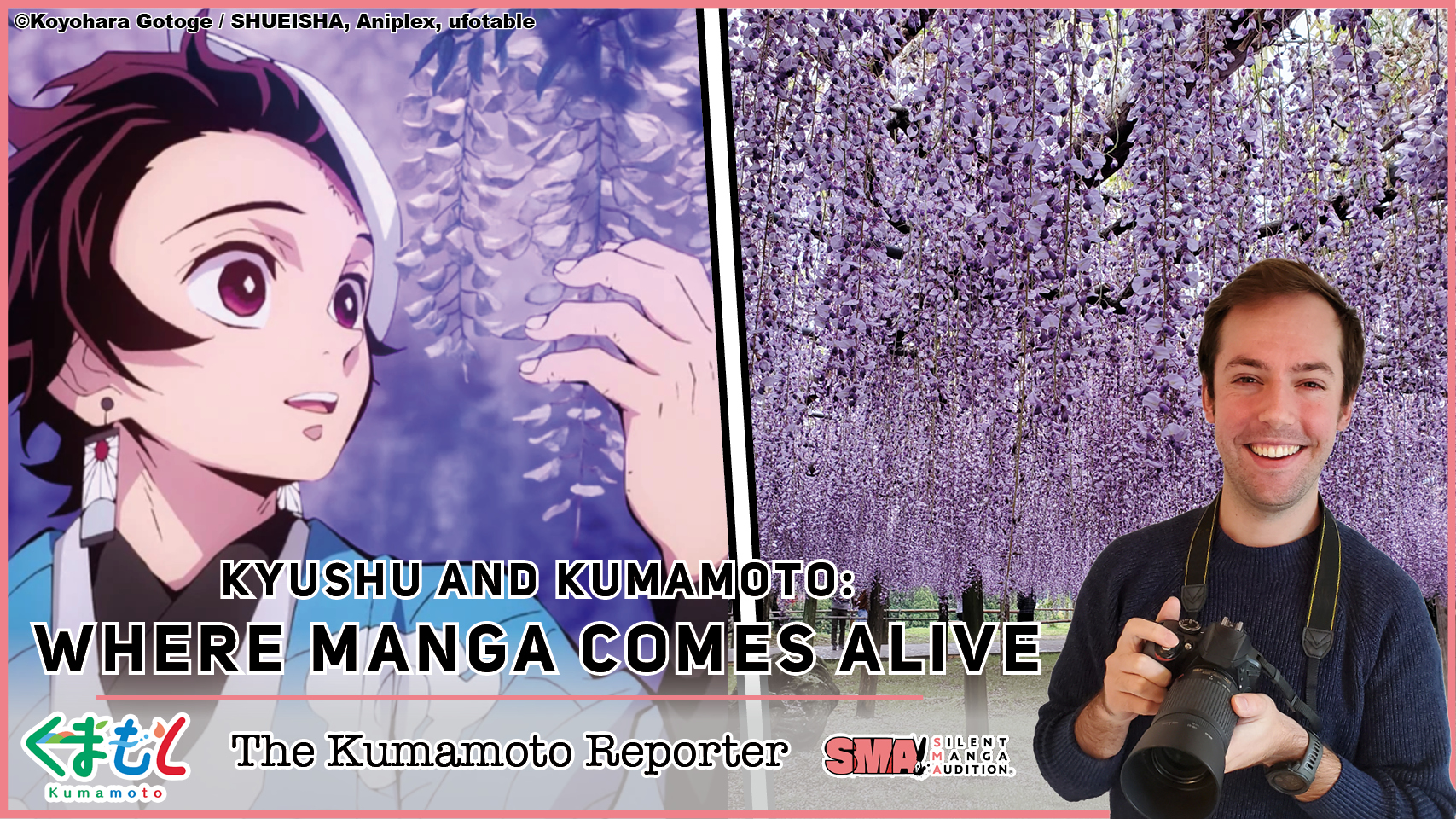 The Kumamoto Reporter #04 – Kumamoto and Kyushu: Where Manga Comes Alive
Discover famous manga and anime spots in Kumamoto and Kyushu with the Kumamoto Reporter!
Welcome back SMA community, and happy new year from the Kumamoto Reporter! Last time we got to know Kumamoto's manga artists legends and learned what exactly makes Kumamoto such a great place for producing manga artists. Overflowing with natural beauty and candid moments of countryside and city life, Kumamoto is the perfect inspiration for manga artists…so much so that some manga and anime actually include scenes based on real places in Kumamoto! Grab your camera and hold on tight, we're taking a road trip through Kumamoto and Kyushu in search of famous manga and anime spots.
"Natsume's Book of Friends" (Hitoyoshi and the Kuma region)
Beautiful nature? Charming countryside? Legends of mysterious "Yokai" (Japanese spirits)? Yuki Midorikawa's hometown of Hitoyoshi and the Kuma region in southern Kumamoto was the perfect inspiration for the setting of her manga "Natsume's Book of Friends." Midorikawa drew real life locations from around her hometown to bring Natsume and Nyanko-sensei's supernatural adventures to life. Kamishikimi Kumanoimasu Shrine, a famous and peaceful moss-covered shrine in Takamori, Aso that's close to the Artists Village Aso 096k, is also shown in Midorikawa's one-shot manga and anime "Into the Forest of Fireflies' Light."
"ONE PIECE" (Kumamoto Prefecture)
Eiichiro Oda, creator of "ONE PIECE" has certainly left his mark on his hometown of Kumamoto: quite literally in fact! Thanks to Oda's incredibly generous donation of 800 million yen (about US $8 million), statues of the Straw Hat Pirates have been built in the areas most badly hit by the 2016 Kumamoto Earthquake. Most of the statues have been built already, with Zoro's statue to be unveiled on January 22nd in Ozu Town and the last statue, Jinbei, to be announced in the future. Stay tuned for a future article about each statue!
"Rurouni Kenshin" live-action movies (Yamaga, Arao, Uto, and Hitoyoshi)
Unfortunately Kenshin's adventures never brought him to Kumamoto, but the video shooting of his live-action movies did. The traditional theater Yachiyoza in Yamaga, the late Meiji-period Mitsui Miike Coal Mine in Arao, the Misumi West Port's Old Uto County Office in Uto, and the Hitoyoshi Engine Shed in Hitoyoshi are all featured in the movie. Wandering around these historical properties brings you back to the time of the samurai.
"Attack on Titan" (Aso and Hita)
Thankfully we don't have to worry about being eaten by Titans, but if you're feeling adventurous and want to step inside the world of "Attack on Titan" be sure to visit Hita in Oita Prefecture. There you can find statues of Eren, Mikasa, and Armin looking up in horror at Oyama Dam; almost as if they are seeing the Colossal Titan appear above Wall Maria. Near the Hita Station you can hang out with Captain Levi, but be careful: thanks to augmented reality, Titans might come crash the party! If you're still hungry for more Attack on Titan there's also a museum close to Oyama Dam that's filled with art from the series.
Oshitoishi, a famous power-spot in the Aso region of Kumamoto with mysterious stones, is also where a scene from the live-action "Attack on Titan" live-action movie was filmed. Standing next to these imposing stones and looking out across the wide expanses of Aso, you can almost imagine the Titans wandering around.
"Demon Slayer" (Kitakyushu, Dazaifu, and Beppu)
The beautiful Kawachi Wisteria Garden in Kitakyushu seems like it's been pulled straight out of the pages of "Demon Slayer." With a huge variety of different colored wisteria flowers, you can see the iconic purple variety that appears during Tanjirō's induction into the Demon Slayer Corps. But be careful; unlike in the manga, they bloom only at the end of April/beginning of May in Kyushu.
Hōmangū Kamado Shrine in Dazaifu, Fukuoka shares its name with protagonist Tanjirō Kamado, but Fukuoka born "Demon Slayer " creator Koyoharu Gotōge may have borrowed more than just the name. The shrine was first established in the 7th century to ward off demons and is located at the foot of a mountain, which Shugen-dō followers use to train. They sometimes wear checkered jackets and Tengu-masks, just like Tanjirō and his teacher Urokodaki-san!
Hachiman Kamado Shrine in Beppu also shares its name with Tanjirō Kamado and the ceiling has artwork of a water dragon god, which may have been the inspiration for one of Tanjirō's water-breathing moves. There's also a legend that demons once terrorized and ate people in the area, so the gods challenged the demons to build 100 steps to the shrine before sunrise. If the demons succeeded then they would get a human sacrifice, but if not then they would have to flee. They built 99 steps, but then the first rays of sun appeared and they fled.
"Princess Mononoke" (Yakushima)
There's Studio Ghibli movie spots scattered all throughout Kyushu, but perhaps the most famous is the island of Yakushima in Kagoshima Prefecture. An island that is known for its unique climate and geography, it's easy to see the similarities between its beautiful nature and the world of "Princess Mononoke." In particular, the moss-covered forest of Shiratani Unsuikyo and giant cedar trees make you feel like you've stepped into that magical world. Yakushima is also known for its unique subspecies of deer and monkey, which live in harmony with each other.
"Yuri!!! On ICE" (Karatsu)
The main character Yuri is from the fictional town "Hasetsu," which is based on the real-life town of Karatsu in Saga Prefecture! In the beginning of the series, Yuri trains hard with his new mentor Victor and can be seen running up the stone steps of Karatsu Castle and taking a quick break at the top to admire the beautiful sea. There's also an onsen (hot spring spa) called "Kagamiyama Onsen Chaya Bijin no Yu" in Karatsu that Yuri's family owned-onsen is based on where you can eat Yuri's favorite dish: Katsudon (egg and pork cutlet over rice).
"Pokémon" (Miyazaki Prefecture)
Gotta catch em all! Miyazaki Prefecture is among the lucky few prefectures in Japan to have Pokémon manhole covers throughout its cities. Miyazaki is known for sunny beaches and warm weather, so the palm tree Pokémon Exeggutor was the obvious choice for Miyazaki's representative Pokémon. Each manhole features the tropical Exeggutor with other Pokémon, and even shows the new Alolan forms.
Kitakyushu Manga Museum (Kitakyushu)
Why build a manga museum in Kitakyushu? Well, simply because famous manga artists Leiji Matsumoto, Seizo Watase, Jun Hatanaka, Eiko Mutsu, and SMA judge Tsukasa Hojo are all from the town of Kokura in Kitakyushu, Fukuoka! Inside the museum is a 70,000 volume collection of manga, as well as a "manga time tunnel" which contains manga from as early as 1945. One of the main attractions of the museum is a statue of Captain Harlock from Galaxy Express 999 and murals of works from each of the manga artists from Kokura, including SMA judge Tsukasa Hojo. Don't forget; submit your SMA17 entry by January 31st for your manga to be judged by Tsukasa Hojo and other manga artist legends!
What manga will come to life from the Artists Village Aso 096k?
We hope you enjoyed this tour of the most famous manga and anime spots in Kumamoto and Kyushu. Manga truly has leapt from its pages and into real life through spots like these and other multimedia. If you're curious how manga is leaping out of the Art Studio in our Artists Village Aso 096k, check out the newest article from the Artists Village Insider!