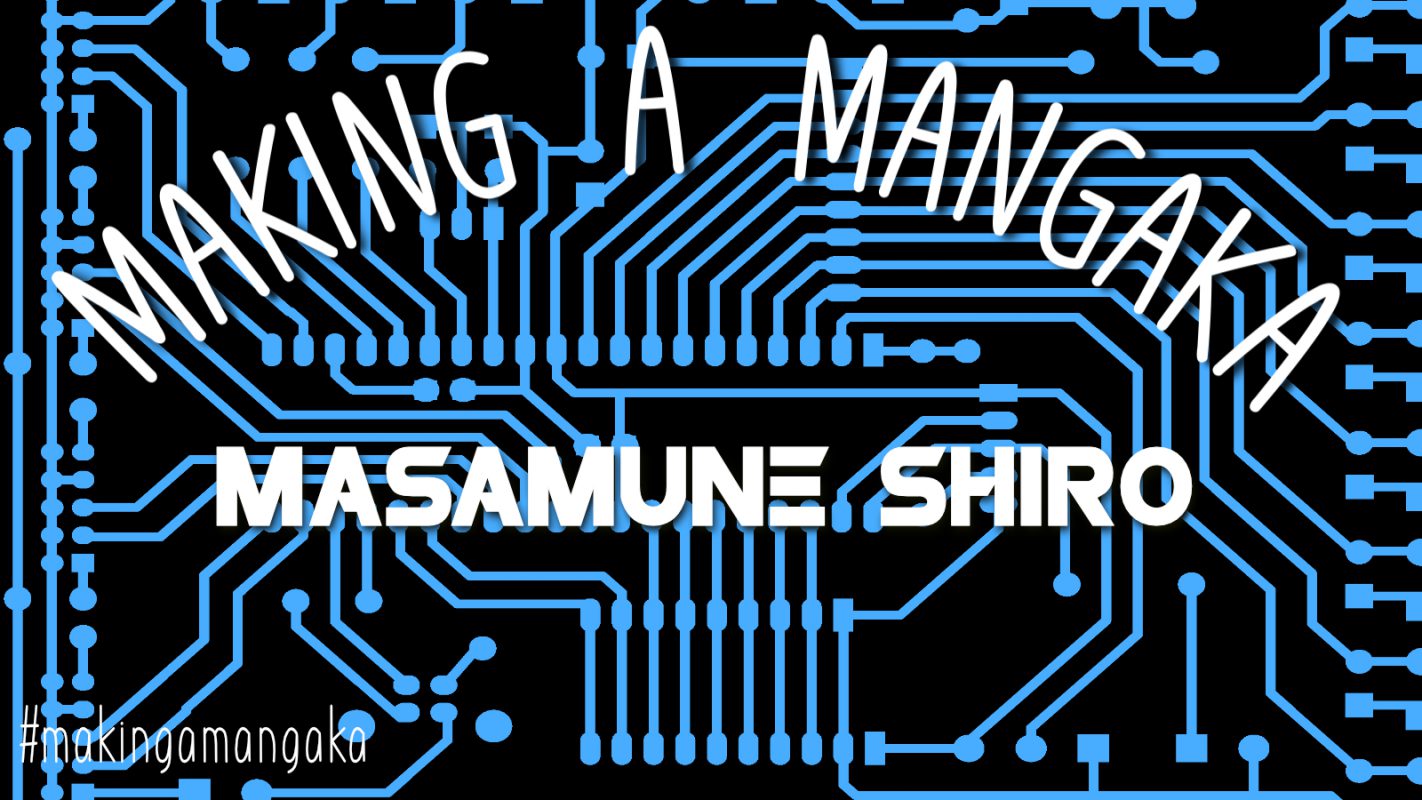 Masamune Shirō could well be labelled manga's first international superstar. One of the first to find an eager audience outside of Japan, Shirō played a major part in introducing manga to the wider world. By tapping into the psyche of Sci-Fi fans everywhere, he asks the question that has plagued us since the dawn of humanity. This week, I transverse the circuitboard mind of Masamune Shirō!
Name: Masamune Shirow (士郎 正宗 Shirō Masamune)
Born: November 23, 1961
Place of Birth: Kobe, Hyōgo Prefecture, Japan
Speciality: Adventures in Cyberpunk
ABOUT
Born in Kobe, the young Masamune Shirō (born Masanori Ota) began his creative journey at Osaka University of Art. While studying oil painting, Shirō started experimenting with manga, producing several dojinshi (fan made) creations, most notably 'Black Magic – M66'. This cyberpunk "cat and mouse" thriller would set the tone for much of his future work, while also catching the eye of Harumichi Aoki, the president of the small, Osaka based publisher Seishinsha.
Adopting a pseudonym, inspired by either the legendary sword-smith 'Masamune' or the Masamune Sake Brewery in Kobe, the fledgling manga creator began work on his first, professional work. A first in manga, 'Appleseed' was published in 1985 as a stand-alone paperback, rather than an ongoing series. Not only did Shirō's professional debut win him the 1986 Seiun Award for Best Manga, it also caught the attention of the wider world.
San Francisco based comic publisher, Studio Proteus, immediately saw the potential in Shirō's work, eagerly publishing English language versions of everything the Kansai native produced. This interest was unique in the world of manga, where a creator finding success outside of Japan before being recognized at home, was a rare occurrence. 
With global interest rising, Shirō began work on his next project. 'Dominion Tank Police' carried over many of the tropes of 'Appleseed', including strong female characters, law enforcement and Mecha elements, but it was the "battle of sexes" dynamics that really allowed this manga to shine. With the completion of 'Dominion', Shirō then turned his attention to his next work. Not only did this work establish Shirō as a master of manga, it made him an international phenomenon.
'Ghost in the Shell' was first serialized in Kodansha's 'Young Magazine'. Running from 1989 to 1990, the series quickly gathered fans in both the UK and USA, a feat unheard of at the time. With an international market hungry for more, US/UK company Manga Entertainment part funded the big screen, anime treatment of 'Ghost in the Shell' with anime giants Production I.G. in 1995. Building on this global interest, the anime was a fast paced riot of cyberpunk, and with exclusively commissioned music by U2 and Brian Eno, it was a film firmly aimed at an international audience.
Today, Masamune Shirō spends as much time devising concepts to be developed by other creators as he does working on his own ideas. A maverick, Shirō has shunned the traditional route of manga creation, staying firmly in the mountainous confines of Kobe to work solo on all his projects. From unconventional publishing debuts to trailblazing international success, this giant of Sci-Fi manga "dances to the beat of his drum". A prerogative well and truly earned.
MY THOUGHTS
I count Masamune Shirō among the Big Three. Alongside the work of Katsuhio Otomo and Tetsuo Hara, Shirō's 'Appleseed' was responsible for introducing me to the extraordinary world of manga. I remember being astounded by the sheer scale of this man's art, from exquisitely rendered characters to breathtakingly drawn futuristic city-scapes, Masamune Shirō's talent as an illustrator grabbed me instantly. But it was the central theme of 'Appleseed', a theme that can be seen throughout all of Shirō's work, that really caught the attention of this obsessive "Blade Runner" fan from Yorkshire… "what is it to be human?"
Shirō's debut work, "Black Magic – M66" established early on a fascination with strong female protagonists, "Cyberpunk", robotics and cybernetics. These tropes will feature heavily in much of his future work, allowing Shirō to expertly question the future of humanity.
This question is perhaps best analyzed in his break-out hit 'Appleseed'. Along with a military trained police operative, Deunan Knute and her ever faithful "point-man", cyborg augmented Briaros Hecatonchires, we are plunged into an idealized utopia that has risen from the ashes of a devastating, global spanning war. Not long after joining this community, our heroes soon begin to feel uneasy, realizing that the happy society they inhabit is in fact a thin veneer, hiding a bubbling pot of political intrigue. The real question in 'Appleseed', however, is humanity. With genetically enhanced humans running the show, what exactly is the fate of humanity as we know it?
'Dominion Tank Police' takes an overly negative view of the future. Though this time, Shirō tackles planet wide pollution way before it became trendy. With a militarized police force trying to keep order on a poisoned Earth, we are presented with the choice of generically adapting to the hostile environment, or changing the environment to suit us.
But it's perhaps Shirō's most recognizable work, 'Ghost in the Shell', that really shines a light on humanity's future. Set in a fictionalized version of his beloved Kobe, Major Motoko Kusanagi of the elite military unit Public Security Section 9 grapples with questions about her own, cybernetically enhanced identity when pitted against a mysterious antagonist, known only as "The Puppet Master".
With his ability to correctly predict future innovations, not least the world wide web, Masamune Shirō can well be viewed upon as a giant of Science-Fiction. But beyond the trappings of shiny technology, inherently flawed Cyber-punk settings and military trained law enforcement units, Shirō allows us to instantly identify with his fantastical worlds by shining a light on what we know best, humanity. In the this modern age of political upheaval, mass poverty and ever looming war, Masamune Shirō reminds us to look within ourselves and never forget who we are.
MANGA
Black Magic (1983)
Appleseed (1985)
Dominion (1986)
Ghost in the Shell (1989; English translation 1995)
Orion (1991) Dominion
C1 Conflict (1995)
Ghost in the Shell 2: Man-Machine Interface (2001; English translation 2005)
Ghost in the Shell 1.5: Human-Error Processor (2003; English translation 2007)
Pandora in the Crimson Shell: Ghost Urn (2012, concept)
Next week: CLAMP
Twitter – @chris_smac
Facebook – Chris Smac