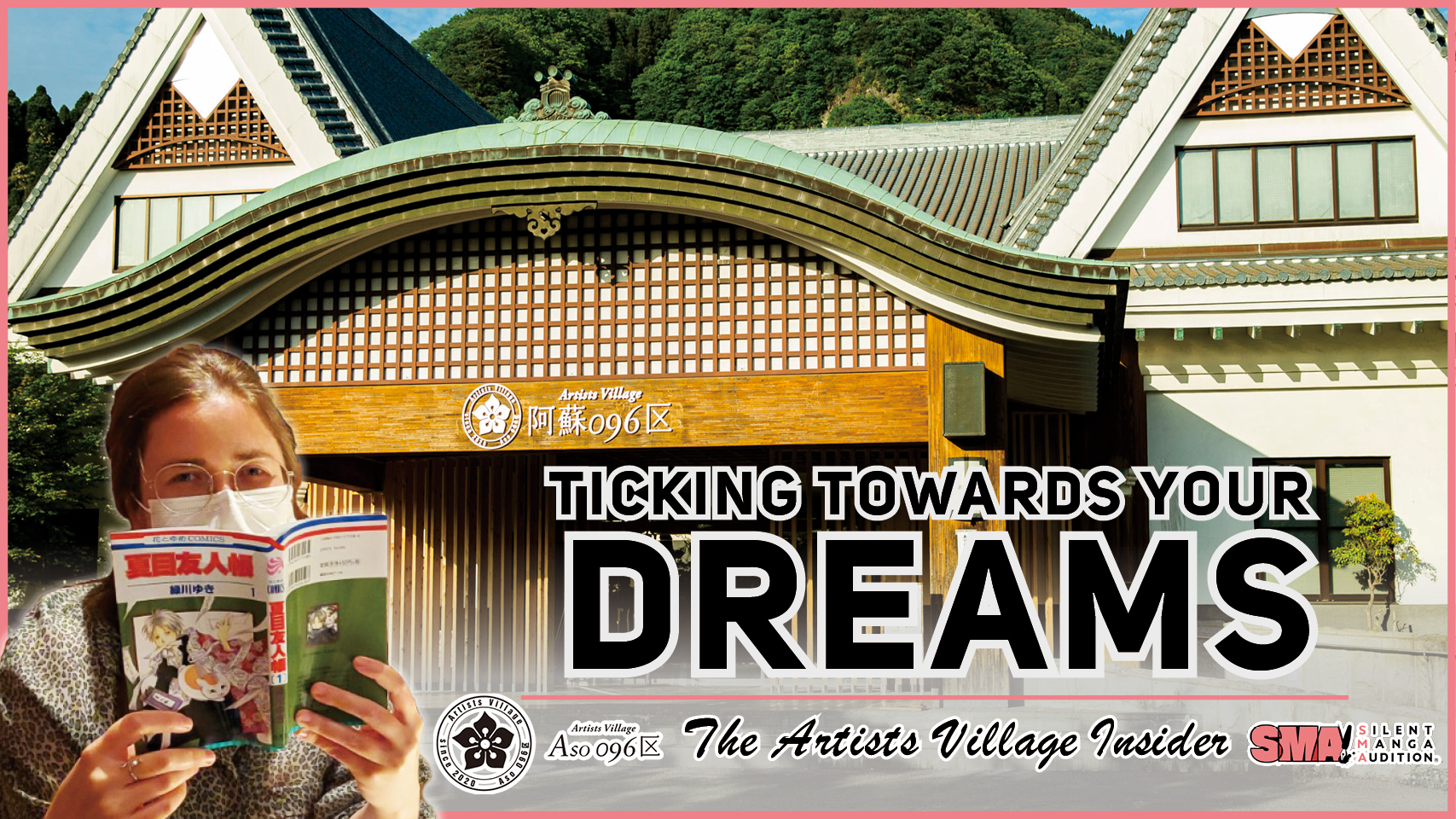 The Artists Village Insider #01 – Ticking Towards Your Dreams
"The Artists Village Insider" and "The Kumamoto Reporter" set off!
Hello SILENT MANGA AUDITION® enthusiasts, fans, and random internet drifters! In this installment of biweekly articles we'd like to introduce you to "The Artists Village Insider," an exclusive look inside the newest project from Tokyo-based manga publisher COAMIX Inc. called the "Artists Village Aso 096k." Read more to find out about the daily life and work of manga creators, editors, and artists who work hard to reach their dreams in Kumamoto, the heart of Japan's southern island of Kyushu!
If you are not sure where the island of Kyushu is, fear not – at the same time, a series of articles will be released introducing you to the secrets of Kumamoto, as seen through the eyes of "The Kumamoto Reporter." With both articles we hope to bring you the latest news about the SMA Editorial Department, life in Takamori, artists who we work with, and the beauties of Japan!
This week's topic is a brief introduction of the Artists Village project – the 5W1H of it!
What even is the Artists Village Aso 096k project?
You might have seen us posting on social media about it, but I'm sure that you have a lot of questions. COAMIX, the company that stands behind SMA and publisher of internationally acclaimed titles such as "Record of Ragnarok," "Arte," "Unsung Cinderella," and "Wakako-zake" decided to launch this ambitious project that supports and nurtures artists of various genres. Thus, the Artists Village is not just a company but a space with resources and support with the sole goal to help promising young talents on their way to reach their dreams.
Sounds great, but where is it located?
One would expect to have a place like the Artists Village in a large city. After all, isn't it more convenient to have a manga studio in the middle of Tokyo, with the convenient public transportation system and editors at the reach of your hand? However, COAMIX decided that the perfect location for the Artists Village is Takamori Town in the picturesque Aso region (Kumamoto Prefecture). This wonderful town is surrounded by green hills and nature, and it's safe to say that life is pretty different from the bubbling city center of Tokyo. True to its Japanese name's meaning, there really is an abundance of "tall forests" in Takamori. Whereas it is true Takamori can hardly be compared to Tokyo in terms of bustling life, the place is not so remote that you have to turn into a mountain hermit to live here.
Why not have it located in Tokyo?
The main reason why it's located in the middle of the countryside is to allow artists to focus on their work in a relaxing atmosphere. Furthermore, the location is also a homage to all the artists who had left their hometowns and chased their dreams in big cities – COAMIX wants to change that trend by building a facility that supports and raises artists locally. 
What does this have to do with SMA?
If you're new to SILENT MANGA AUDITION®, simply put, it's an event that encourages people from around the world to create manga without dialogue. The main goal of SMA is to create stories that connect people internationally, and COAMIX, the creator of SMA, decided that it's time to take this a step further.
The Artists Village is a space designed for artists of different genres to grow and encourage each other and was inspired by Tokiwa-sō, the legendary apartment shared by manga legends such as Fujiko Fujio, Tezuka Osamu, Shotaru Ishimori and Fujio Akatsuka, who lived and developed their talents together in Tokyo! The Artists Village aims to become Takamori Town's "Tokiwa-sō" and set the foundations for new generations of artists. On top of that, the Artists Village has created a space that welcomes international creators who are passionate about manga, who dream about debuting in Japan, and who want to work under the mentorship of Japanese manga industry legends! 
This is where SMA comes in: show off your skills and talent to convince the judges that you have what it takes to be a part of the MasterClass. The next step from there is to work towards your debut in Japan and receive support from the SMA Editorial Department. That will pave your way towards the Artists Village! Take the first step towards your Japanese debut and check out the theme of the current round SMA17!
What's next?
Now that you know a bit about the Artists Village, I'm sure you want to know more about what exactly is hidden inside! Stay tuned, we'll offer you an exclusive sneak peek inside the facilities, introduce you to the artists who train and work here, and more! 
But first, you might want to know what's so great about having the Artists Village situated in the middle of mountains, right? To find out what makes Kumamoto such a captivating place, be sure to check the Kumamoto Reporter's article next week!