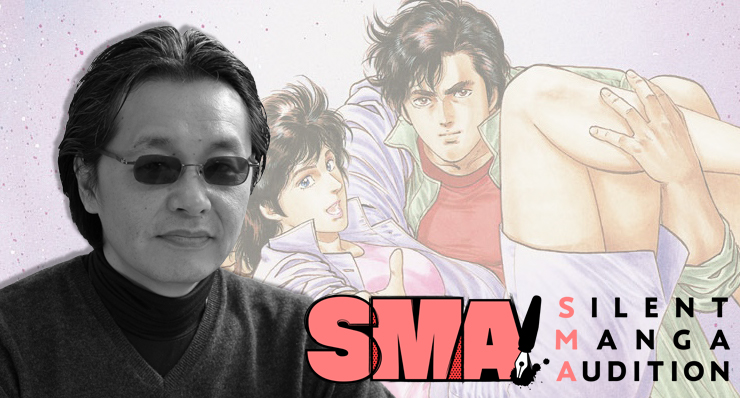 "CITY HUNTER" CREATOR MAKES LIVE-ACTION DIRECTORIAL DEBUT WITH SILENT MANGA MOVIE!
Tsukasa Hojo, creator of manga classics City Hunter and Cat's ❤︎ Eye is set to direct his first ever live-action movie.
Tokyo based production company North Stars Pictures Inc. has begun production on a movie titled "Angel Sign". Directed by Tsukasa Hojo, the mastermind behind beloved manga classics City Hunter, Cat's ❤︎ Eye and Angel Heart, will be making his live action directorial debut with an anthology feature of interconnecting stories, inspired by entries from the Silent Manga Audition®.
Launched by former Weekly Shonen Jump editor-in-chief and COAMIX Inc. CEO, Nobuhiko Horie, the project aims to encapsulate the spirit of the Silent Manga Audition®, by presenting entertaining stories that cross language and cultural barriers.
Hojo, a member of the Silent Manga Audition® judging panel since its 2013 launch, has personally selected several notable works that will be crafted into an original, globe spanning epic.
Making his professional manga debut in 1980, with Ore wa Otoko da! in Weekly Shonen Jump, Tsukasa Hojo shot to fame the following year with his first serialization Cat's ❤︎ Eye. From 1985, Hojo began work on his blockbuster creation City Hunter, earning himself a place in manga history and legions of loyal fans across the world.
With this year's cinematic extravaganza, feature length animated movie City Hunter: Shinjuku Private Eyes breaking box office records in Japan*, Tsukasa Hojo's move into live action direction is timely. With over 40 years experience in visual storytelling, the eagerly awaited "Angel Sign" not only promises a fitting legacy for the world's biggest manga competition, but also a bright and exciting future for international manga.
*12.5 hundred million yen, and over 800,000 viewers (as of March 17th)
Silent Manga Audition®
Now in its 14th round, the Silent Manga Audition® is the worlds largest manga competition. Aimed at crossing language and cultural barriers with dialogue-free storytelling, the contest has attracted 3580 manga creators with some 6249 works from 108 countries, in its mission to find, foster and debut the careers of manga artists from every corner of the globe.
With Monthly Comic Zenon presiding over the domestic version of the audition, the Japanese competition has proven a hotbed of creativity. Responsible for discovering young artists such as Trace – Recollections of a Forensic Researcher creator, Kei Koga, the power of silent manga is apparent. Now a major live-action drama starring Ryo Nishikido and developed by Fuji TV, the success of Trace continues to prove the endless possibilities for manga, in the development of art, drama and cinema.
North Stars Pictures Inc.
Founded in 2004 by Nobuhiko Horie, Tsukasa Hojo, Tetsuo Hara (Fist of the North Star), and Ryuji Tsugihara (Yoroshiku Mecha-Doc), North Stars Pictures Inc. is a multimedia production company based in Musashino-Shi, Tokyo, Japan.