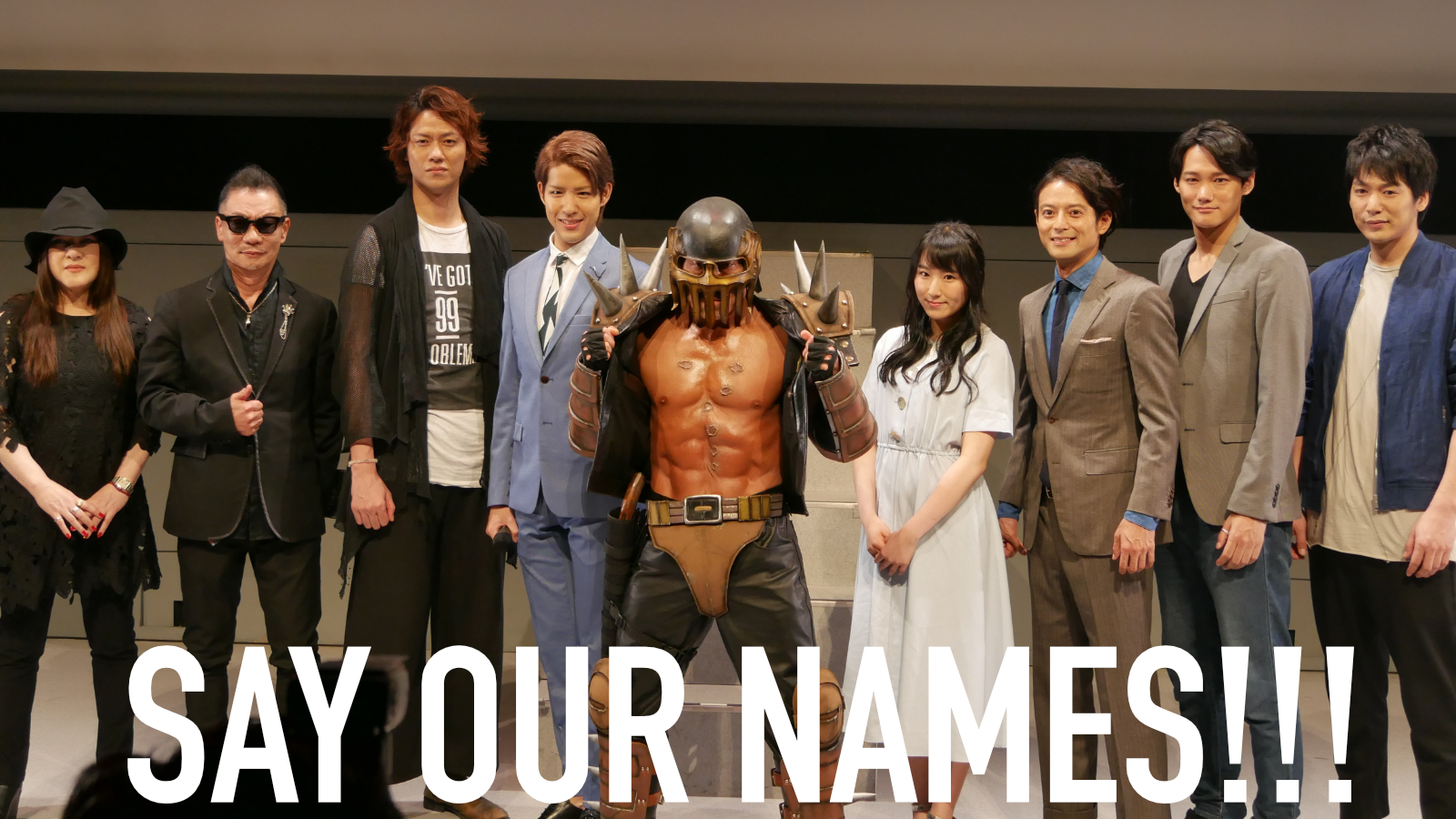 "Say our names!" Fist of the MOBS – "Zako-butai" on stage!
Yahooo!
Hey there! I'm Enrico! And I'm a Zako! AND SO YOU ARE! With "Zako" term are described all that weak thugs whose sole purpose is to show main character's strength… and for us of Coamix there's no better "Zako" than Fist of the North Star ones! You think we'd had a chance against the
thee Hokuto Brothers
!? We'd had prey on the weak for sure! That's why we are "Zako", and as your new Zako-friend, I have a GREAT news for you: Fist of the North Star's "Zako" will have their own play stage!!!
Wohooo!
Limited to just FIVE days in September, "Butai Hokuto no Ken – Seikimatsu Zako Densetsu" (Stage play Fist of the North Star – End of the century, The legend of the Thugs) is the kick starter event of the series 35th anniversary! Already 35 years have passed since Kenshiro began to use his lethal techniques to beat the enemies… and now finally the time of "lime lights" revenge has come: NO MORE KENSHIRO, IT'S "ZAKO" TIME!
Year 2017, July 4th!
Japan is HOT, but Hokuto Fever is even HOTTER!!!
In Tokyo Dome City "Zako" cast members joined the stage play press conference…
…but they are all beautiful and famous people!!!!!!
Actors:
Ryuko Isogai, Ryunosuke Kawai, JURI, Naomichi Hanazono, Takeshi Hayashino
Actress and singer:
Aoi Mizuki (AoP)
Singer:
Monsieur Yoshizaki (Crystal King)
Stage play exclusives:
Aoi Mizuki & Monsieur Yoshizaki Fist of the North Star main theme "Ai wo Torimodose!" duet!! The historic series narrator Shigeru Chiba's participation for the same role!!!
---
…what do you say? I made a mistake saying "three Hokuto brothers"!?
How you dare! I'm the great Enrico!!!
Uh. EH!? AHH!
Who's that guy with the mask! He's frightful!
JAGI: "Say my name!"
J-JAGI!!! THE FOURTH HOKUTO BROTHER! How could I forget about you!?
Please, Jagi-sama, tell me why are you no more included in the "Hokuto brothers" team? I hope this stage play will explain this and the way you became all "Zako" boss!
*Hidebu!* D- Don't punch me, please!
Ouch… It hurts…
---
Anyway! My FIRST and MAIN purpose as your friendly "Zako" stationed in Tokyo will be to provide to the Tetsuo Hara-sensei fan-base the newest informations about Hokuto! So what are the HOTTEST HARA NEWS right now!? Hara-sensei is actually working on his last Manga success
Ikusa no Ko
and at the same time he's getting ready to release the
Fist of the Blue Sky
(Fist of the North Star prequel)
new series RE:GENESIS!.
Both Manga are a Monthly Comic Zenon exclusive! Moreover, he's welcoming worldwide new Manga creators through
SILENT MANGA AUDITION® event!!!
If your dream is to create Manga, why don't you try to join SMA8 "Fair play" round 8!? You still have time 'till September 30th deadline!
Yahaaa!
And
we of SILENT MANGA AUDITION® want to raise a challenge to ALL Hara-sensei and Manga fans:
let's create NEW international Zako's death agony screams to be played by "Zako-butai" actors on stage!
The official Twitter account of the event started a tweet tread to create new memorable death screams like "Abeshi!" or "Tawaba!". Post and tag are both in Japanese, but anybody can submit new screams by adding the tag
#ザコ舞台断末魔
at the end of the Tweet post! Be absurdly creative making new incredible way to die at the end of the century!!! This is mine: 
ENPIPOOOO!
(A mix between my name and a funny-cute sound effect like "PIPO").
What's yours???
JOIN NOW, ZAKO OF THE NEW MILLENNIUM! BE PART OF THE HOKUTO HISTORY!!! Click here:
"Zako-butai" twitter official account