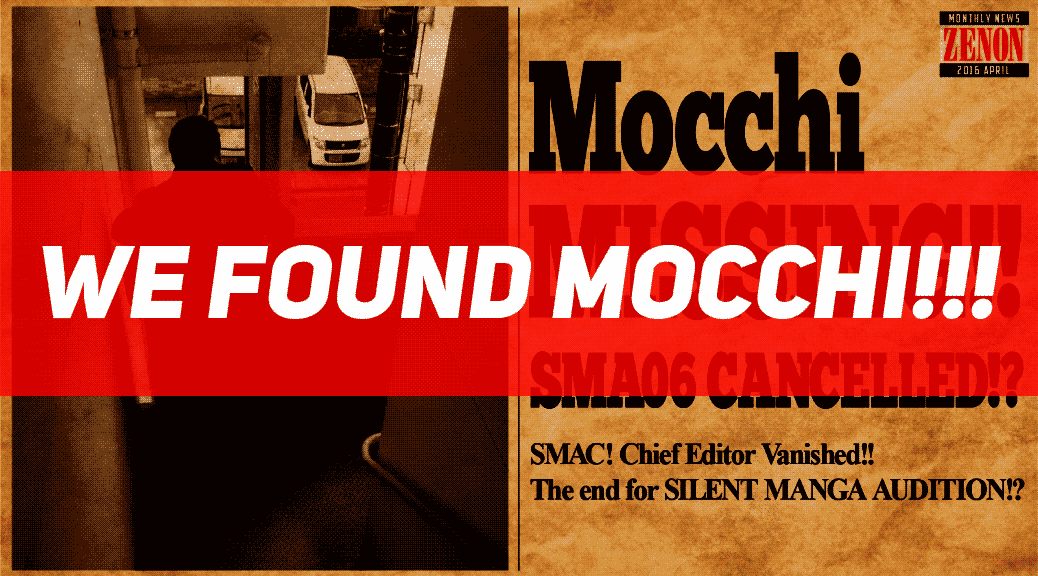 Mocchi MISSING!!! SMA06 CANCELLED!!?
A wave of uncertainty has swept through the manga world, after SMAC! Chief Editor Shuichi "Mocchi" Mochida was reported missing early on Friday morning. A resident of Kichijoji, Tokyo, and a towering pillar of wisdom in the international manga community, Mochida-san was last seen at his desk late on Thursday evening, buried under a pile of paperwork. When editors entered the office the following day, he had vanished. 
According to a co-worker:
"Japanese editors often pull all-nighters or sleep at the office, so we didn't think anything of it at the time. The next morning, we expected to find him there snoozing away at his desk. Instead, all we found was an empty seat, and a weird note saying "Don't look for me!"."
Police are baffled.
Worst of all, the dis
appearance of Shuichi "Mocchi" Mochida has cast serious doubts on the future of SILENT MANGA AUDITION. In the weeks leading up to his disappearance, Mochida-san was said to have been working on TOP SECRET documents relating to the theme of the much-anticipated upcoming event: 
SMA06
.
In an emergency press-conference yesterday evening, manga publisher COAMIX's spokesperson Andrew Lee commented:
"Without Mocchi, we're not really sure what's going on. We're going to have to cancel round 6. Maybe I'll go home early today and read the new 44-page Arte special."
With an increasing workload, and manga artists hounding him 24/7 begging for advice, the usually mild mannered Mochida-san is said to have become both "grumpy" and "disagreeable"
(two traits completely unheard of in the Japanese workplace).
 Co-workers said that he could often be heard mumbling to himself, something that sounded suspiciously like "….mo Clover Z… the concert… next week…"
COAMIX is offering a generous reward for the
capture
safe return of Mochida-san. If you see him, do NOT approach him directly, but please contact the SMAC! Editorial Team at smac@manga-audition.com
.
UPDATE 4/2 Well, he kinda found himself 😉 He says he had gone to "Find inspiration by the finest in entertainment"…? Whatever that may mean, he has now returned to the office and seems to be in good spirit and full of energy, to make important announcement regarding SMA06 + more? Stay tuned!