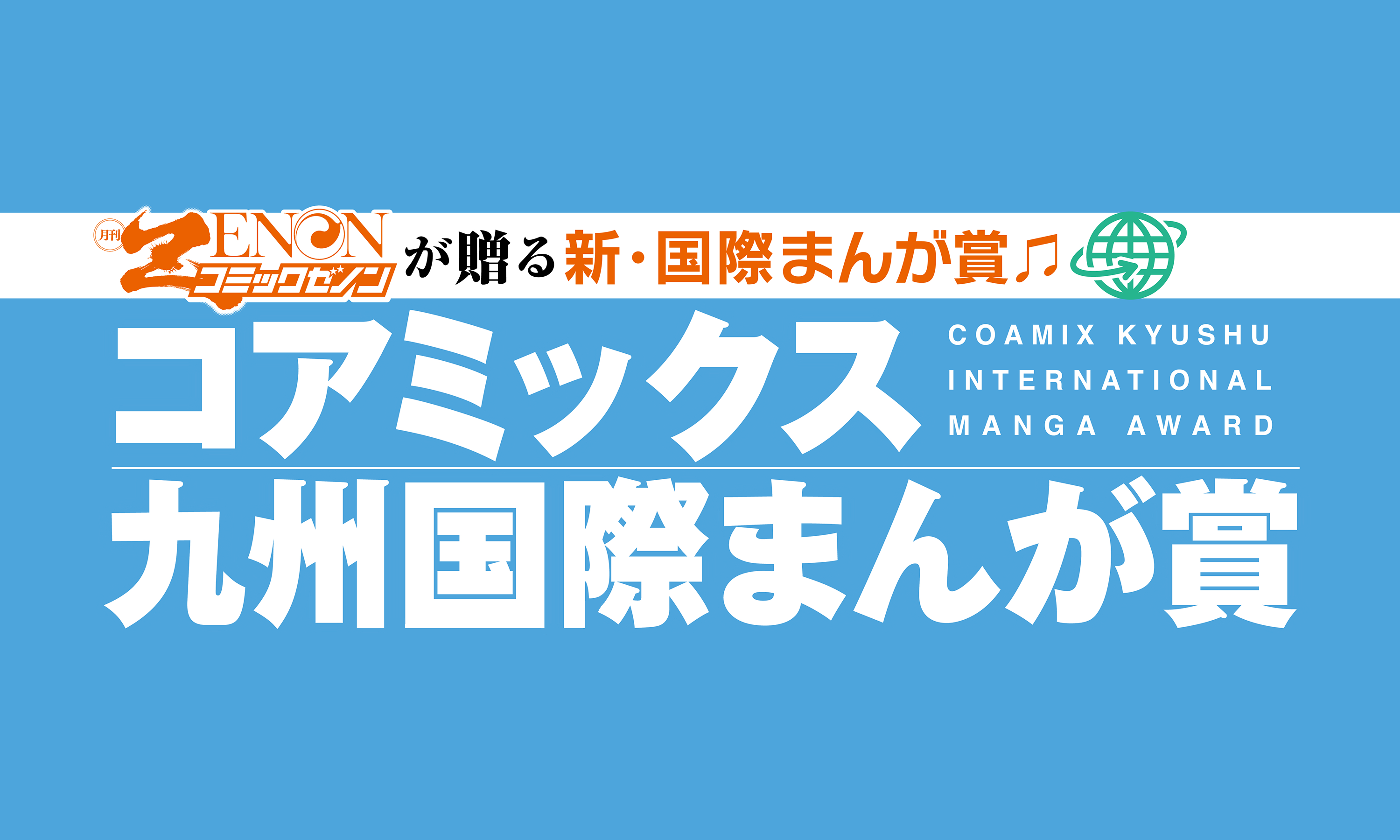 Kyushu International Manga Award
Want to challenge yourself beyond silent manga? Submit an up to 39 page one-shot manga with dialogues to the "Kyushu International Manga Award", a Japanese manga contest hosted by COAMIX Inc. and get your chance to be published in a Japanese manga magazine!!
About the "Kyushu International Manga Award"
The "Kyushu International Manga Award" manga contest is open exclusively for international creators and creators from Okinawa and the Kyushu region in southern Japan in order to support local manga creators locally. Rather than silent manga, entries with Japanese dialogue are judged by the ZENON Editorial Dept. and manga artist guest judges, and the winners' entries are published in the Japanese manga magazine Monthly Comic ZENON alongside worldwide hit manga. Kyushu International Manga Award winners go on to work towards their series debut, just like how winners Enewald and monotone_ink are doing with us at the Artists Village Aso 096k!
Application Requirements
・Applicants must be residents of the Kyushu/Okinawa area or outside of Japan (regardless of nationality).
・Entries must be works that have not been published in a commercial magazine.
・Any genre is acceptable.
・Entries in the story manga category should be no longer than 39 pages, and entries in the 4-panel manga category should be no longer than 10 pages.
Prize Money (may be subject to change)
・Grand Prix: 1,000,000 yen + support towards a series debut offer
(in one of the following media: Monthly Comic ZENON, Web Comic Zenyon, or Comic Tatan)
・Grand Prix Runner-Up: 300,000 yen
・Excellence Award: 100,000 yen
・Excellence Runner-Up: 70,000 yen
・Future Talent Award: 30,000 yen
・Up-and-Coming Award: 10,000 yen
Judges
・ZENON Editorial Department
・Special Guest Judge (previous special guest judges have been Arai Mamare-sensei (Unsung Cinderella: Midori Aoi, The Hospital Pharmacist, etc.), Sokura Nishiki-sensei (Kyō Kara City Hunter, etc.), Kei Koga-sensei (Trace: Recollections of a Forensic Researcher, Brutal: Confessions of a Homicide Investigator, etc.)
Entry Format Requirements
・Entries should be drawn on B4 size paper with a basic frame of 270mm (length) x 180mm (width) and a margin of at least 20mm (width), drawn with black ink or sumi ink (or monochrome/grayscale if working in digital). If there is text over the drawing, cover the drawing with tracing paper and write in pencil over it.
・The data should be uploaded in PSD or TIFF format with integrated layers, and a resolution of 600 dpi or higher for monochrome/grayscale 2-bit.
・Entries done on paper should be scanned and digitized with a 300 dpi resolution.
・Each page must be numbered.
・The reading order is from right to left and dialogue should be written in Japanese (the use of machine translation is permitted).
Submission Method
Upload your work via the designated Google Form (in Japanese) or send it to the following address: sma_info@coamix.co.jp.
Please write the title of the work, name (with your pen name, if any), age, occupation, telephone number, address, brief personal history, and publication history inside your email. We can't wait to read your manga masterpiece!!