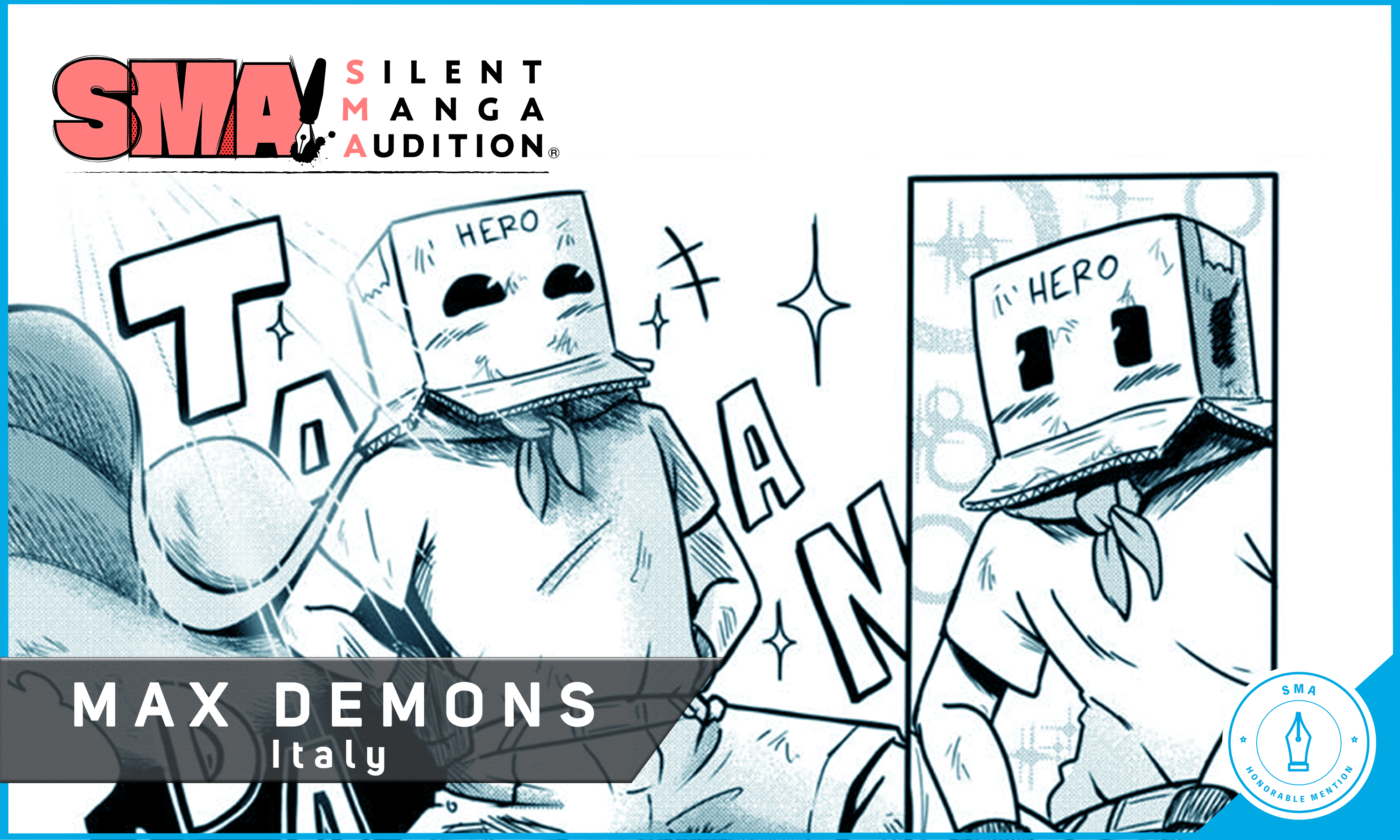 HELLO SMA16 AWARD WINNER, Max Demons!
PROFILE
Name:
Max Demons
Age:
25
Country:
Italy
Favorite manga:
Demon Slayer
Favorite movie:
Good Will Hunting
Favorite quote:
"It can't rain all the time." -Eric Draven (Brandon Lee) from the movie
The Crow
Entry title:
Wonder Brother
Round:
SMA16 "Moments of  FEAR, JOY, or LOVE"
Award:
 Honorable Mention
---
"

Above all, think about the shape of the story and what message you want to convey with this.

"
About SMA
How does it feel to win a SILENT MANGA AUDITION® award?

I was very happy. I didn't expect to win. But all my efforts paid off, despite the difficult situation I was in.
What was the inspiration behind your awarded work?

The story was created during the world quarantine situation. With it, I wanted to represent the strength to move forward despite difficulties and to always be altruistic towards others.
What challenges did you face while making your manga? How did you overcome them?

The biggest challenge I encountered while making my manga was my health condition. At that time I was undergoing chemotherapy and with quarantine I was totally isolated from the world. I overcame it with the desire to leave something in the world. I wanted to make my voice heard – like my character, I, too, wanted to find the courage to take flight

.
READ MAX DEMONS' SMA16 ENTRY HERE!
---
About your Manga
How and when did you start making manga? Any advice for beginners? I

 have always drawn from an early age. I was copying the characters of the anime I was watching and I started drawing my own stories around the age of 14. The advice for those who want to start is to draw a lot and not to stop in the face of difficulties. At first, your drawings may not be beautiful or satisfying, but they will be the basis for reaching higher and higher heights.
Do you draw your manga digitally or by hand? What are your go-to digital or analogue tools? I 

have always drawn traditionally, but for this story I decided to experiment with digital tools. I have always worked with a G Pen and even in digital I use the same brush.
What was the first manga you picked up? The first manga I got was Shugo Chara! by PEACH-PIT.
Which manga changed your life? Umibe no Onnanoko by Inio Asano. I was very impressed with the script of the story.
Which manga character do you most identify with? Why?

Vegeta because he is mega serious and evolves from a villain to a hero, but despite everything he is the perennial second.
What kind of manga do you want to make next?

I want to experience a comic story.
---
About Max Demons
What do you do when you're not making manga? How do you relax?

I like going to the gym to take my mind off work or I like to watch movies or TV series to study about scripts.
What industry do you work in (if manga making isn't your primary job?)

I am a webcomic colorist and I also work as a pizza chef.
Where do you see your manga career in 5 years' time?

I don't know. I hope in 5 years to be able to publish my story, which allows me to tell something about myself.
What manga making advice would you give to your younger self if you could?

I would tell him to practice a lot on anatomy and perspective, without being afraid of making mistakes.
What advice would you give to people entering the SILENT MANGA AUDITION®?

To get involved and not be afraid of failing. Above all, think about the shape of the story and what message you want to convey with this.
---
Thank you, Max Demons! We can't wait to see your next masterpiece that will bring us to TEARS! We're expecting your SMA18 entry!
You have time until August 1st to WOW the judges and have a chance to develop your potential as a manga creator with us in Japan!