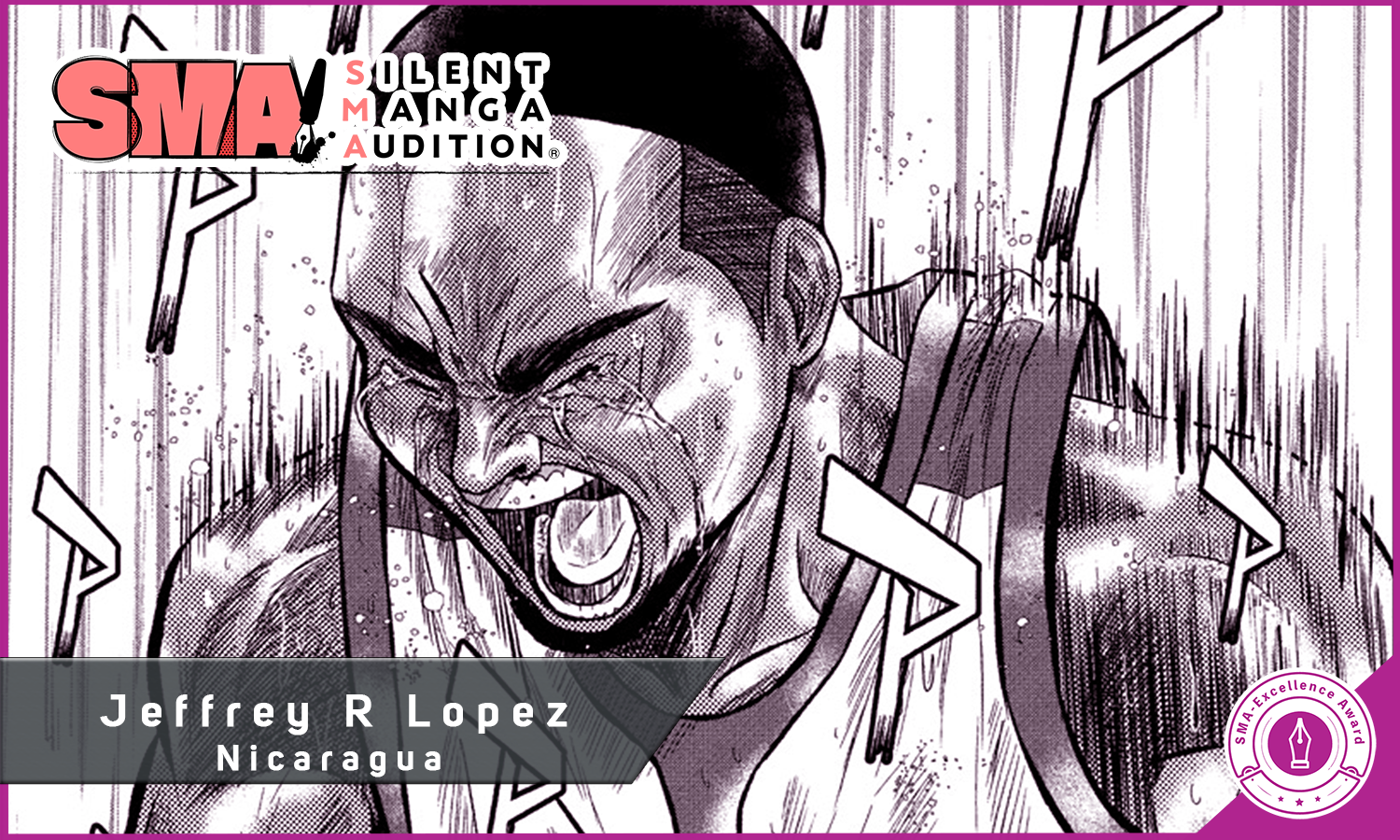 HELLO SMA18 AWARD WINNER, Jeffrey R Lopez!
PROFILE
Name/Pen Name:

Jeffrey R Lopez
Age:
24
Country:

Nicaragua
Favorite manga:
Haikyuu!!
Favorite movie:
High School Musical
Entry title:
"There Is No Plan B"
Round:
SMA18 "Moments of HAPPINESS, AFFECTION, or TEARS"
Awards:
Excellence Award
---
"Focus on the weaknesses you have as a drawer and at the same time try to correct them in order to be closer to the goal."
About SMA
How does it feel to receive a SILENT MANGA AUDITION® award?

It feels wonderful to be among the best in such a massive contest. It only makes me feel more inspired to keep moving forward with the goal of debuting in the manga industry.
What was the inspiration behind your awarded work?

I wanted to capture in the work as much as possible the sensation of being a child who wants with all his heart to reach a goal that is almost impossible to achieve due to his geographical and economic position but who, despite these circumstances, seeks a way to move forward with his limitations.
What challenges did you face while making your manga? How did you overcome them?

During the creation of the manga there were many creative blocks, lack of time to continue drawing due to other obligations, and other problems. The only solution I found was to give 200% of my effort and continue with the manga.
READ Jeffrey R Lopez's SMA18 ENTRY HERE!
---
About your Manga
How and when did you start making manga? Any advice for beginners?

I found out about the existence of manga when I was 14 years old. From that moment something in me immediately felt that I wanted to dedicate myself to it. Since then I began to analyze all the works I consumed to learn the best from them, despite the fact that in my current country you can't get manga easily.

For people who want to start drawing manga, I can only recommend that they create works that only they themselves can create based on personal experiences, points of view on life, emotions that they come to feel, and a slight touch of sensations that they have liked in other works.
Do you draw your manga digitally or by hand? What are your go-to digital or analogue tools?

I started doing my work analogically and then moved on to digital illustration. Currently I do the story boards by hand and then I start with the final work in digital using a laptop and a graphic tablet.
What was the first manga you picked up? Naruto. Since I was little I liked the message of never giving up and as soon as I could acquire it I did.
Which manga changed your life?

There is no specific one, but every time I read a new work I acquire a piece of the message of that work to use in my life.
Which manga character do you most identify with? Why?

I find it hard to identify with a specific one, since like real people each character has a unique point of view and personality and I love the confrontation and interaction between those personalities. For this reason precisely I love creating manga!
What kind of manga do you want to make next?

I want to create a manga that takes the reader on a difficult but at the same time entertaining journey where the protagonist goes along with the reader advancing more and more as a person, and thus being able to show viewers my point of view on never giving up on dreams. If I can make the readers feel that feeling, I can say that I did it well.
---
About You
What do you do when you're not making manga? How do you relax?

I usually play basketball to exercise, and to relax I go to parks to see the clouds for a long time and think about what I will do next.
What industry do you work in (if manga making isn't your primary job)? I currently work part-time jobs to focus on studying how to design manga properly.
Where do you see your manga career in 5 years time?

Within 5 years I want to be fully within the manga industry by having my own serialization and being very successful at it.
What manga making advice would you give to your younger self if you could?

My best advice for my old self is to focus on the weaknesses you have as a drawer and at the same time try to correct them in order to be closer to the goal.
What advice would you give to people entering the SILENT MANGA AUDITION®?

Try to express your ideas to the world as best as possible without the need for your characters to speak. If your characters and stories have strong feelings without the need for text, I think you will do very well.
---
Thank you, Jeffrey R Lopez! We're eagerly expecting your next manga masterpiece!
You have time until April 3rd to join SMA19 and have a chance to develop your potential as a manga creator with us in Japan!