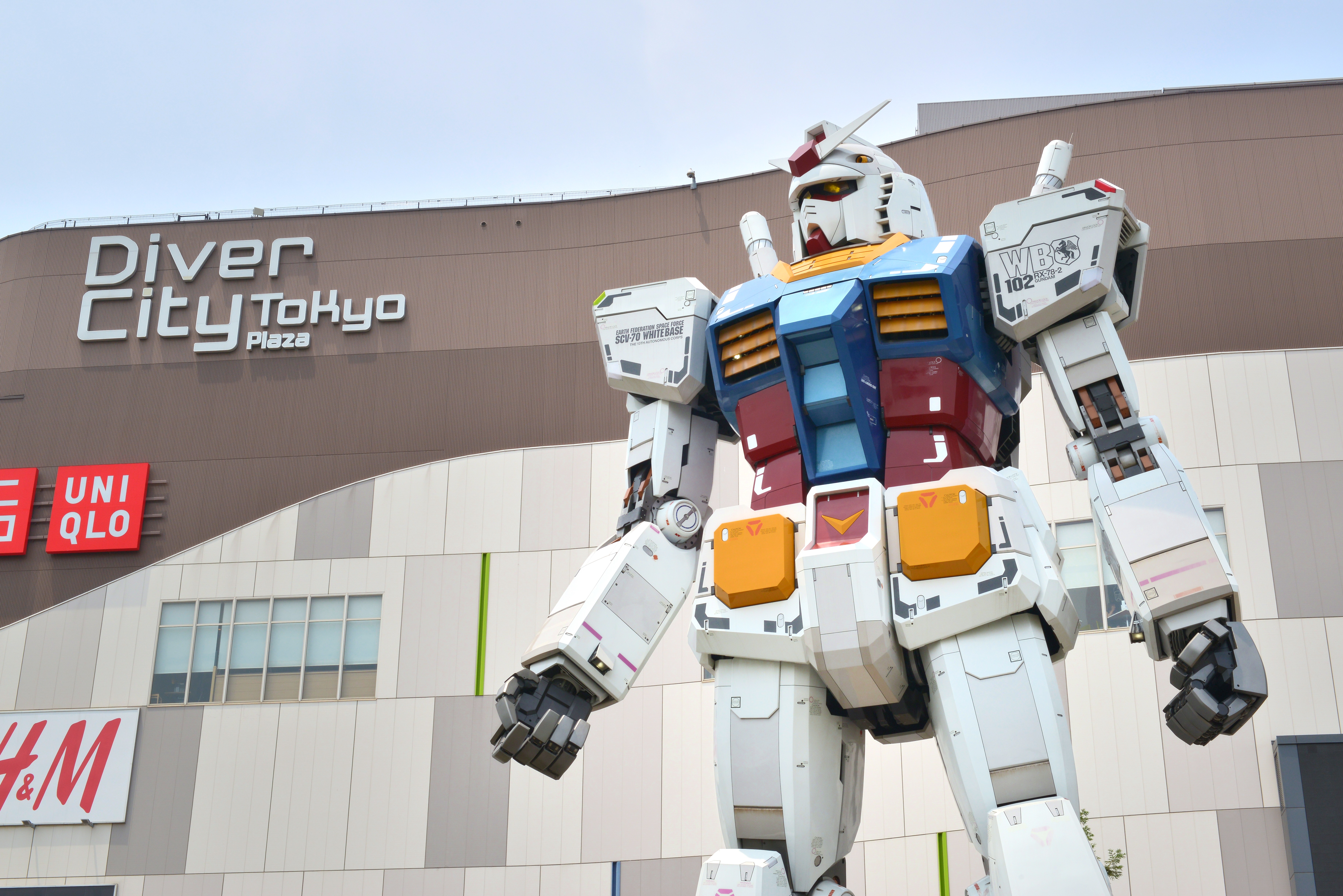 TOKYO MANGA DEEP WALKER #012
The hottest places in the Manga & Anime industry, brought to you by the SMAC! News Team… This is TOKYO MANGA DEEP WALKER!y!
Gundam Front Tokyo Article… Episode 2!! We've still got lots more to show you! We left off inside
Gundam Front Tokyo
, where we were making our way to the Official Gundam Shop. But on the way, we spotted something awesome!
The Mobile Suit Gundam 30th Anniversary Autograph Collection!!
This was displayed during the 2009 anniversary event, and it's full of the signatures of staff and cast who were involved in the creation of the Gundam series. It's really great to be able to see it up close!! Okay, we've finally arrived at the
Official Gundam Shop
!!
This is the official shop, which sells a large variety of Gundam goods. This place will especially appeal to collectors, since there are goods here that you can't find anywhere else! Not to mention, over 500 different types of Gundam plastic models!!
The amount of plastic models here is mind-blowing!! I can quite believe that this is the biggest collection of Gundam goods in Tokyo! Apart from Gundam models, there are also cellphone accessories, books, clothing, stationary etc. They've prepared an unbeatable selection for the loyal fans who make the journey here! Our last stop within the facility was
GunPla Tokyo
. Here, you can see over 1,000 kinds of Gundam models which have been manufactured since 1980, all in one place!
With everything in one room, you can actually see how the models have changed over the years! This is definitely the only place in the world where you can see this much Gundam history!!
Feast your eyes on these valuable little pieces of Gundam history!!
Figures striking poses and diorama displays!
From old-school models that you can't really find anymore…
… to the latest series! Everything is here!
Both quality and quantity… you can really lose track of the time looking at all these beauties!
Our team really had a blast at Gundam Front Tokyo. They make Gundams look so good, that even if you're not a hardcore fan, you'll still be able to enjoy it! Next up, we'll be leaving Gundam Front, and going to the 2nd floor of Diver City Tokyo Plaza, where we'll find the
Gundam Café
!!
There are two Gundam Cafés, one in Akihabara, and another in Diver City. Here you can buy special goods and gundam-themed food! The store is full of original goods like Gundam-themed spoons and mugs! These items allow you to add a little Gundam flavor to your everyday life!
These are Gundam Café's famous edible
GunPla-yaki
, based on the first generation 1/144 scale Gundam models!
Mobile Suits Latte Art! Please enjoy your snack with a Gundam Café Latte!! Here's a message from the store manager!
"Our products are pleasing to both the eye and the pallet! If you come to see the Gundam statue, then you should definitely visit us as well!"
If you've made the trip to Gundam Front, we recommend that you also go to the Gundam Café to buy some goods and to relax with some food and drink. After leaving the Gundam Café, we exited the building… and what do you think was waiting for us?
!?
A… a humongous 
Gundam statue
!! Standing right in front of it, its presence is unbelievable!! What's more, if you visit this Gundam statue during a certain time… the head moves! In the evening, the statue lights up and an image is projected onto the wall of Diver City behind it. It looks like he's about to leap into action! If you have the time, we definitely suggest that you stick around for one of the shows! It's not to be missed! A 1/1 scale Gundam statue is really something else! It's amazing presence has helped to bring loads of tourists to Odaiba, and almost everyone who comes here takes a commemorative photo with the Gundam statue. Seeing the Gundam that we all love in real life… it's like a dream come true!!
If you have a chance to visit Japan, we hope that you'll come to see Tokyo's Gundam statue! Whether you're a hardcore Gundam fan or not, you can enjoy the feeling of stepping into an anime world!! ■Gundam Front Tokyo■
 Official Site
Ticket booked in advance: Adults, university students, high school students: 1000 yen. Middle school students, elementary school students: 800 yen. Ticket sold at the gate: Adults, university students, high school students: 1200 yen. Middle school students, elementary school students: 1000 yen. ※Infants and toddlers admitted free ※Up to 5 tickets may be reserved by one person. ※ID may be required for middle school / elementary school student discount. ※Depending on the amount of bookings, tickets may not be sold at the gate.
Pay Zone: 10:00 – 19:00 (last admission18:00) Weekdays: Free time system Weekends and holidays: 3 hour system ※1 hour system during busy periods such as Golden Week or the Obon holidays. Free Zone: 10:00 – 21:00
Address: 1-10 Aomi 1-chome, Koto-ku, Tokyo
Link
to English google maps (c) SOTSU・SUNRISE Photographer: Yoshio Kobayashi ↓↓↓ Missed our past artcles? Read them all below! ↓↓↓