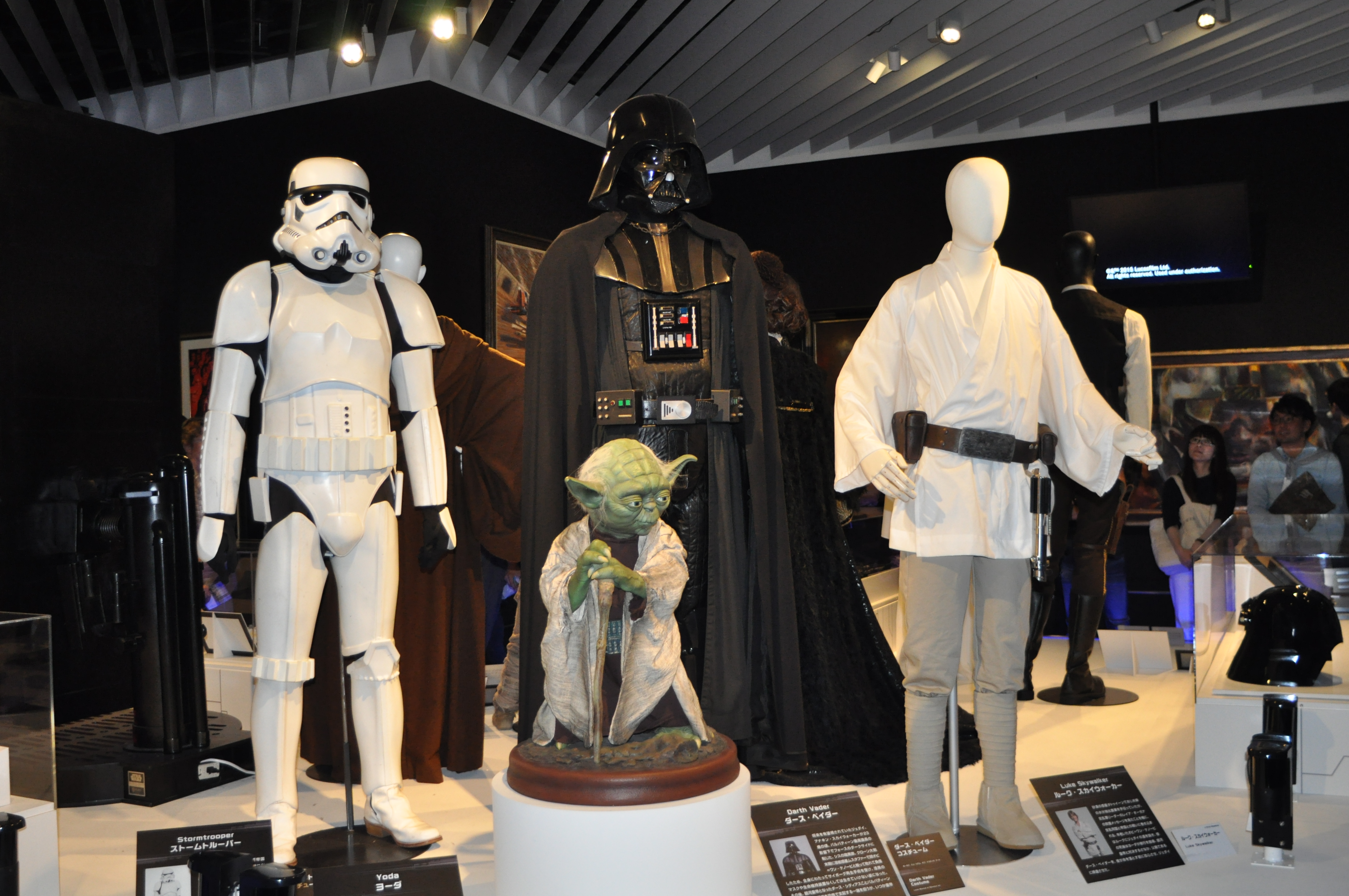 TOKYO MANGA DEEP WALKER #010
The hottest places in the Anime & Manga industry, brought to you by the SMAC! News Team… This is TOKYO MANGA DEEP WALKER!
Star Wars
Article… Episode 2!! We've still got lots more to show you! To the next corner!!
T… there's a huge crowd of people waiting here!! To get to the next corner, we'll just have to line up and wait our turn… Ah, but it was worth it! The moment we stepped through that door, our eyes almost popped out of our heads…
Look at that! Darth Vader, Yoda and Luke's costume… the very one worn by Mark Hamill! Yes, the items on display here are the actual ones that were used in the making of the film! But wait, there's more! This beautiful illustration was drawn by Yoshitaka Amano, who is also well known as a character designer for the
Final Fantasy
series!! Next up, feast your eyes on this one! This powerful artwork took our breath away! Everyone who passed this spot stopped to gawk!! Next up…
Weapons from the movie! These too are actual props that were used when shooting the film. The keyword for this exhibition is "authenticity". It makes a big difference when you know that the item you're looking at is "the real thing"!! And there are some more authentic items in this corner!
From the left, Queen Amidala, Anakin and Obi-wan Kenobi's costumes! This corner is called "Vision of SAGA", and it contains some rare items you'll probably never get a chance to see up close again. We wanted to stay longer, but eager guests were pouring into the room, one after the other! Eventually, the wave of people pushed us into the next section… "Vision of GALAXY" and "Vision of DROID". And who was waiting to welcome us?
A giant Jabba the Hutt!! Moving ever deeper into the exhibition, the Tokyo Deep Walker Team encounters yet another line of people!
I think you can already see what's coming up next! Yes, these could be the droids we're looking for…
Again, the actual suits used in filming… C-3PO and R2-D2!!
"We want to show the fans the real thing"
That's the spirit of this exhibition, and I think everyone was impressed! In fact, there may have even been a few more hardcore fans born here today! Finally, let's check out the gift shop.
Oh! It's also packed with people!
Here, guests can buy some souvenirs, and take a small piece of the excitement home with them. Everywhere we look, we see satisfied faces. Among those fans…
Here's a young boy, engrossed in the exhibition pamphlet. One thing that we realized through this exhibition, is that
Star Wars
is one of those rare works whose popularity endures over generations. We went over to ask his parents for permission to use the photo, and they were also kind enough to give us a comment:
"Actually, we were the ones who wanted to see this exhibition, and we just dragged our son along with us. But before long, he started asking about everything and saying how cool is was. Before we knew it, we had another fan in our family! I think guests from overseas would also really enjoy coming here."
I'm willing to bet that anyone who visits his exhibition hall would understand the brilliance and the beauty of
Star Wars
! Stopping to catch our breath, we overheard some interesting info… Apparently, on the roof of this building, there's a place called Sky Deck, where we can take a great commemorative photo. Let's go check it out!!
And what is waiting for us at the top of these stairs… !?
Uwa!… Look at that view. You can see Tokyo Tower from here, and the surrounding area… That is some breathtaking scenery! However, that's not what we're here for! Let's move along…
Strange, there's nothing here… No, wait, I can see something vaguely in the distance. It looks like… a very long queue!!
What on earth is everyone lining up for…? One and a half hours later, we finally arrived at the front, and discovered the answer…
He has been waiting for us… the circle is now complete…
It's a photo opportunity with a life-sized Darth Vader!! And did you know, that this
Star Wars
Exhibition… 
… takes place this far above the ground?! This time, the thing that stood out the most to us was:
"Showing the fans the real thing"
I hope that through our article, you too could experience a little taste of that excitement! Next time, we'll be visiting Tokyo's famous
Gundam
! Don't miss it!
=============================
Star Wars
Exhibition "Visions" Details: Period: 29/04/2015 (Wed) – 28/06/2015 (Sun), No holidays Time: Every day from 10:00 – 22:00 (No entrance after 21:30) Venue: Sky Gallery, Tokyo City View Observation Deck (52nd Floor of Roppongi Hills Mori Tower) Sponsors: Mori Arts Center (Tokyo City View), NHK Promotions Special Collaboration: Walt Disney Japan Collaboration: All Nippon Airways, and Nippon Cargo Airlines. Tokyo Exhibition Collaboration: Color kinetics Japan Admission: 1,800 yen for adults, 1,500 yen for seniors 65 and above, 1,200 yen for students high school and above, 600 yen for children 4 years old through middle school. Additional 500 yen admission necessary for Sky Deck rooftop Official Site: http://www.roppongihills.com/tcv/jp/sw-visions/ Queries: 03-6406-6652 ============================
=
Link
to English google maps © &TM Lucasfilm Ltd. Lastly, a few extra photos! While we were at the
Star Wars
Exhibition in Tokyo, our usual cameraman, Mr Yoshio, was in American on business. He sent us these photos from a local bookstore!
The current big name in Japanese manga:
Attack on Titan
.
Here's the
Dragonball
series!
Does anybody read NEO or OTAKU USA? I'd love to know what these magazines are like! Has anyone been to this bookstore in Denver's 16th Street Mall? Please leave a comment! Photographer: Yoshio Kobayashi