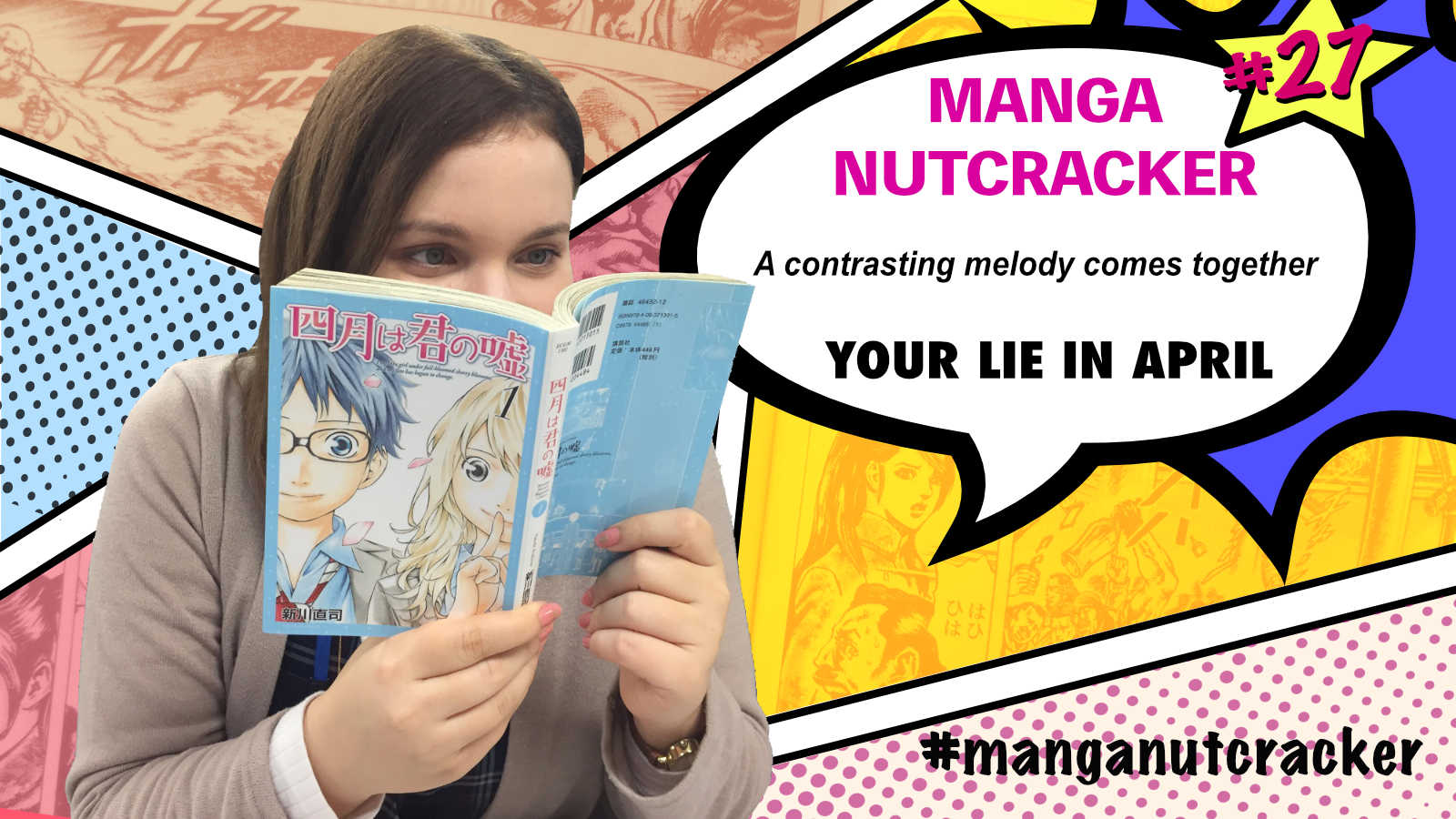 Manga nutcracker #27 – Your Lie in April
Your Lie in April
(四月は君の嘘 –
Shigatsu wa Kimi no Uso
)
By Naoshi Arakawa
Published by Kodansha in Monthly Shōnen Magazine
Original run: April 2011 to May 2015
"A boy's simple life changes by meeting a girl's vibrant melody!"
Taking the Japanese manga world by storm with its heartwarming melody of love, pain and determination,
Your Lie in April
has touched the hearts of many all over the world. So much so in fact, that it has garnered its own anime, live action feature film and stage play!
So what makes this tuneful tale so special?
Kosei Arima, an 11 year old virtuoso pianist suffers a mental breakdown during a recital. Overcome with emotions at the death of his overbearing and abusive mother/piano instructor, the young child prodigy enters into an almost emotionless state.
Even with a lingering passion for music, Kosei cannot overcome the brutally traumatic lessons he experienced at the hands of his disciplinarian mother. Suffering from PTSD, the once rising star of classical music subconsciously blocks out the sound of his piano, signaling his exit from the recital world.  
Years pass with Kosei living a joyless, monochrome life in a world without music. All of this changes however, with the arrival of Kaori Miyazono, an energetic, free-spirited violinist who's erratic use of the bow perfectly reflects her eccentric and joyful personality.
Emboldened by her infectious lust for life, Kosei slowly begins to see color enter his world, along with his passion for music. But much like the complicated notes of a virtuoso piece, the young pianist soon discovers that where there is a rise in emotion, there is ultimately the fall.
Nutcracking time
Whether it's a space opera or a period piece, for a story to really resonate, there has to be one very important ingredient… human drama. The simplicity of
Your Lie in April
, with it's strong characters and human emotion, reminds us of this fact.
From the emotionally exhausted protagonist to the supporting characters, every player in this endearing tale begin with a myriad of struggles for them to learn from and overcome.
The juxtaposition of the two leading characters, with their hugely opposing personalities is the magical glue that holds
Your Lie in April
together. A veritable "odd couple" story, the reader is offered a delightful yarn of redemption and rebirth, amid the tumultuous world of competitive musical recitals.
Kosei's natural musical ability seems to be forever blighted by the memory of his abusive mother. With this associative behavior, our protagonist is overcome when witnessing Kaori's genuinely impassioned, and more importantly, improvised attitude to the pieces she performs. In a world of strictly enforced rules, this rebellious view of his previous world allows Kosei to shake off the grey and traumatic past and embrace a colorful future of creativity.
"So Kosei and Tsubaki bring the best of each other with music! I hope to also to help bring the best out of the future mangakas!"
What was your favorite scene in Your lie in April? Will love to hear your thoughts in Twitter –
@SmacViVi
Facebook –
Vivi Fabbri Smac
Don't forget to use the #manganutcracker