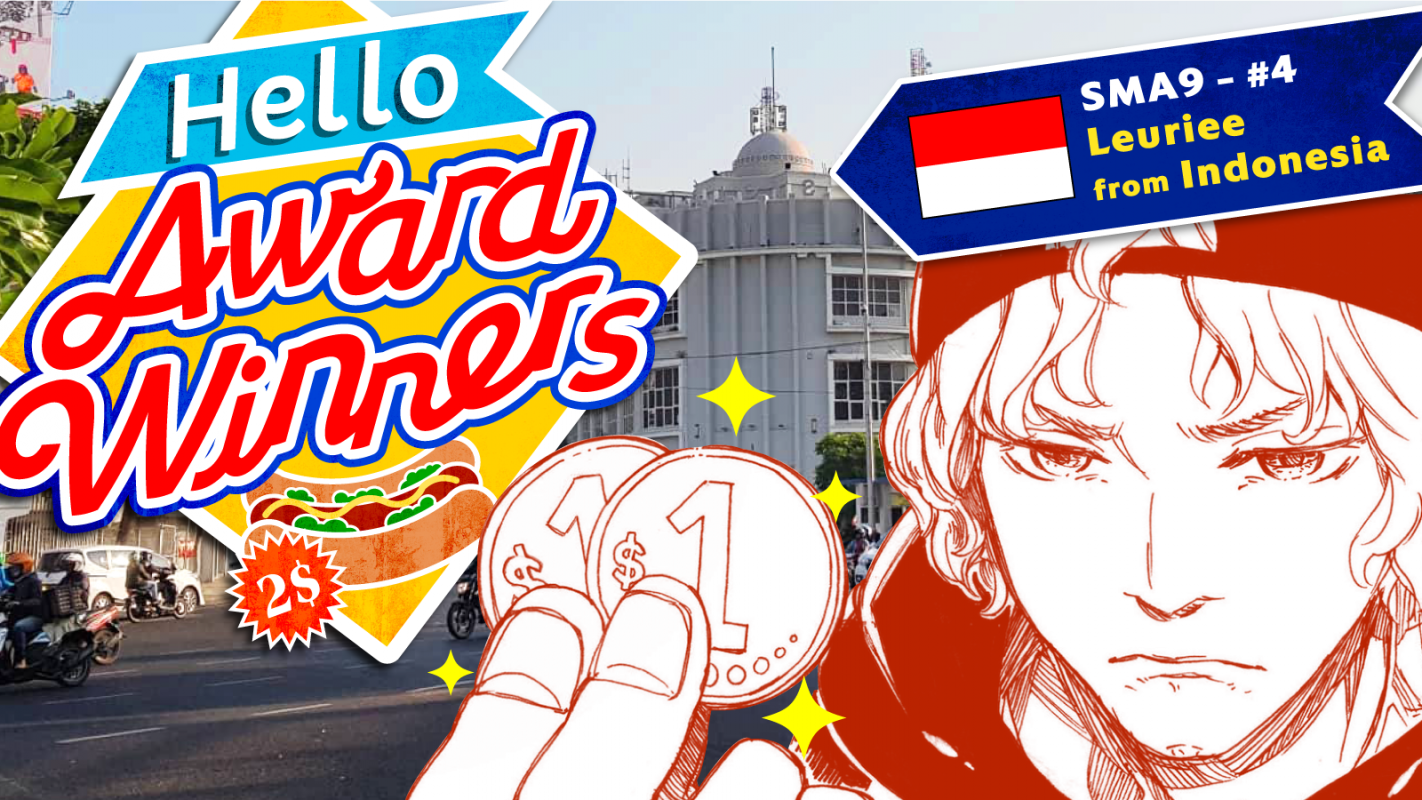 SMA9 Interview #4 – Leuriee (Excellence Award winner)
Currently based in the tropical Indonesian city of Surabaya, SMA9 Excellence Award winner, Leuriee, captured the hearts of both the SMAC! editorial team and the panel of judges alike with '2 Dollars', her story of kindness, compassion, and hot dogs. Armed with a bucketload of enthusiasm, coupled with her own unique approach to creating, we sat down with her for a chat about all things manga! Enjoy!
ABOUT YOU
"I prefer not making a 'name'"
Hello Leuriee, how's life in Surabaya right now?
Hi there! Yeah, it's 31 degrees Celsius outside which is kinda mild by our standards – I'm still indoors with my aircon on though! Haha!
Nice! Nothing wrong with chilling on a hot day! Well, let me just begin by saying CONGRATULATIONS on your win! How does it feel?
Thank you so much! Actually, I haven't been on facebook or social media much lately, so it was actually my friends that heard the news first and who told me! Hahaha! They were super happy for me and joked about me spending my prize money on them. It was pretty funny! My family of course were very happy too!
Haha! Smiles all round then! Diving straight in, would you mind telling us how you began creating manga?
It all started when I took an interest in a 4-panel comic strip running in my local newspaper. My first attempt at dabbling with the medium was redrawing the comic, going from the simplest of styles, before progressing to more complex drawings by different manga creators. Detective Conan and CardCaptor Sakura were my favorites to redraw. My classmates at the time really liked my redrawing, so that made me want to further improve my skills. It wasn't long before I started creating my own characters and stories as I started to dream of becoming a mangaka myself.
I see! What kind of characters and stories were you creating back then?
I started by drawing myself and creating manga about my own everyday life. I remember one particular story where I  caught a cockroach and gave it to my two chickens, who frantically set about trying to catch it, but end up pecking at each other in the process. It was pretty chaotic! Haha!
Haha! It sure sounds it! What else did you draw?
I was really into Shojo manga back then, so I also created manga in the style using original characters I made up. I don't remember much about the stories themselves, but they were your typical 'high school girl meets a boy and falls in love' kinda thing!
With each creation, you no doubt solidified your own method of creating manga. Care to share with us your process of creation?
Once I get an idea for a story, I begin straight away by making sketches on paper which essentially becomes the start of my work. If it's a long story, I will sometimes have to segment  each plot point, and write more notes before resuming my sketches. When I'm working on my own (without an editor), I prefer not making a 'name' as I personally feel it limits my potential.
Oh, is that so! Wow, that's the first time I've heard a creator say that! Haha!
Yeah, making a name seems rather time-consuming and I like to just get stuck in when creating my work, so I find it easier to work without a strict guideline like that. That said, I will need to use them if I start working with an editor, so I should probably start getting better acquainted! I'll cross that bridge when I get to it though! Hahaha!
Haha! That's the spirit! What kind of environment do you work in? Are you more of an analog person or do you prefer digital?
My workspace is kinda bare right now since most of my stuff is currently enroute to my next place of residence. I can tell you though, that I'm very much an analog person! My drawing seems to come to life all the more when I use traditional pens. Also, I don't have much access to digital tools right now so that's a big factor! I mostly use Snowman drawing pens, and sometimes Pigma Micron, too. I  generally use size 0.1 for both pens, but different brands have a different feel so I alternate between the two depending on the situation. Since I depend on a limited number of tool variations, I tend to add effects and tones manually if possible, before completing the rest digitally for stuff like screen tones etc. I do hope to increase my toolkit in the future though!
ABOUT YOUR PLACE
"We meet up once a month and draw manga together!"
So, what's it like living in your part of the world? Are there many interesting events or sights?
Though I'm moving to the U.S. in a month or so, I'm currently living in my home city of Surabaya. I'm an awkward person so I don't really go out a lot, but I know Surabaya is a must-visit place to check out if you're into culinary adventure! It's the second biggest city in Indonesia, so visitors here can expect to see tons of anime & cosplay events held every year. The local people are kind, and are ready to help you if you ever need any help too. We also have the best Mayor, who takes such great care of our city. She's well on the way to making Surabaya even prettier and greener than it already is!
Wow, that sounds lovely! Is there a big manga community in Surabaya?
I'm sure there is, but it's been many years since I was engaged in any groups or communities. I'm sure there are though as they usually meet up at anime conventions. I don't really have the time to get involved these days, but I do have my own small group that I enjoy being part of. There's only 4 of us, but we meet up once a month and draw manga together which is a lot of fun!
Yeah, I bet! Is it easy to find manga where you live?
Yeah it's a big city so there's loads of bookshops over here that stock manga. We can find it pretty easily.
Oh really? Are they imported in English?
No, they are localized into Indonesian since not everyone can speak English yet! I'm sure that in a few years more people will learn to speak, and that we'll start getting more books available to us in English though!
Yeah, that would be awesome! What manga titles are popular in Indonesia right now?
Unfortunately, I feel pretty of touch with the comic/manga industry right now due to my work, but I hope to explore many great works once I have more free time! I do know that there are several series' that have been going for long while now, like Bride's stories and Bakuman. Other popular titles over here would be Vagabond, Kuroshitsuji, 21st Century Boys, and many others. I've also noticed a lot of shojo manga at bookstores since most of the readers here are teen girls.
Do you have any personal favorites?
I have a LONG list of favorites! Haha!  My preference is mostly for titles with fine detail and neat artwork, that have a good story and plot. Kaoru Mori's 'Emma' and 'The Bride's Stories', 'Eyeshield 21', 'One Punch Man', 'Death Note' & 'Bakuman'… the list goes on!. I'm willing to read almost any genre so long as they're interesting to read, as I'm always looking for good references to help me in creating my own stories.
That's quite a varied list of genres!
Hahaha! I know right? I can't really choose a favorite. I'm not a huge fan of sports manga but if the story is good and not too hard to follow, I generally like anything!
Okay, so which genre do you feel most comfortable creating?
Fantasy!
Interesting choice! Are there any locally created comics or manga that are popular over there? Do you know any of those creators?
I've gotten to know some like my former lecturer, Is Yuniarto (Garudayana). Also, a mangaka I used to assist for a short time called Anzu Art (the creator of 'X-MEN Misfits', who was awarded an Honorable Mention during SMAC! 2014 under the penname AgnesSusanti), as well as Henry Trisula, a mangaka who released the series 'How to draw animals'. I'm also friends with Tan Feli, the creator of the Webtoon, 'Born From Death'.
ABOUT YOUR ENTRY
"Kindness is both given and shared."
Let's turn our attention to your entry '2 Dollars'. How long did it take you to create?
About 1 month. I procrastinated a lot when I got stuck on parts I was hardly able to draw. I guess I need to practice more! Haha!
Really? How did you overcome those moments of procrastination?
When I'm stuck procrastinating on one page it's a waste of time, so I will often go to another page and do something like the backgrounds or something a little easier to give my mind a break. I need to do all of those things sooner or later anyways so would rather get them out of the way and leave the harder parts to later as the deadline approaches!
So you moved to an easier section whilst mulling over how to tackle the harder parts?
Exactly! It was a big help actually!
I see! And where did you find the inspiration for your entry?
Finding a story idea is quite an easy task for me – it's expanding it that takes time! Where did I find my inspiration? Everywhere, I guess haha. Conserving time is really important for me, so once I decided upon the story, I started drawing whilst thinking of how the next page should be. It's a risky move if the narrative isn't strong enough to expand, which is why I made sure I chose a well-flowing story.
It was nice to see the homeless man have such a fortunate day, but the hotdog vendor ends up short changed! Why did you decide on that ending?
Have you ever seen someone doing a good deed for others, then suddenly feel like doing the same thing too? This is precisely what happens to both the main character and the hotdog vendor. Furthermore, she also feels guilty for tricking the protagonist into giving his change to the little girl. Also, the vendor actually doesn't end up short changed! Some places in the west are known to receive tips for any hospitality – especially restaurant workers and food sellers. This is why we can see her taking some of the tips she received from her previous customers; she's received them as an extra income!
Ah, now it makes sense! Were there any parts of the manga you found difficult to draw?
Definitely the backgrounds! I'm still having a hard time getting the size ratio correct between the characters and their surroundings, so I kinda wanna work on that. I've not learned any good techniques yet, but I will need to master that if I'm to get a solid grasp on perspective. The manga is set in the west too, so I felt I needed to convey that a little more.
What message did you want to share with the readers through your manga?
Kindness is both given and shared. We're not always in a good situation, but if we can do a good deed for the sake of others, the smile we receive in return is enough to brighten our day, even if just a little.
Wise words indeed! Which of the other SMA9 Award-winning entries did you like?
'Sleepy Rock Z' by Paco Puente is really something. His style is so uncommon to see these days, so it's really nice to see the way he combines his drawing style with a light comedy story. It's a really entertaining read and I look forward to seeing more of his work!
ABOUT YOUR FUTURE
"It's been my dream since childhood to become a mangaka."
Looking ahead, Is there anything in particular that you would like to create in the future?
I would love to make a manga that intertwines beautiful details with a deep story, but can still be understood by people of all ages. I'd love to make a long story involving characters from different countries, races, and backgrounds too. It's been my dream since childhood to become a mangaka after all!
Well you're certainly on your way! What do you hope to achieve by taking part in the SMAC! community?
I'm always excited at the prospect of meeting other artists and mangakas, be they newcomers or pros. I hope that I can one day meet them in person, and share our interest in manga together. Also, the MASTERCLASS seems like a lot of fun to be part of, so I wish to be a member someday too!
Thank you for your time! Is there anything else you would like to share with the community?
Don't procrastinate! You can never get that lost time back! Find a style that expresses you the best, but most importantly, people can easily remember you by. Never aim to be the best, because that'll be the end of your journey! Always strive to improve and go beyond your limits! Also, Thank you to the SMAC! team for giving creators like me a chance to show our work to the world. I hope that these contests continue long into the future, and that I can someday meet all of you guys!
We hope the same! In with that, we leave Leuriee to chill in her air conditioned room as she works hard on her
next manga whilst preparing for her big move to America! Penmaru however, isn't going anywhere as he continues to scour the Earth for the next award winning creator… YOU!
So, what are you waiting for? Make manga your language too by taking your first step into the world of manga creation by joining SMA X! You have until September 30th, 2018 to say "HELLO" to your new friends! Click the banner for more details on how to enter…
For more manga goodness from Leuriee, be sure to check out her Instagram at: 
www.instagram.com/leurieegram
 !