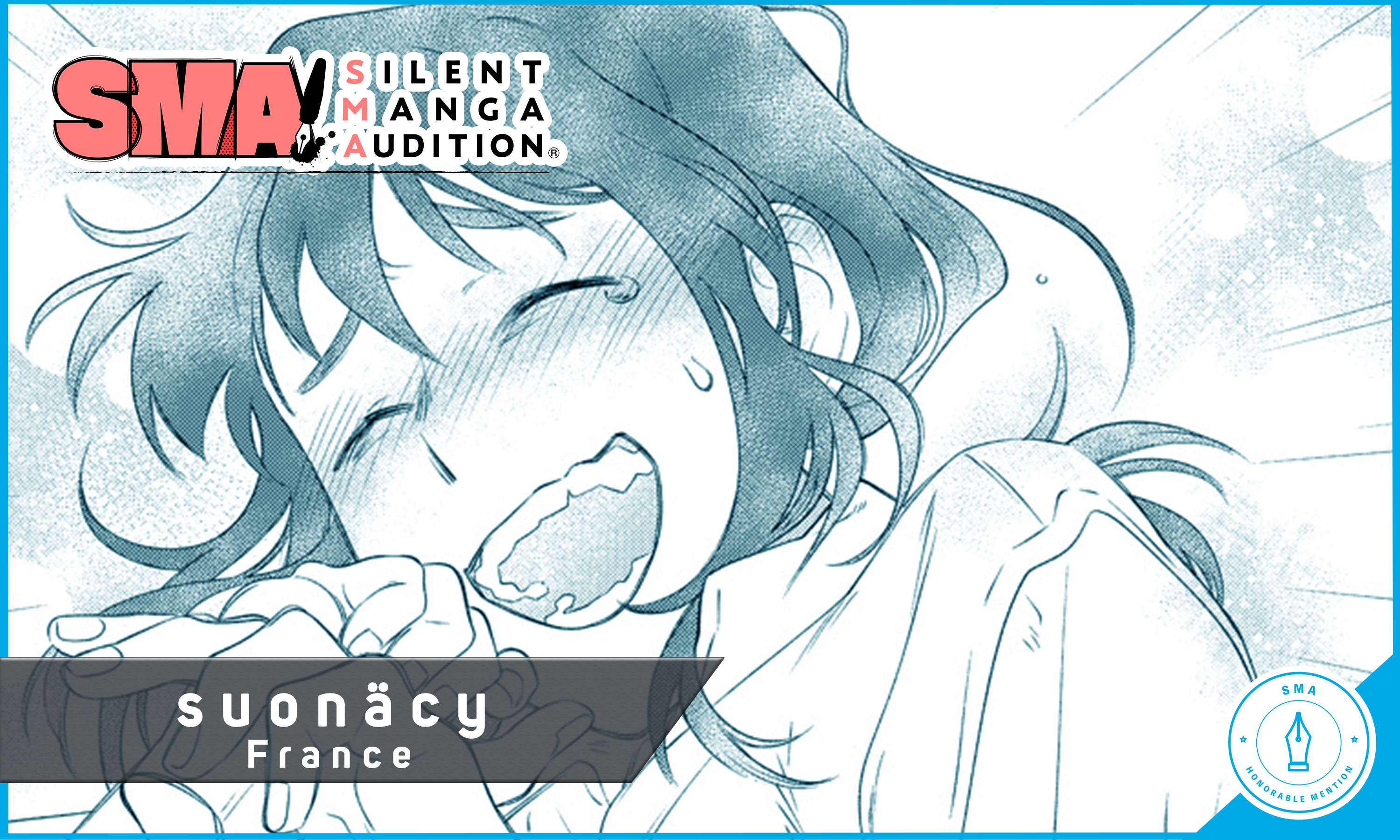 HELLO SMA18 AWARD WINNER, suonäcy!
PROFILE
Pen Name:
suonäcy
Age:
24
Country:

France
Favorite manga:
Well, huh…
Favorite movie:

That's, huh..

.

Favorite quote:

Actually, very good questions.
Entry Title:
"Tickles (くすぐり)"
Round:
SMA18 "Moments of HAPPINESS, AFFECTION, or TEARS"
Award:
Honorable Mention
---
"Just do your best and enjoy the process!"
About SMA
How does it feel to receive a SILENT MANGA AUDITION® award?

I was pretty glad when I knew I won an award, but it was quickly replaced by a dissatisfaction of not having done well enough for a higher one…
What was the inspiration behind your awarded work?

I actually redrew an old manga I did from 2018, with the exact same title (but different characters that I didn't want to use for a contest). I had no real knowledge of how to draw a manga except from the ones I read. I'm currently in a manga-teaching school, so redrawing it was a way to acknowledge how much I progressed. I honestly think I did a good job.
What challenges did you face while making your manga? How did you overcome them?

This manga was far from being my first idea for the contest. I had two other stories in mind, but I just couldn't bring myself to draw them (lack of drawing skills for specific themes, not inspired enough by the stories/characters). Using an older manga as a template was kind of a last resort option; it's not much, but it's better than nothing.
READ suonäcy's SMA18 ENTRY HERE!
---
About your Manga
How and when did you start making manga? Any advice for beginners?

I started drawing in a manga art style pretty early in my childhood, but I started drawing manga comics more seriously only three years ago.

I'm not sure I have any advice to give… If you want to start something new, especially if you're young, do it and don't be afraid to fail (because we mostly all suck at first). But if you don't feel like going into that path yet, it's okay. If you change your mind later, be it in four days or four years, it'll still be there for you.
Do you draw your manga digitally or by hand? What are your go-to digital or analogue tools?

I draw both ways but when it comes to manga, I stick to digital. I'm very comfortable using Paint Tool Sai so I generally use it for sketching my storyboards, and when I do the clean version, I switch to Clip Studio. I'm not yet drawing big 100 page stories, so for now it's not too bothersome.
What was the first manga you picked up? The first manga I picked up and owned was Sgt. Frog (Keroro Gunsō) when I was in elementary school… But honestly, I think I liked the anime adaptation better. It was somehow more targeted at kids (What, a girl's panties? In my manga?!).
Which manga changed your life? Natsume's Book of Friends (Natsume Yūjinchō). It was just here for me at the right time (patiently waiting to be read in my middle school's library). I don't consider it my favorite manga, but it (still) holds an important place somewhere in my heart. … Or brain.
Which manga character do you most identify with? Why? Now that's a very good question. I identify a lot with characters like Hitori Bocchi (Hitori Bocchi no Marumaru Seikatsu) and Gotō Hitori (Bocchi the Rock) (Wait… Do I sense a pattern in those names?). I learnt to be more at ease publicly with time and I am doing pretty fine nowadays, but I still struggle with the anxiety to be liked and being a shy, awkward loner longing for more emotional, friendly interactions.
What kind of manga do you want to make next?

I still want to focus on characters' psychology and emotions, but I want to explore much darker themes than a couple's tickle fight.
---
About You
What do you do when you're not making manga? How do you relax?

I eat. And if I ate too much already, I think about eating.
What industry do you work in (if manga making isn't your primary job)?

I'm just a smol art student.
Where do you see your manga career in 5 years time?

In order to avoid disappointment or put too much pressure on myself, I'll just say… Hopefully somewhere I can at least pay rent.
What manga making advice would you give to your younger self if you could?

It doesn't have to be perfect now because it never ever will. Just do your best and enjoy the process.
What advice would you give to people entering the SILENT MANGA AUDITION®?

If you have the time to consider participating, by all means, do. For those who struggle with what kind of story, I think anything can do, as long as you can make your readers look forward to the following pages; they need to be hooked for the conclusion. It doesn't need to be life-changing or exceptional; it can be extremely simple. Anything that's important to you (and relevant to tell in a 17 page story).
---
Thank you, suonäcy! We're eagerly expecting your next manga masterpiece!
You have time until April 3rd to join SMA19 and have a chance to develop your potential as a manga creator with us in Japan!