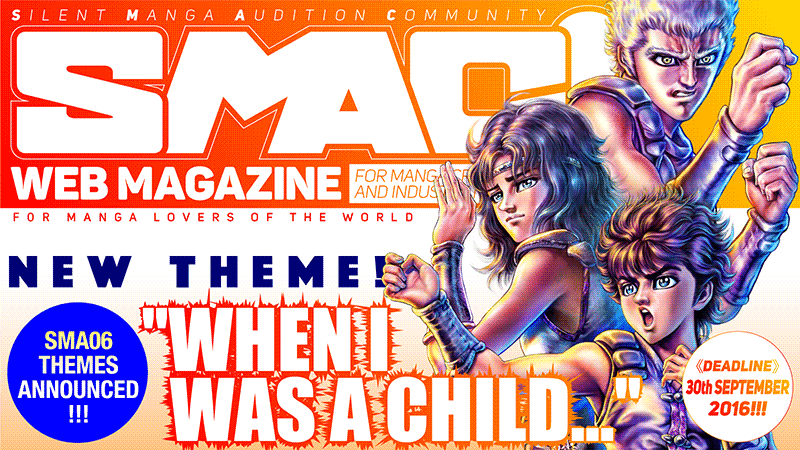 SMA6 – "SILENT MANGA AUDITION 2016 AUTUMN" EVENT ANNOUNCEMENT
"
This is your best chance to prove yourself!"
 – Rocket-start your MANGA career, with generous prizes and the chance to work with manga pros from Tokyo. This is one opportunity that any aspiring manga artist can't afford to miss!
---
For additional tips, hints and tutorials on MANGA creation:
---
For explanation by the chief and the deputy chief, watch our YouTube channel "Japanese Manga 101"
MORE GUIDES AND TUTORIALS WILL BE COMING SOON!
Please bookmark this page, and join our SNS channels to be kept up to date with latest info that will help you create and have fun 😉
---
SILENT MANGA AUDITION® EVENT ANNOUCEMENT
THEME FOR "SMA6 – 2016 AUTUMN": 
"CHILDHOOD"
RULE : "NO DIALOGUE". Use drawings only to tell a story.
DEADLINE : "30th SEPTEMBER, 2016"
---
The Prizes:
GRAND PRIX : JPY 500,000
GRAND PRIX RUNNER-UP : JPY 300,000
EXCELLENCE : JPY 100,000
EXCELLENCE RUNNER-UP : JPY 30,000
HONOURABLE MENTION : JPY 10,000
---
The Judges :
Tsukasa Hojo – Artist, "City Hunter" series, etc.
Interview and messages from Hojo Sensei
Tetsuo Hara – Artist, "The Fist of the North Star" series, etc. 
Interviews and messages from Hara sensei
Ryuji Tsugihara – "Mecha-Doc" series, etc. 
Interviews and Messages from Tsugihara sensei
Nobuhiko Horie – CEO, Coamix Corp. (Former Chief Editor, "Monthly Comic Zenon", "Weekly Shonen Jump", "Weekly Comic BUNCH", "RAIJIN Comics")
Comic ZENON Editorial Team
SILENT MANGA AUDITION Committee / SMAC! Web Magazine
---
Endorsements and Interviews :
Go Nagai sensei – Artist, "Mazinger Z", "UFO Robot Grendizer", etc.
Tetsuya Chiba sensei – Artist, "Boy Action(Ore wa teppei)", "Champion Joe (Ashitano Joe)", etc.
Mr. TAKAYUKI MATSUTANI, 
CEO, Tezuka Productions / Interviews and endorsements, on compilation book 2013.
USAMARU FURUYA
 sensei / Author, 
"Palepoli", "La Musique de Marie", "Le Cercle du Suicide", "No Longer Human"
 etc. / Interviews and endorsements, on compilation book 2013.
MOTOO ABIKO
 sensei, Author ( collectively with 
HIROSHI FUJIMOTO
 sensei, as
 "FUJIKO-FUJIO"
 ), "
Doraemon", "Hattori-Kun", "Kaibutsu-kun"
, etc. / Interviews and endorsements, on full-page advertising with Nobuhiko Horie
TAKESHI YORO
 sensei / Intellectual, Professor Emeritus at Tokyo University, Book author, Director Kyoto Manga Museum. / Interviews and endorsements, on compilation book 2014.
---
2016 "AUTUMN" Theme :
"CHILDHOOD"
We do all sort of things when we were a child. What's the best memories you can recall (from a grown-up point of view) ?
Or maybe it's about your family or your friends, perhaps some child you saw in town, who had some brilliant ideas, and then failed. You may want to tell the world about yourself, or maybe "Wish it was more like this", reconstructed version of yourself? Children are full of imagination – Might as well make it all up, the most entertaining story of a child ever! And grown-ups are full of memories, how would the most entertaining child ever, grows up to recollect the memories? Someone from outer space? Time travelling through time? Maybe you still consider yourself a child in your 30's?  – All is welcome, human, animals or robots, real / imaginary or virtual! Capture that moment, and turn it into a SILENT MANGA! And please read the following notes on new rules for SMA6. ( No change of general rules from SMA5. )
SMA6 SPECIFIC GUIDELINES
"CHILDHOOD" can be interpreted in any way one sees fit. It can be about events that take place, real / imaginary / virtual and any other ways imaginable.
Story can be about anyone/anything. Any existence or concepts that one sees fit, are welcome as protagonists : Animals, Toys, Cars, Motorcycles, Machines, Virtual characters ( like vocaloids or game characters ), Planets and Galaxies.
"When I was a child…" is another way the theme is expressed, provided as reminder that while the story about children are welcome, story of grown-ups recollecting childhood memories are also welcome. Please note it does not limit the contestants to drawing about "one's own experience". It is given as hint only – story about anyone, any time, any location is welcome.
Above are just some examples of valid ideas. Please note SILENT MANGA AUDITION® is about "Creator' expression" – NOT a trial of skills to fit a pre-set standard. Anything an artist sees fit, is most likely good with us. Be creative, to ignite readers imagination!
STORY ITSELF is NOT a part of assessment, instead we see what "Message(s)" the story clearly presents to the reader, ideally evoking the emotion and feelings. The clearer the message, the higher the title will be awarded. No need for complex plots, but "an artist's ability to tell a message, through visual execution" is the main area of evaluation.
"TECHNICAL REQUIREMENTS" (Since 2016)
Pages now MUST BE upload as "1 page / 1 Image". For "Double-Page Spreads", each spread must be saved as "2 image files". Use of double-page spread itself is not a requirement but a key point on which your work will be assessed. Even when there is no image going across 2 pages in a spread, panelling should be executed in a way that will encourage readers to keep turning the page.
Images will be displayed on the web, exactly as you upload. Please TRIM AND CROP your images. All gutter, trim marks and other parts of the image you wouldn't present to a reader, should be trimmed off. Those comfortable with preparing print-ready images are recommended and welcomed to upload "print-ready" images as one .zip file, accompanying the images uploader.
RECOMMENDATIONS
These are recommendations only and not a requirement. But to make the manga enjoyable for the readers, we strongly recommend you to consider the following points.
While we have no limits, page count should be kept to a minimum. This does not mean shorter works will receive higher points, but "Use of appropriate number of pages for the story" will be assessed as being better for storytelling.
Utilize the 1st page, as part of the story telling and not just a cover page. It is best to start the first page, as "Single page, left side of the spread". Please indicate the intended start page placement when registering your entry, by selecting the option box upon entry.
"Complex stories" are often inappropriate to tell via silent manga. Before beginning to draw, please consider if the story will work, with the drawing skills one feels comfortable.
Please remember "Simple message, told well" will be awarded higher than "Complex story told not-so-well".
For all other guidelines and tutorials, please see our regular contents like "FAQ Section", and tutorials like "Japanese Manga 101 with Mocchi and Taiyo"
While drawing can be a tough challenge, always remember to have fun and enjoy yourself. Then do your best to entertain the readers. 🙂
Rules bellow are from SMA04 and earlier rounds, and still valid.
---
SILENT MANGA AUDITION® Rules – New from SMA03 "2015 Spring" round 1. All Manga are now to be drawn for "Right-to-Left" (Japan standard) Page order. This is to help with the publication of the compilation volume. Watch out when laying out those panels! 2. You
 MUST NOT include "entry.txt / jpg" file
 that was mandated in SMA01. 
Please do not include the file
, as it may be processed automatically and become visible to the public on our manga viewer system! 3. We require everyone to submit "Thumbnail" image that will display on the "World Map" feature of our website. Image should be named "thumbnail.png" in ratio of 3:2, (portrait), recommended size is "width:400px x height:600px". Please note this image indicates your work of Manga, and not author profile. If you wish to include your author signature or image, please include it with character from that particular piece. You may use .psd or .png transparency feature to enhance appearance. 4. 
When sending by post, we now require you to register your work into our online system, same as with online-only entries
. Instead of your manga pages, please include an image file named "entry_details.jpg", stating how we should expect your work to arrive. ( by post? parcel ID number? ETA? ) 5. We recommend to utilize "Double Page Spread" in your manga for more dynamic effect. For this, we require upon entry, to state if "page 1″ of your manga is a "single" or one half of a "double". (Please see the attachment.) If no preference, we recommend staring with a single page as an intro page, making "page 2,3″ a double spread is a popular method but not required. For Single pages: http://ma-dev-main.coamix.net/ZMA-MangaPaperGuide.pdf For Double Page Spreads: http://ma-dev-main.coamix.net/ZMA-MangaPaperGuide_W.pdf 6. Our "Fine Print" is now MUCH longer. Please make sure you understand to be bound by the terms before submitting your Manga!
---
Messages from the Manga Masters to Ambitious Authors :
Tetsuo Hara
They say the devil is in the details. In manga, the more attention you pay to the details, the more life your characters will have. It is this philosophy that has made Japan's manga culture beloved throughout the world. I look forward to fighting alongside the authors of the world.
Tsukasa Hojo
As in movies, a simple change of camera angle in Manga can make a scene fun or sad. Even with the same facial expression, it is possible to convey different emotions. I hope everyone will enjoy the "power of performance" that is the core of manga, as they work on their projects.
Nobuhiko Horie
It's been over 60 years since an author from Osamu Tezuka's generation developed manga into a accepted form of expression. In Japan, manga has spread itself into new frontiers and many new talented artists have discovered themselves. Historically, manga has used the same flow as movies to express the essence of action and movement. Manga has the power to move people. This is the idea that was the foundation for the Silent Manga Audition. Please test the expressive power of your country's manga. Application : Online Submit your application via entry system on www.manga-audition.com . Application : By Post When sending by post, we now require you to register your work into our online system, same as with online-only entries. Instead of your manga pages, please include an image file named "entry_details.jpg", stating how we should expect your work to arrive. ( by post? parcel ID number? ETA? ) *If you wish to have your submission returned to you, please provide a self-addressed envelope with appropriate postage. If sending by post we advise you to keep a photocopy of the work, in case there may be problems during transmission. Send Application to: The SILENT MANGA AUDITION Committee 3rd Floor, Kichijoji Zizo bld., Kichijoji-Minami Cho 1-9-9, Musashino, Tokyo, JAPAN, 180-0003 # Our office was relocated in Dec 2013. Please be extra careful as there may be old information elsewhere on the web!
---
LEGAL : Submission Agreement
By submitting to the SILENT MANGA AUDITION®, you agree to be bound by the following agreement with North Stars Pictures, Inc. In this agreement North Stars Pictures, Inc. is called "NSP", and NSP together with its affiliated companies and owners, the other parties involved in the SILENT MANGA AUDITION® and their editors, officers and other employees are collectively called the "SILENT MANGA AUDITION Committee." If you are submitting on behalf of a team, you must designate one member with whom we will communicate, however all members must submit the entry form and be bound by this agreement. If you are not legally an adult in your jurisdiction, your parent or guardian must consent. By submitting the manga you are representing that it is solely your work, that it has not yet been used or otherwise published anywhere and that it is not an imitation, parody, or otherwise a version of some other work. You acknowledge that SILENT MANGA AUDITION Committee receives many submissions and may separately develop a manga similar to yours. You agree that nothing you submit will be returned. All of the information in your submission (including your legal name) is correct. If you are awarded a prize, without further compensation you grant SILENT MANGA AUDITION Committee a perpetual, worldwide, exclusive, royalty-free, sublicensable and transferable right: 1. To edit, translate, modify and publish your manga in magazines and other printed media, including stand-alone manga book volumes. 2. To edit, translate, modify and distribute your manga as an e-book or in other electronic form. 3. To edit, translate, modify, publish, distribute, copy, adapt, and otherwise use your manga, including any elements of your manga alone or in combination with other material commercially or otherwise and in video or any other media, provided that the principal purpose is promoting your manga, the concept of silent manga or the SILENT MANGA AUDITION®. Any use of the submission other than those mentioned above will require further agreement between SILENT MANGA AUDITION Committee and you in advance. (This includes cases where you wish to use the submission in some way—you may not publish or use in any way the manga you submit without our agreement.) Regardless of whether you are awarded a prize, by submitting your manga, you grant the SILENT MANGA AUDITION Committee, without compensation, the non-exclusive right to publish, use, adapt, edit and modify your manga, including by displaying your manga on the internet, and to use your name, age, country and other information you provide in connection with your work or the SILENT MANGA AUDITION®. The submission will be considered as published in Japan first, and will therefore be subject to the copyright law of Japan. Should either of the following circumstances apply to a submission, it will be disqualified: 1. Your submission was already submitted to another manga contest, or was otherwise already published or used. 2. Your submission belongs to, or in some way infringes on the rights/profits of or defames, a third party. The SILENT MANGA AUDITION Committee bears no liability for any loss caused from downloading any material from the SILENT MANGA AUDITION® web site or from the content of third party web sites that may be linked to the SILENT MANGA AUDITION® web site by a hypertext link. The SILENT MANGA AUDITION Committee reserves the right to cancel or modify the SILENT MANGA AUDITION® if fraud, technical failures, commercial practicability or any other factor, in the SILENT MANGA AUDITION Committee's reasonable judgment makes its conduct impractical. The SILENT MANGA AUDITION Committee assumes no liability whatsoever for losses incurred as a result of cancellation or modification of the SILENT MANGA AUDITION®. By acceptance of any prize, you agree to release, indemnify and hold harmless the SILENT MANGA AUDITION Committee from any liability arising from your participation in the SILENT MANGA AUDITION®. This is a legal agreement that will be interpreted in accordance with the law of Japan. This agreement may not be terminated, revoked or waived without a written letter signed by you and NSP, and there is no other agreement, written or otherwise, between us on this subject matter. Any dispute between you and any SILENT MANGA AUDITION Committee party that cannot be resolved by discussion shall be resolved in Tokyo District Court.
---
This is the last line of this page! Thank you for reading, and happy drawing 😉 Looking forward to reading your manga! Taiyo Nakashima, Deputy Chief Editor, SMAC! Web Magazine.