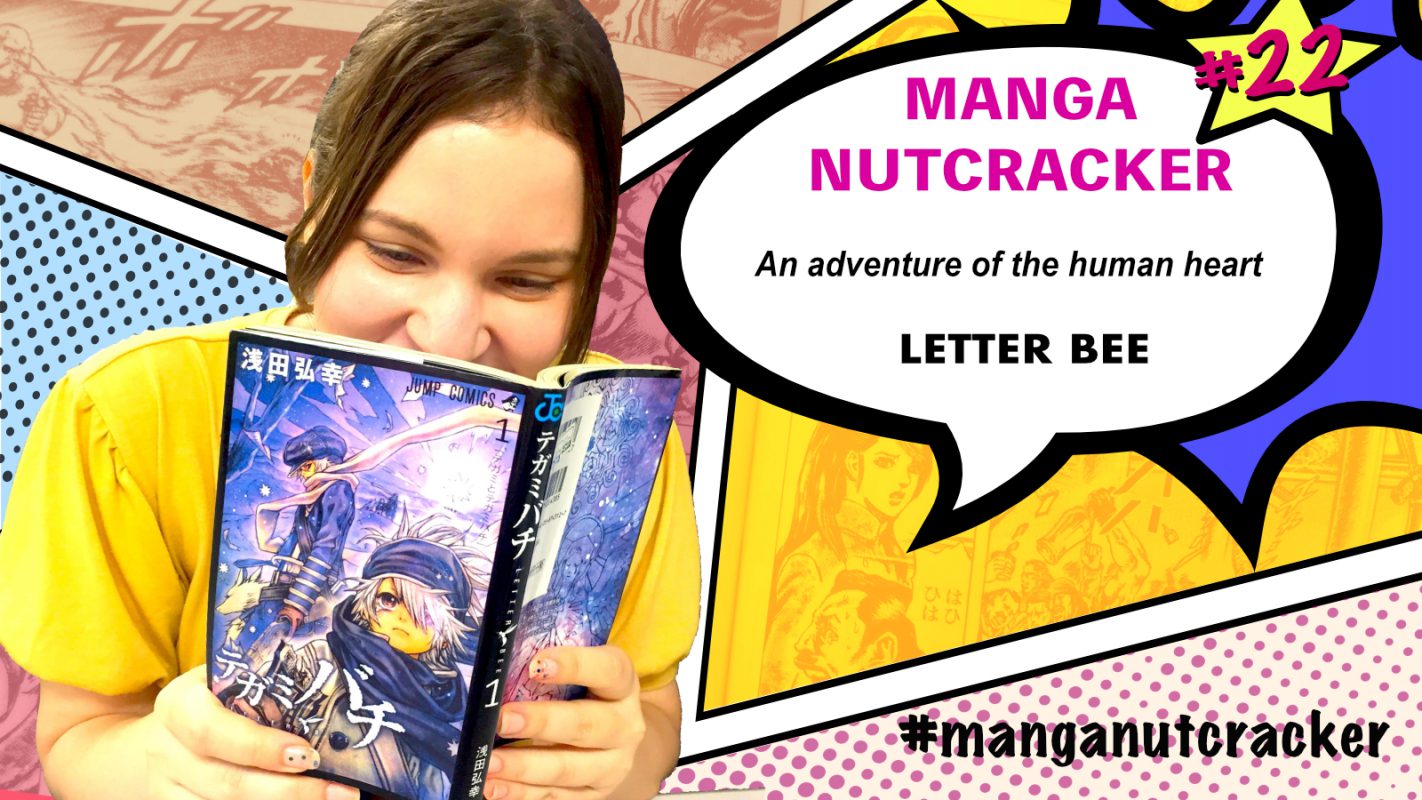 Manga Nutcracker #22 – Letter Bee
Tegami Bachi
By Hiroyuki Asada
Published by Shueisha
Monthly Shōnen Jump / Jump SQ (Sept 2006 – Nov 2015)
"A young foundling grows up to become a Letter Bee, in his mission to bring back the people he loves."
What is a fantasy adventure without swashbuckling glory, or a magic sword?! Well, this week's choice is an endearing take on a tried and tested genre, and it's full of heart!
Tegami Bachi takes place in AmberGround, a land of perpetual darkness and illuminated by an artificial sun. The protagonist, Lag Seeing is found unconscious by passing Letter Bee, Gauche Suede.
These defacto postal workers travel from town to town, delivering letters throughout the land, all the while fighting off the dangerous Gaichuu. The areas between the towns are rife with these giant armored insects, who stalk Letter Bees to then feed off the "emotions" found in the letters.
Lag awakes in the care of Gauche to discover his mother had been kidnapped by a man from Akatsuki, the capital of AmberGround. Ever the professional, Gauche proceeds to delivery the young boy to his aunt, as per the address attached to his clothing.
As a Letter Bee, Gauche is forbidden to read the content of the letters he is entrusted to delivery. However, while watching over the distraught Lag, he can't help but empathize with the boy, seeing much of himself in the abandoned Lag.
Their following journey is perilous, made even more dangerous by the rebellious Lag. But, the young boy quickly begins to idolize the caring Letter Bee, feeling immense pride at making his first "friend".
Many years later, the adolescent Lag plans to become a Letter Bee himself, only to discover his hero has gone missing. It is later reveled that Gauche has become a Marauder in the service of the "Reverse", a group dedicated to stealing the letters of the Letter Bees.
Determined to discover the reason for Gauche's betrayal, along with finding clues to the fate of his mother, Lag sets out into the land AmberGround to find the answers to his past and his future.
NUTCRACKING TIME!
We often hear that good stories are stories with heart, and Tegami Bachi has a lot of heart! With his amazing drawing skills and limitless imagination, Hiroyuki Asada has created a sumptuous fantasy world that is as unique as it is entertaining. A mixture of steampunk design and antique imagery, the land of AmberGround is every creators dream…a world never seen before.
Hiroyuki sensei is a favorite of mine. His ability to design and  artworks has always been excellent, but it was Tegami Bachi that really took by breath away. Being a huge fan of fantasy adventure, I have read countless manga, but with Letter Bee, I had found something truly unique.
The world of Tegami Bachi is so unlike anything in the real or literary world, with its unique take on society and empathy all seen through the eyes of a simple, innocent protagonist. Initially published in Jump's Monthly Magazine, then switching to the more sophisticate Jump Square, Tegami Bachi took time to find its place. But once it had, it had found its audience.
Hiroyuki sensei set out to create a very young, emotional character. Flawed by his inexperience, the character offered a chance to exhibit raw emotion from a child's view. It comes as no surprise that Hiroyuki sensei created this manga specifically for his young son, with the aim to teach him that crying, showing emotion is vital to healthy, emotional growth. And that from all the tears spilled, courage and strengths follows.
With the seed of this manga coming from an almost sacred source, that of father to son, Letter Bee is a creation of pure, unashamed emotion. What the manga lacks in big explosions, magical spells and evil intent, it more than makes up for with heart. And Tegami Bachi is a manga that wears its heart, firmly on its sleeve.
For all those aspiring mangakas out there, is there a message that you have in your heart? Ready to tell the world about it through your manga? Would love to hear your thoughts so follow me on Twitter –
@SmacViVi
Facebook –
Vivi Fabbri Smac
Don't forget to use the #manganutcracker