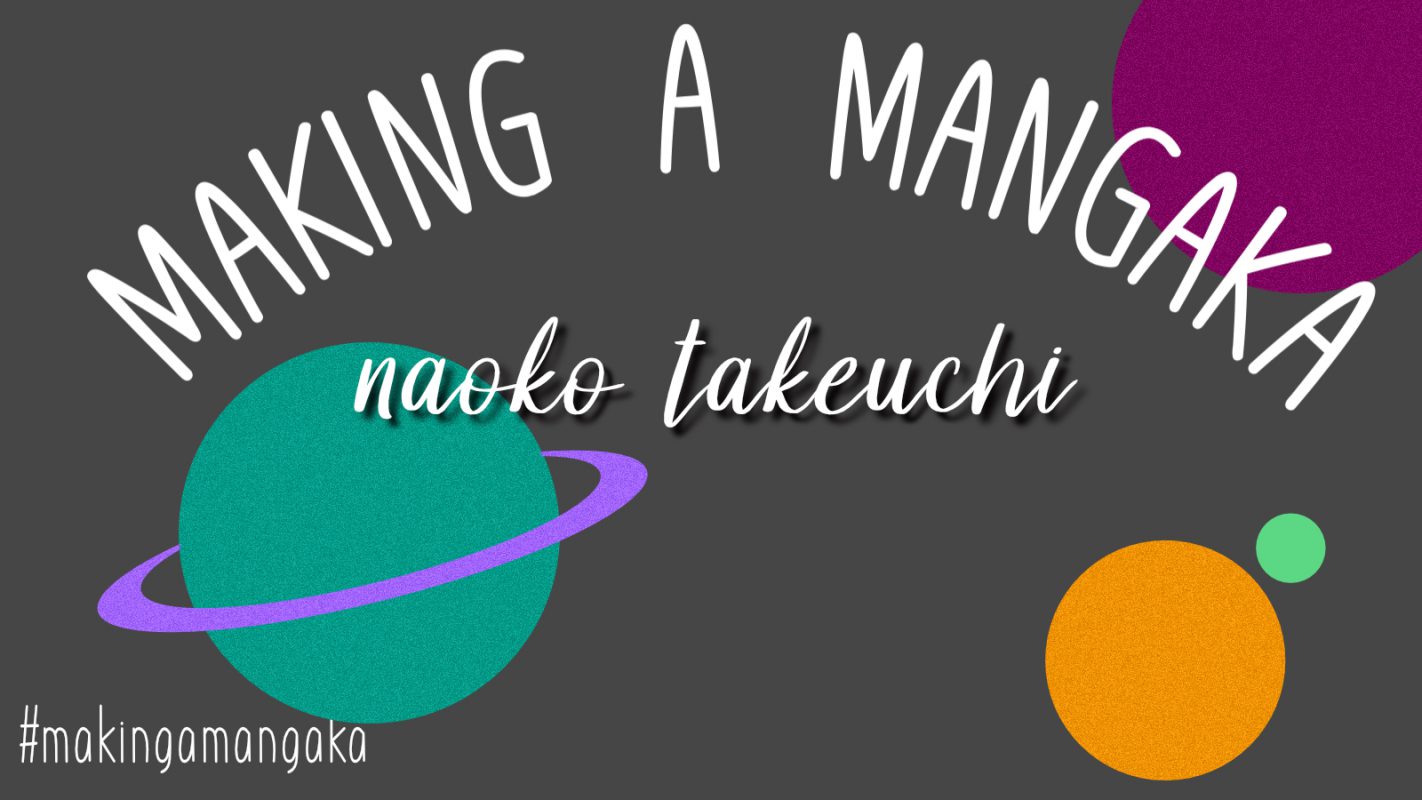 Making a Mangaka: #3 Naoko Takeuchi
Manga, particularly Shojo manga had a relatively small following around the world, only read by those in the know who craved the entertaining stories pouring out of Japan. But all that changed in the early 90's, when a Shojo character changed the world forever. Naoko Takeuchi created a character that screamed Girl Power, way before the Spice Girls had "Zigged" their first "Ah". Sailor Moon crossed borders and cultures and quickly became a focal point for girls around the globe, showing us that girls are just as good as boys, if not better at saving the world.
Name:
Naoko Takeuchi (武内 直子 Takeuchi Naoko)
Born:
March 15, 1967
Place of Birth:
Kōfu, Yamanashi, Japan
Speciality:
Out of this world GIRL POWER!
ABOUT
Growing up in the shadow of Mount Fuji, in Kōfu, Yamanashi Prefecture, must have instilled a sense of wonder in the young Naoko Takeuchi. Indeed, during High School, resplendent in a certain sailor uniform, the young student enthusiastically pursued the astronomy club, not to mention the manga club, enabling her to gaze and reimagine the wonders of the universe in her sketchbook. Dissuaded from pursuing an uncertain career in manga by her Father, Takeuchi chose the field of chemistry for her major at university. While juggling her studies with a career as a Miko, a Shinto shrine priestess, the pull of manga became too strong. Submitting "Love Call", arguably her first manga into Kodansha's Nakayoshi Comic Prize for Newcomers at the tender age 19, Takeuchi earned herself a prize and a subsequent series with Kodansha's Shojo magazine, Nakayoshi called "Maria", based on the early 20th Century novel, "Daddy Long Legs" by Jean Webster. Takeuchi's fascination with the universe continued unabated, so for her next project, she focused on the cosmos. Her editor at the time, Fumio Osano loved the idea of an intergalactic superhero, suggesting that the protagonist dispense justice in the popular sailor uniform worn by Japanese schoolgirls up and down the country. Thus Codename: Sailor V was born, becoming an instant hit for Kodansha's Run Run magazine and paving the way for its spiritual successor, Sailor Moon! Sailor Moon soon gripped the world, thanks to the internationally popular anime. The character and her teammates, proved a merchandising dream for both Takeuchi and toy manufacturer Bandai, but with the cancellation of Run Run, and with it the planned Sailor Venus anime, it was looking more then likely that the adventures of Usagi Tsukino and her team of planetary superheroes were drawing to a close. Post Sailor Moon, Takeuchi began work on a new series called PQ Angels. The tale of two alien girls, hilariously trying to fit into life on Earth was also brought to a quick close when Kodansha allegedly lost 7 pages of the manuscript. Takeuchi's creative output inevitably slowed down with the arrival of a young family with fellow manga creator Yoshihiro Togashi, but never resting on her laurels for too long, she was soon back at the drawing board. Throughout it all, Sailor Moon endured and emboldened countless girls with a sense feminism, while also becoming a gateway to the larger world of manga. This enduring interest is best illustrated when figure skating Olympic gold medalist and self confessed Sailor Moon obsessive, Eugenia Meduedeva performed her set in the now familiar sailor costume, proving that Takeuchi's message of female empowerment is indeed universal.
MY THOUGHTS
Way before I'd ever heard of Shojo manga, I'd heard of Sailor Moon. That iconic costume, flowing blonde hair and an abundance of accessories were like catnip to toy manufacture Bandai. With enough oomph to rival Barbie in the hearts of Western children, Sailor Moon scored a huge hit, with toy stores and Saturday morning television slots enthusiastically introducing Usagi Tsukino/Sailor Moon to the world. But what is it about Naoko Takeuchi titular hero that enabled her to break free of the confines of manga and become the International success it did? With Codename: Sailor V, the blueprint of Sailor Moon, Takeuchi reworked the age-old trope of ordinary person thrown into extraordinary circumstances. From Perseus to Spider Man, this story format allows the writer to build on themes of responsibility and personal growth amid a backdrop of good vs evil. But without the input of Kodansha with their suggestion of adding more key characters, Codename: Sailor V could well have become just another footnote in manga history. Sailor Moon borrowed heavily from Codename: Sailor V, from costume designs to basic story structure. Though instead of the heavy emphasis on tragicomedy, with Sailor V's humorous fails in love, we have a story of destiny fulfilled. Usagi Tsukino, an ordinary schoolgirl is plunged into a mission to find The Princess of the Moon by the mysterious cat Artemis. This mission soon reawakens memories of intergalactic intrigue and great battles of good versus evil in Usagi and soon reveals her true identity, that of Sailor Moon and herself the Princess of the Moon. With a backstory steeped in classical mythology, wrapped up in Greek tragedy, Sailor Moon takes well-established concepts and repackages them in such a way that feels fresh and empowering. From star crossed lovers doomed to die to Messianic overtones with the self-sacrifice and rebirth of many lead characters, the overpowering message Takeuchi gifts us is one of love. Post Sailor Moon, Takeuchi made a return to the goofy comedy touched upon in Codename: Sailor V, with PQ Angles. The tale of two alien girls on a mission to understand the people of Earth is a familiar concept to people in the West from hit TV shows such as "Mork and Mindy" and "3rd Rock from the Sun". But PQ Angles wasn't to be. With the loss of the manuscript, Takeuchi decided to shelve the idea and focus on her one, huge hit and the polishing Sailor Moon for re-publication. Short-lived as it was, from 1991 to 1997, Sailor Moon could well be viewed as a cursed chalice. A victim of her own success, Takeuchi attempted many manga launches but none could live up to the success of her sailor suited heroine. With a manga that fits easily into the stable of Western style superheroes, coupled with a sense of unashamed "girlyness",Takeuchi created characters that screamed "GIRRRL POWER",  hitting on universal themes that crossed cultures. This was Sailor Moon's secret and her legacy. A manga that felt familiar to all who read it, telling girls that it was "ok to be pink and fluffy" as long as you were saving the world. In the words of Sailor Moon herself, "Moon Prism Power, Make-UUUUUP!"
MANGA
Chocolate Christmas (チョコレート·クリスマス Chokorēto Kurisumasu) 1987–1988 Maria (ま·り·あ Ma-ri-a) 1989–1990 The Cherry Project (Theチェリープロジェクト The Cherī Purojekuto) 1990–1991 Codename: Sailor V (コードネームはセーラーV Kōdonēmu wa Sērā Bui) 1991–1997 Pretty Soldier Sailor Moon (美少女戦士セーラームーン Bishōjo Senshi Sērā Mūn) 1992–1997 Miss Rain (ミス·レイン Misu Rein) 1993 Prism Time (プリズム·タイム Purizumu Taimu) 1996–1997 PQ Angels (PQエンジェルス PQ Enjerusu) 1997 Princess Naoko Takeuchi's Return-to-Society Punch!! 1998–2004 Toki☆Meka! (とき☆メカ! Toki☆Meka!) 2001 Love Witch (ラブ ウィッチ Rabu Witchi) 2002 Toki☆Meca! (とき☆めか! Toki☆Meca!) 2005–2006 NEXT WEEK: Oda Eiichirō Twitter – 
@chris_smac
Facebook – 
Chris Smac