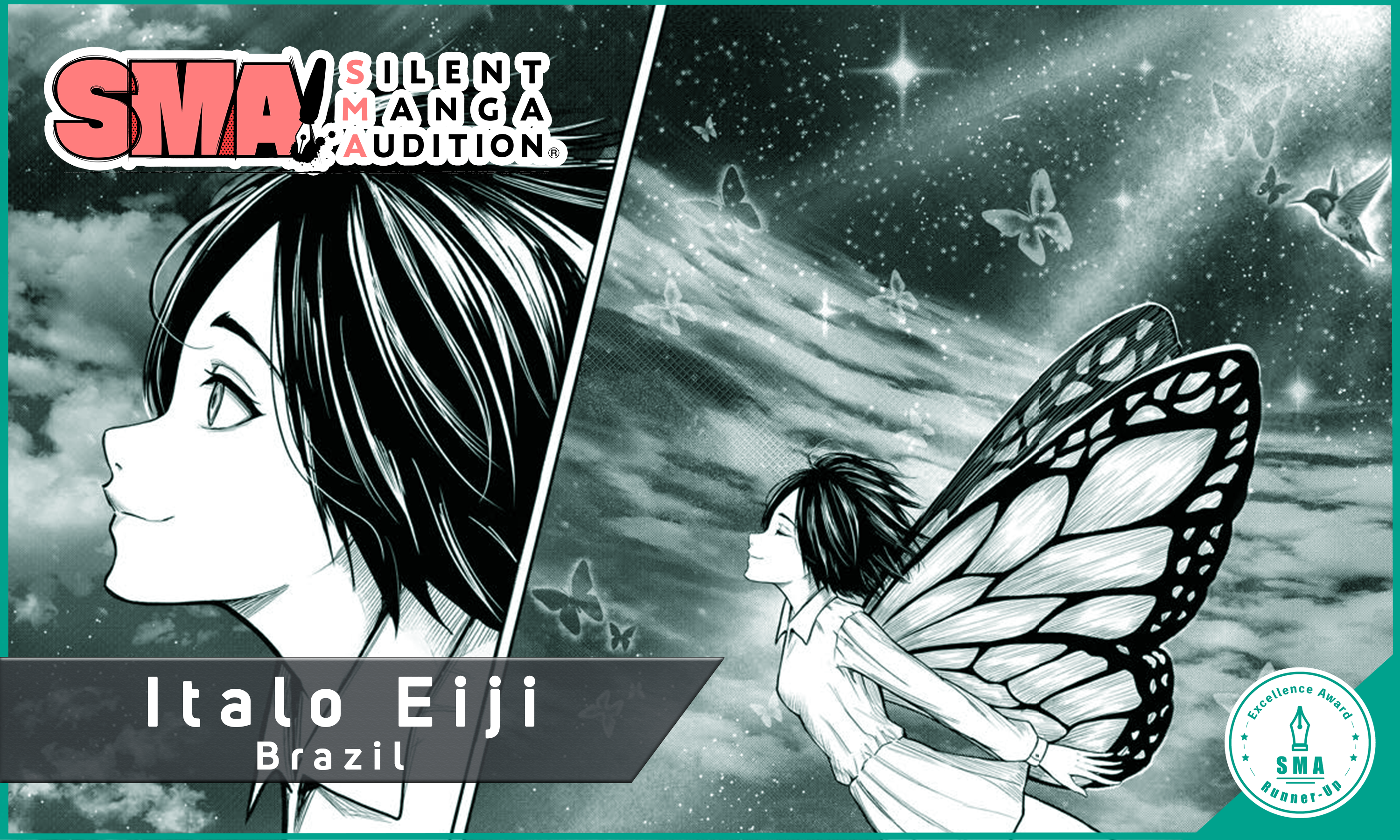 HELLO SMA17 AWARD WINNER, Italo Eiji!
PROFILE
Name/Pen Name: 

Italo Eiji
Age:
22
Country:
 Brazil
Favorite manga:
Bakuman
Favorite movie:
The Lord of the Rings: The Return of the King
Favorite Quote:
"It is true that I will regret it if I keep to my dreams and failures, but I will regret it much more if I don't even try." -Takagi Akito (
Bakuman
)
Entry title:
"Butterfly Eye"
Round:
SMA17 "Moments of HASTE, RAGE, or SMILES"
Award:
 Excellence Award Runner-Up
---
"Believe in yourself, and make a fun manga. Entertaining the reader is the most important."
About SMA
How does it feel to receive a SILENT MANGA AUDITION® award? I'm very happy, I took the first step as a manga artist.
What was the inspiration behind your awarded work? I was in my room thinking about what to draw to send to SMA, and then a butterfly came through the window and I had an idea to create the "Butterfly Eye."
What challenges did you face while making your manga? How did you overcome them? I had never done manga before, and I had a lot of doubts at first. The first page is the hardest to draw, but then it becomes easy when you get into a rhythm. I overcame my doubts by reading and studying manga.
READ Italo Eiji's SMA17 ENTRY HERE!
---
About your Manga
How and when did you start making manga? Any advice for beginners?

I always liked to create characters, but I never did any manga chapters, because I always thought that my art was not good, and that I needed to practice. The tip I have for those starting out is "Just do it!" Sometimes we need to believe in ourselves. I really regret having waited so long to draw a manga.
Do you draw your manga digitally or by hand? What are your go-to digital or analogue tools?

I draw digitally and also draw on paper the traditional way.
What was the first manga you picked up?

Death Note.
Which manga changed your life?

Bakuman.
Which manga character do you most identify with? Why? Niizuma Eiji from Bakuman. I like this character because he is very charismatic. Even though he is a fictional character, he encouraged me to learn to draw. Because of this character I will become a mangaka.
What kind of manga do you want to make next?

Romantic comedy.
---
About You
What do you do when you're not making manga? How do you relax?

I read manga and watch anime.
What industry do you work in (if manga making isn't your primary job)?

I work in a metal parts factory.
Where do you see your manga career in 5 years time?

All I want is to work with manga. I hope to be able to accomplish this in 5 years.
What manga making advice would you give to your younger self if you could?

Just do it!
What advice would you give to people entering the SILENT MANGA AUDITION®?

Believe in yourself, and make a fun manga. Entertaining the reader is the most important.
---
Thank you, Italo Eiji! We're eagerly expecting your next manga masterpiece!
Get some inspiration by checking out the other AMAZING awarded works from SMA17!