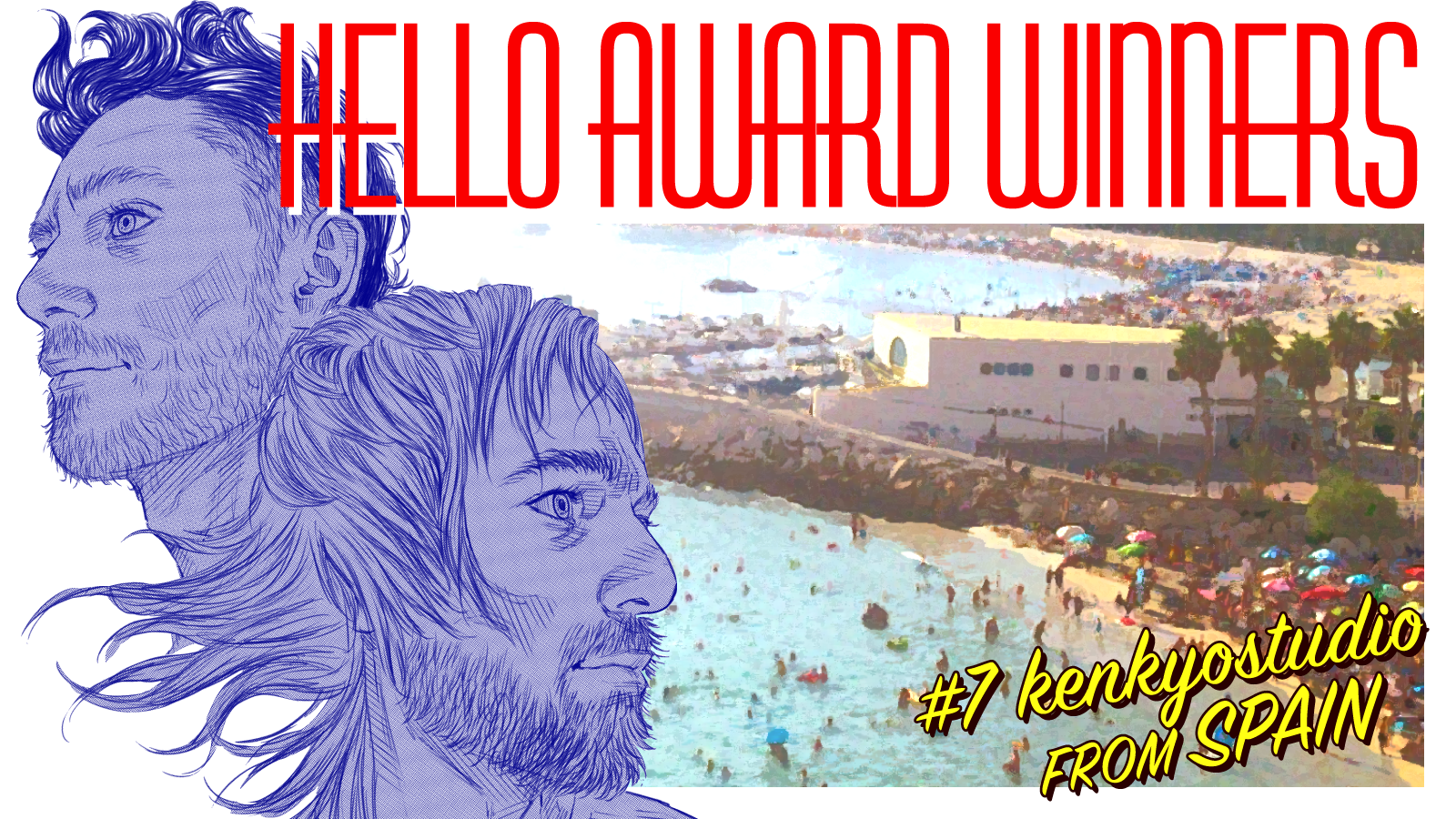 BEHOLD! A MANGA DRIVE SHOT FROM SPAIN! – HELLO AWARD WINNERS #07 Kenkyostudio
Tetsuo Hara sensei has high expectation on the art style of "Kenkyo Studio", the Manga team made by David and his brother Javier! With their incredibly accurate art style and a deep respect for Japan, the Kinky BROS want to create the next worldwide hit manga. After winning several Awards now is finally time to interview him and know his story!
---
Could you please begin, by introducing yourselves "using only three words"?
David – Spiritual, wild and adventurous. Javier – Sincere, cheerful and dreamer.
"I wanted to be a football player like the characters in Captain Tsubasa!"
How did you start to create Manga?
David – When I was a child, I always made a lot of drawings of my favourite characters from the anime I watched on television: "Saint Seiya", "Dragon Ball", and the one that inspired me the most, "Captain Tsubasa". Thanks to my deep passion for that anime, I wanted to be a football player like my heroes Tsubasa Oozora and Kojiro Hyuga, but due to some health issues, I had to give up on my dream. Several years later, I decided that was time to bet everything on my other great passion and try to enter in the Japanese entertainment business by studying traditional animation. However, the animation studio was moved to another city at the end of the first year despite my constant dedication. The location was too distant from my place, and it was impossible for me to continue my work. That was when I met XianNuStudio! They guided my brother and me into this new job and introduced us to SMA!
What are your favourite Anime?
David – I like "Fist of the North Star", "Akira", "Ghost in the Shell", and most of all the movies of Yoshiaki Kawajiri sensei, like "Ninja Scroll", and "Vampire Hunter D".
How did you come up with the name "Kenkyo Studio"?
Javier – Because we are just a small studio made of two people, we picked up a Japanese word as a name to show respect for Japan and its culture. "Kenkyo" means "humble" in Japanese, so our studio name became "Kenkyo Studio".
"We will cook you some delicious Spanish dishes when we are in Japan!"
What do you enjoy most about your home country?
Javier – We like to play football and go to the beach to enjoy the sea, the sun and… David – …and look at girls! Although we have the drawback that our noses bleed a lot!
Are your friends also into Japanese culture and Manga?
David – Mostly, people around us see Japan as a technologically advanced country, with a very hardworking society and a long-established tradition. Regarding Manga, unfortunately, people are not so interested as in Japan, in our country. Just a few number of young people read them nowadays.
What is your favourite dish in the local cuisine?
David – It's so difficult to choose just one! Our gastronomy is wide and with a great selection of dishes. I don't know what to pick up, maybe
Bacalao con tomate
(cod with tomato) is my favourite one. Javier – I love the
Arroz cremoso con bogavante
(creamy lobster rice)! In our city Benidorm, there's a lot of restaurants specialised in local cuisine, and we love to go there and relax. David – I will cook some of these delicious meals for you when I come in Japan!
"The Tokyo skyline in SMA7 entry was undoubtedly the toughest drawing I ever made!"
Let's now talk about the Award-winning entry. Where the inspiration came from?
David – More than an inspiration it, was a personal thought about unfairness in modern society. As Javier said before, what we love is going out and having a good dinner at one of Benidorm's restaurant. However, there are people who can't eat even a small piece of cake. Also, we imagined the setting of our story to be our beloved Japan and the central theme the "taste of friendship". The entry came along by itself from that moment!
Your CG art it's incredibly detailed! How long did it take to finish the work?
Javier – About a month, I think. We did several jobs during the Manga creation, so is quite difficult to say with precision. David – I don't remember the time spent on the Manga, but what I can say is that the last panel with the Tokyo Skyline in the background took me about two or three days to finish! It was undoubtedly the toughest drawing I've drawn in my life!
How do you create such detailed artworks?
David – Thank you very much! We are glad you appreciate our "humble" artworks! 
We took the inspiration for this art-style from our favourite Mangaka of all time like Takehiko Inoue sensei, Hiroya Oku sensei and Boichi sensei. From each of those great artists, I've taken something and finalised it as my style: Inoue sensei's super art, Oku sensei's technology and mecha-design and Boichi sensei's realism.
Which SMA7 Award-winning you like the most?
David – We are Sci-fi movies fans, so for us, the best entry of SMA7 is without doubt "Like that old Italian wine" by Hagane Ishi! Javier – Indeed! We like the rough lines, art quality, and the well-done space setting so much!
"We were about to give up Manga, but thanks to SMA…!"
How do you feel after winning your Award?
David – We were about to give up Manga, but thanks to SMA and its brilliant editorial team we've found out new motivations to keep on with this job and create our very own Manga! Javier – Thanks to SMA7 Award-winning our future expectations are now clear: we want to make a GREAT hit and retire young because we don't like to work too much! Ok, this one was a joke, but we want to create an incredible Manga and enjoy our life!
Anything else you want to share with the community?
David & Javier – We want to encourage all the young talents around the world who want to fulfil their dream of working with a real Japanese publisher! Join this fantastic contest, win an award and try your best to create a Manga like your childhood heroes!
---
Thank you very much "Kenkyo Studio"! 
Can't wait to eat some Spanish dishes made by the same hands that make such great Manga! Dear SMA-Community, remember you still have time until September 30th to join SMA8 and become part of an incredible Manga venture! Don't miss the occasion and join today! Many professional friends from all around the world are waiting for you! See you next time!