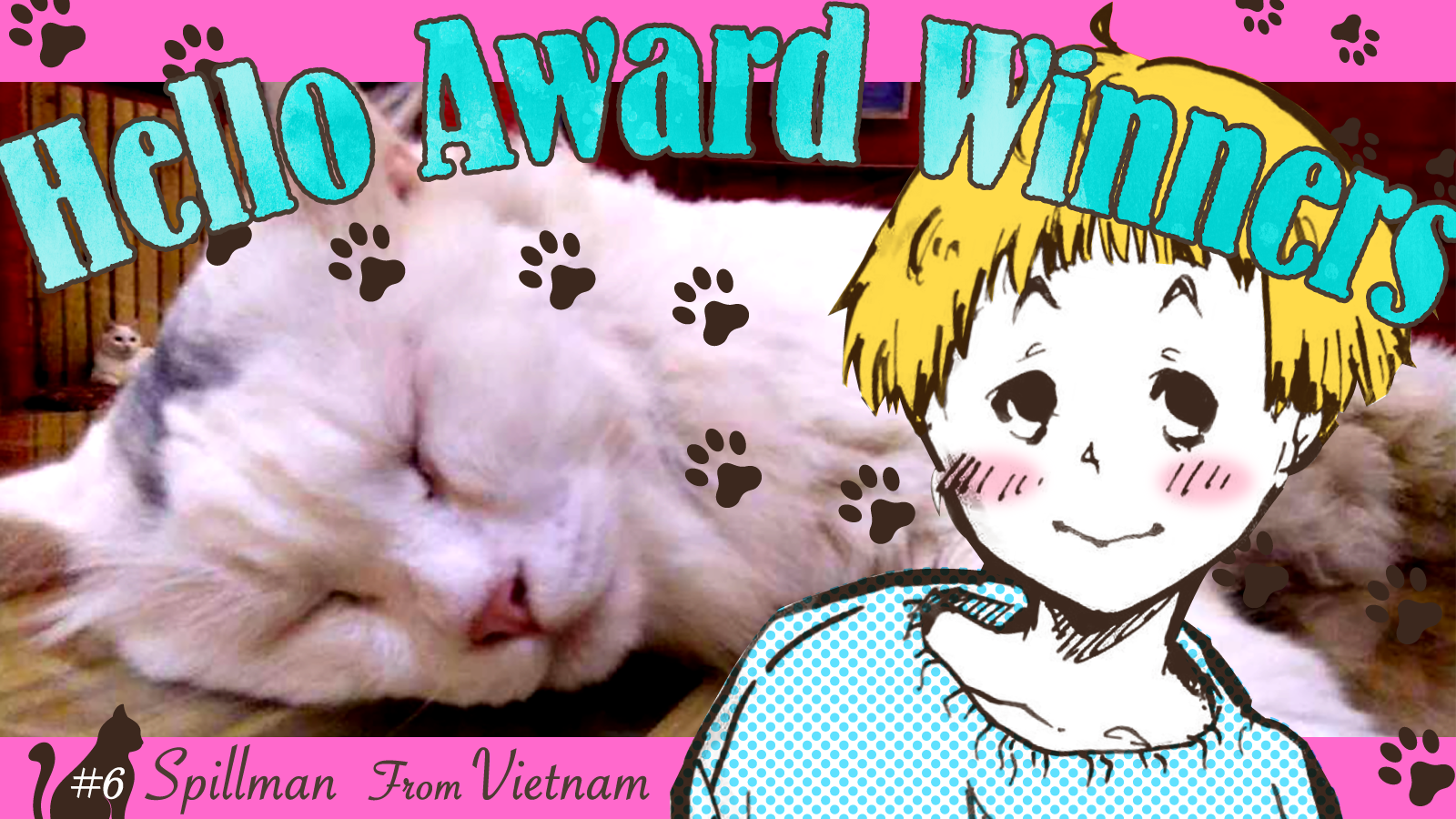 Nobuhiko Horie's favourite SMA7 entry: "The most touching story"! – Hello Award Winners!!! #06 Spillman
This girl from Vietnam has a boy-like pen-name, and a big ambition to create her Shonen Manga! Today's guest is Nobuhiko Horie Award winner, Spillman! 
Determined and ambitious, this girl has a big dream: let's find it out! 

Hello, Spillman!
---
Welcome to your "Hello Award Winners" interview! Please, introduce yourself by using three words.

Hello, everybody! I am helpful, cheerful and shy!
"My main influences are Sui Ishida and Rumiko Takashi."
Where your pen-name "Spillman" comes from?
Oh, it has no meaning in particular. I liked the sound of the words. "SPILL" + "MAN". To me, those words together have a funny nuance! Also "Spillman" is easy to read and spell for Vietnamese people.
How did you start to create Manga?
I always liked to read Manga made by other Manga artists. It made me motivated to create my own story, just by seeing the amazing artworks and the story progress . I think this feeling is something very common among Manga fans around the world. The encounter with manga inspired me so strongly that it urged me to draw anything I had in my head. I started from drawing illustrations and short comics about personal events. Eventually, my style changed, and I started creating story settings of my own. My words became more imaginative and creative, like the manga that inspired me in the first place. I uploaded my works on several SNS and got some good feedback from friends and followers. That helped me with my self-confidence.
Who are your favourite Manga artist? 

Lately, my favourite Manga artist has been Sui Ishida, creator of "Tokyo Ghoul". I admire his way of drawing characters' expressions and emotions. Back when I started to create Manga in primary school, my favourite Manga artist was Rumiko Takahashi. Her "Inuyasha" and "Ranma ½" left a strong impression on me, that remains vividly today. I like the way the fighting scenes could be both funny and serious at the same time. I also loved the various references to Japanese and Chinese traditions in those works. 
Talking about funny fighting scenes, I like "Gintama" as well!
What kind of environment do you work in while you create Manga? 

I mostly work at my home, but I also like to go to the park to get the right inspiration! I live in Haiphong, a very big city in the north of Vietnam, and here we don't have many green spots. But I still enjoy going outside, to take a break and come back home to put the ideas on paper.
"I want to create a "Spillman-Manga"!
Haiphong is the second largest city in Northern Vietnam. What do you enjoy about your life there?
To be honest, nothing besides what I've already said! Haiphong is famous for several pagodas and temples, but I'm actually not into religion, so I'm not interested in those stuff. Besides that, my city is just a typical industrial Vietnamese city, and I'm not interested in that either. We have four seasons within a year, which is nice, I guess…
I see! What about Vietnamese Manga? Do you enjoy reading them?
Right now, the Vietnamese Manga creators try to copy ideas from popular Japanese Manga and American comics. I can sympathize with all Vietnamese readers who don't feel the proper motivation to read local comics. Rather than reading a copy, I'd prefer reading the original. At the moment, only the very young people seem to appreciate Manga (the most famous character here is "Doraemon", a very child-oriented one). I would like to have more readers of different ages involved into Manga. This is why I want to create a new kind of Vietnamese Manga in the future with original contents for a wider range of readers. This is what I am aiming for.
Wow, that is a very ambitious dream! What kind of Manga would you like to create the most?
I would like to draw a Shonen Manga like "Gintama" or "Ranma"! Not because I want to draw funny fighting scenes, but I feel Shonen Manga gives much leeway to the artist about how to structure both the plot and the characters. To be honest, even if I like "Shonen Manga the most, I am not the kind of person who likes to be categorised, I want to create a Manga in my way. You can call it "Spillman-Manga"!
"SMA7 Manga entry was my very first Manga."
Let's now talk about you SMA7 Award winning entry! How much did you take to create the Manga? 

Two weeks.
Two weeks!? You mean two weeks to do everything, from the plot to drawing?
Exactly! And this was the very first Manga I've ever drawn. I never joined any Manga events before SMA. It was so much fun! The best experience in my life so far!
Can you please tell us more about how you got to know about SILENT MANGA AUDITION ® in first place?
I was introduced to SILENT MANGA AUDITION® by a friend of mine. I thought this would be a piece of cake when I saw the theme, but by drawing the pages and thinking of the plot day by day, I came to understand how difficult is to create a Manga. I was always fascinated about how a story can be expressed both through words and drawings in Manga. I wanted to prove myself that I can touch readers' hearts just by showing my characters' emotions as my favourite Manga artists did before. This is why I took the challenge and participated to SMA7.
The two dogs that appear in your manga are both very cute! Why did you choose to draw them?
I love to create cute characters, and the first dog was so cute I decided to use it one more time at the end of the story. The first dog passes away when the boy is little. When the boy grows up, he meets the second dog that reminds him of the first dog. I know the story is quite sad, but honestly, I thought that the best way to impress the readers was to create a sad story.
And what is your favourite entry of SMA7? 

Because I like comedy and cute characters, the award winning Manga I like the most is "RONC!" by heitoramatsu. The bear is so sweet and funny, at the same time when he gets angry run after the protagonist.
"My future dreams are…"
Besides the dream you already shared with us, is there something else you aim for the future?
I'm always researching for various ways to improve myself and my style. I will continue to participate in SILENT MANGA AUDITION®. I've already thought of the plot and the characters for my next entry. Be ready; you will read another sad story made in Vietnam with the "Spillman-Manga" style!
And what do you expect by collaborating with Japanese Manga editors in the future? 

I am still an amateur, so I wish I can gain more experience by working with the SMAC! editorial team… But please, remember I already have my vision for my future Manga! Help me make my dream come true!
Anything else you want to share with the community?
Thank you, SMA for letting authors all around the world have the opportunity to share their feelings and emotions through Manga! Before knowing SMAC! I always thought Manga was something only Japanese people could make. Once again, joining SMA7 was the best moment of my life!
---
THANK YOU, Spillman! We are looking for to read your next "Spillman Manga" for SMA8 and be touched once again thanks to your extraordinary story telling ability! You and all our SMA-Community have time until September 30th to join the competition and be next award winner! Community members, don't be afraid of being without experience, be like Spillman and challenge yourselves! We are waiting for you to make our community even bigger! If you feel like you still don't have the right idea, take a look at the 
"JAPANESE MANGA 101"
video series! Click on the picture below for further information about SMA and how to join it!
SEE YOU NEXT TIME! Bye bye!