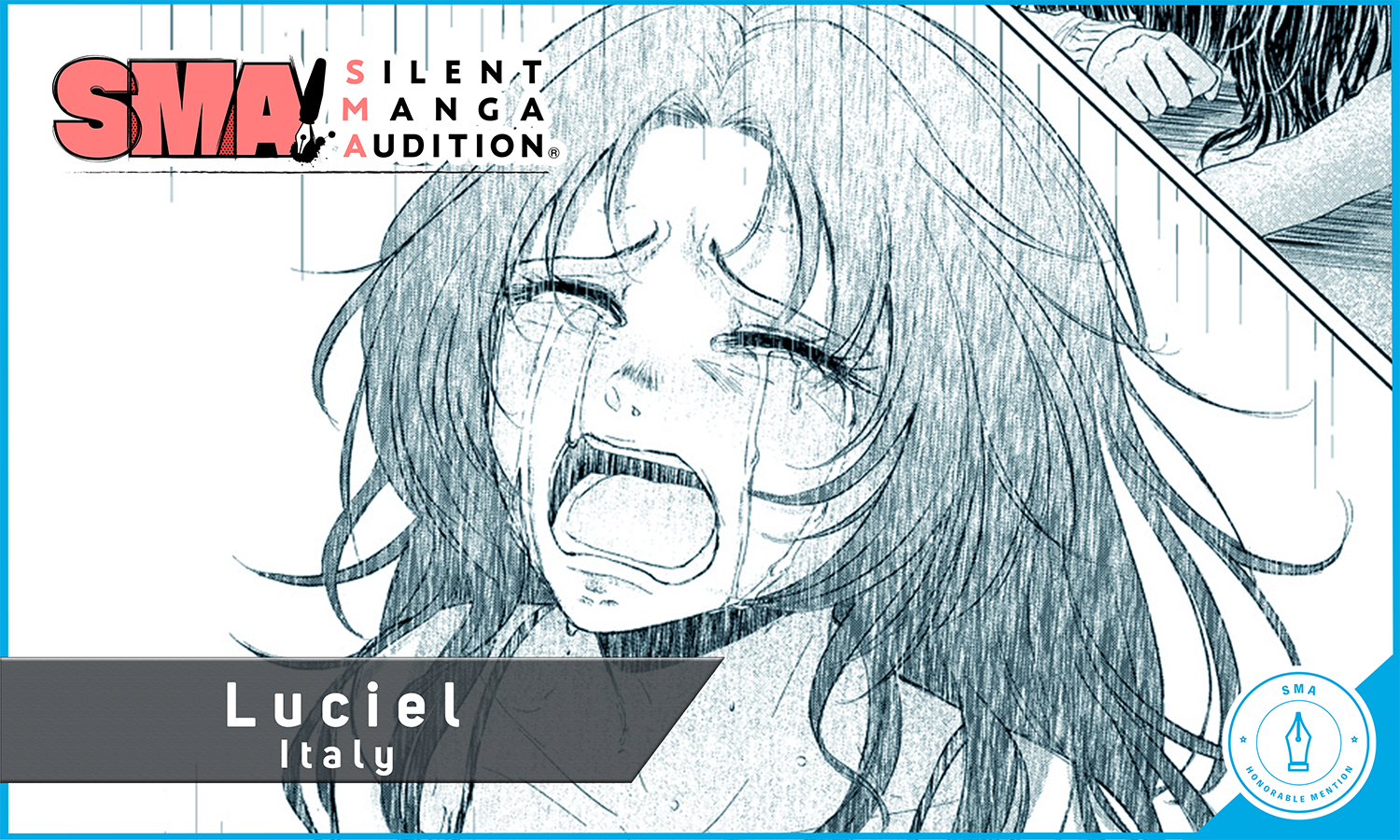 HELLO SMA19 AWARD WINNER, Luciel!
PROFILE
Pen Name: Luciel
Age: 27
Country: Italy
Favorite manga: Hunter x Hunter
Favorite movie: Interstellar, Amelie Poulain
Favorite quote: "And if you gaze long enough into an abyss, the abyss will gaze back into you."

Entry title: "Ballerina"
Round: SMA19: "Overflowing Tears"
Award: Honorable Mention
---
"Experiment, study, and think about what you really want to do with your art."
About SMA
How does it feel to receive a SILENT MANGA AUDITION® award?
It feels a bit weird because I know I'm not good enough now, but it gives me motivation to do better next time!




What was the inspiration behind your awarded work?
I got interested in ballet dancers recently. They go through a lot of hardship from a really young age to reach their beautiful form and graceful technique. I was inspired by their stories.

What challenges did you face while making your manga? How did you overcome them?
Drawing ballet moves was hard, so I had to collect a lot of references.
READ Luciel's SMA19 ENTRY HERE!


---
About your Manga


How and when did you start making manga? Any advice for beginners?
I
 joined this contest almost 5 years ago. I know I should've started sooner, so that's why my advice for beginners is "Do not wait to feel ready; be brave, fail quickly, learn, try again, and go on until you make it. Don't waste time being scared; life is too short for that."
Do you draw your manga digitally or by hand? What are your go-to digital or analogue tools?

I do everything digitally by using a graphic tablet with screen and computer.

What was the first manga you picked up?
Tokyo Mew Mew, if I remember right.

Which manga changed your life?
I'd say Tokyo Mew Mew again, because I was in elementary school and never saw    something like that before. I was obsessed with the cat ears ahah.

Which manga character do you most identify with? Why?
I don't know, but if they're weird and need therapy I can relate lol.

What kind of manga do you want to make next?
Something with the kind of dark aesthetic which I like.    


---
About you

What do you do when you're not making manga? How do you relax?
I usually read, play games or watch something. 
What industry do you work in (if manga making isn't your primary job)?

Jobless but not hopeless.
Where do you see your manga career in 5 years time?

I just hope to see it somewhere honestly.
What manga making advice would you give to your younger self if you could?

Just draw and create, use your feelings and transform them into art. Even if it sucks, you will improve eventually, but just do something or you will regret all the wasted time.
What advice would you give to people entering the SILENT MANGA AUDITION®?

Use it as a tool to improve
,
not
j
ust for victory. Experiment, study, and think about what you really want to do with your art.
---
Thank you, Luciel! We're eagerly expecting your next manga masterpiece!
There's time until December 4th to join SMA20 and have a chance to develop your potential as a manga creator with us in Japan!