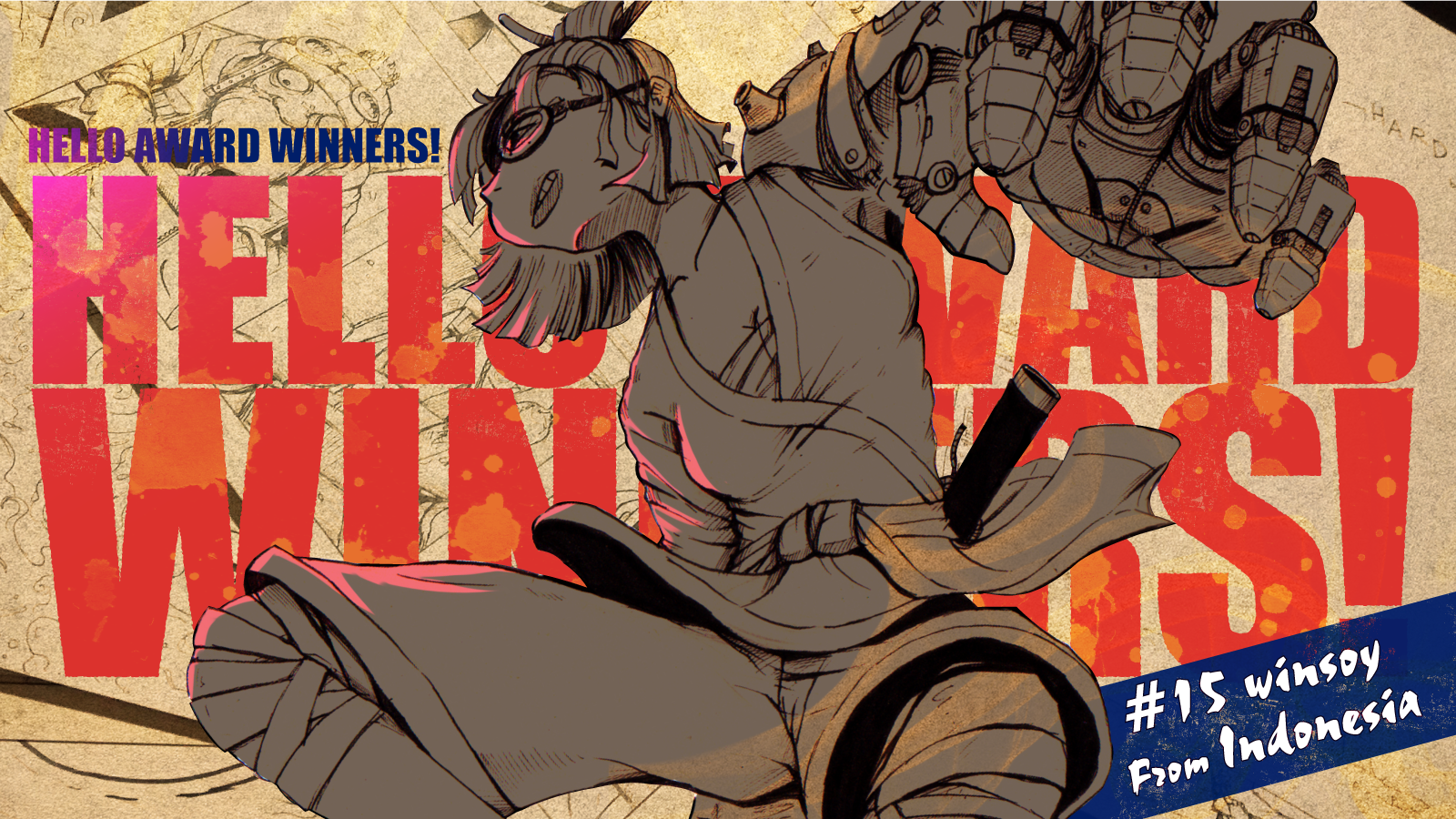 The NOSTALGIC, ROMANTIC artist! The INDONESIA manga JOURNEY! 
- Hello Award Winners #15 winsoy
INDONESIAN MANGA ARTIST AIMS HIGHER WITH SMAC! His home is the manga studio! His companions are under the same roof! THEY ARE ALL PROS! He will reveal to the SILENT MANGA AUDITION® Community (the readers, the creators and the editors) how's like to be a 24h manga pro! Hello, winsoy!
---
"Me and my friends constantly join manga competitions to improve our style!"
1) How did you begin creating Manga?
My friend Galang Tirta started making manga during the college. Back then, I always looked up on him, and at some day he asked me to be his partner for a national comics contest. We won the 3rd place. Since then I thought I could make my comic/manga by myself, so in 2015  I joined a friend art studio, in which we did comics and illustrations. Since then, we submit our works into competitions (which is a pretty healthy environment for us to improving our style). Now I self-publish my comics by selling them in conventions and also earn money by doing comic commissions from other authors.
2) What is your working environment like? Are you an analogue or digital person? Any unique tools you use to draw?
I usually draw the line/outline/ink analogue and do the colouring part digitally. I use drawing pens for the lines, but now I'm practising with g-pen and brush as well.
"I live in a manga studio called RAIA"
3 ) Anything the world should know about where you live? Interesting events/sights/foods/culture etc?
I live in Bandung, Indonesia. People come here for a vacation because it is a relaxing place. Also, there are a lot of creative studio (like comic studios or game studios). I live in a studio called "RAIA" with some friends; we do comics and illustrations. We have some drawing communities too. The one I often join in is called Sketsa Pulang Kerja (check out our Instagram : @sketsapulangkerja :D). I think my next entry for SMA8 will be a collaboration with some friends from there.
4) What's it like to work as a studio artist?
It is a lot of fun. We work as freelance artists, so we are the only one to decide the daily work schedule, the workflow and finance. We can do what we like to do, as long as we take responsibility. I mean, there are bills to pay and meals to eat so we cannot just be lazy. We talk about our ideas and make up a team to turn these ideas into a manga. It is very fun. The kind of life I dreamed of 😇 People here are competitive at some point, so we like to submit our works to contests. My friend just sent his work into an oil painting competition last month.
5) Popular comics/manga in your part of the world at this moment?
The youngster like web comics, while some friends of mine "One Piece" fans. People in my country do enjoy comic strips right now, because of their relatable themes. By doing comic strips, you can improve yourself and become popular among readers by sharing your works on SNS, like Facebook and Instagram.
6) Are locally created comics/manga popular in your town? Do you know any local creators?
Some of the popular local comics come from my town. I know local creators like my friend Galang Tirta, and my colleagues at my art studio, Aradea Nugrah and Wing Gantara.
"Entries' inspirations came from my grandma and a sad story of my past"
7) How did you find the inspiration for the entry? 
It come when I woke up one day, maybe influenced by movies, talks with my friends or music. I was thinking about the contests' theme since the announcement, but the idea always comes a month before the deadline. I need to be better at this. Wish me luck practising with this.
8)  How the apocalypse began in town?
Because of a meteor. After that, the atmosphere cannot prevent the other incoming meteor like before.
9) Are "Cup Noodles" popular in your part of the world? Do many people eat them?
Cup noodles are very popular in Indonesia (although the brand is not "Cup Noodles"). You can find them almost anywhere. Some people sell cup noodles along with hot water in a big hot water carrier. They appear around tourist spots, so you can eat them everywhere.
10) Is any part of the story, based on an experience of your own?
I had a friend when I was in a college. He usually brought us some snacks (french fries cooked in the Indonesian style, mostly). He passed away several years ago because of his illness. Every time I go somewhere and pass in front of some shop that sells the snack, if I'm not in a hurry I always buy some to remember him.
11) The protagonist wears a knit cap. Is weather cold?
It is not cold at day, but it is at night. It's like when you are in a desert: during the day time, you wear cover-up clothes not for the cold, but for the heat.
12) What does the title "Hard Simplicity" mean?
A little story about the title is that my grandma helped me with that! 🤓 I told her I was about to make a comic with this story. We came out with the title. It means "Sometimes it took us a tough effort to do even simple things". Cup noodles were a very common item back in the past, but are very hard to get in my story: a true "Simplicity" in "Hard" times.
13) How long did it take to create the entries?
It took me about 10 days. I did some other work too.
14) Where did you find the inspiration for the entry?
I think it came from movies (don't remember any particular title 😏) and finalised into a storyboard. The very not cool thing is that the inspiration came very near to the deadline of the competition. And it always happens that way.
15) Is any part of the story, based on an experience of your own?
The part I experienced is when she feels like that someone's still here. I had a bunny at home, but he died a couple of months ago. Even now I still look to his spot in my home, whenever I walk over there and call his name by instinct.
16) Where does the story take place?
It takes place at a ramen restaurant run by a European chef in a town.
17) You mean European ramen?! Can you tell us more about this? 
It is just a ramen made by European. There are some special sauce by the chef, like Ramen with Carbonara sauce, Ramen with Bolognaise sauce etc. 😬
89) Sounds tasty! The girl seems to be travelling a lot. Where did she come from?
She studied abroad for some years. That is the reason why she didn't know the sad news about the restaurant owner's dead.
20) Have you been abroad? 
No, I haven't. 🙁
21) The letters used in the story seems unique. Did you invent them?
Well, I didn't really invent them so seriously. I mean, I just wrote them, thinking "If I live in a country with unique letters like Japanese or Korean, maybe I'd write like this"! 😆
22) Do you have a favourite food/restaurant? 
I like Nasi Goreng (fried rice)! Every time I'm not sure what meal I want to eat at restaurants, I always pick Nasi Goreng. My favourite restaurant is a Sushi restaurant near my studio; it is a pricey restaurant, so I always go there when I have enough money. It is a special place to me 🙂 (I want to try Sushi in Japan. I think it would be very different from the ones I eat here). Also, I like restaurants with enough light to draw. I like to draw in public spaces! 😌
23) Which SMA7 Award winning entries do you like?
I like my friend winggantara's entry "Gold". He is my studio mate. And "Our Promised Land", too. The part I like the most is that the unforgettable taste doesn't come from the food you like, but from the food you don't like. It is the moment you are eating the food, that makes the taste special. The drawing are great too, no doubt about it.
"The best way to understand my level in this industry is joining competitions!"
25) What are your future expectations?
I wish I could be better at making manga/comics. More people would know my works and appreciate them. I want my works to be published by a big publisher and get better awards in a comic/manga competitions.
26) What do you expect to achieve by taking part in SMACommunity – The fans, readers and the Japanese pros?
I hope more people will recognise my works. Also I want to meet new people who have the same passion or working in the industry. My biggest hope is to receive some comments and critics about my works from them, so I could be better and better at making manga/comic. And about you, SMA, how about doing a road show to other countries? 😜 Do workshops or meet with people and greet them. You guys can join in a big event in every countries, or make your event. I'm sure people will be happy with that! 😁
27) Anything else you would like to share with the community?
I want to thank you guys from SMA for appreciating my works. It means a lot to me. It gives me all the positive energy I have now to make more manga/comic. To me, the best way to understand my level in this industry is joining competitions. By achieve something in a competition, I think I'm walking on the right path. So, again, thank you very much. I will do better next time.
---
So you and your PRO friends are improving your art by joining manga competition!!! Thank you, winsoy sensei! All the SMAC! is waiting for your next Silent manga!
AND TODAY YOU HAVE THE LAST CHANCE TO JOIN THE SMA8!
Tomorrow, September 30th, is the event deadline!
Be sure to be part of our community and put a step into the PROS WORLD! YOU STILL CAN DO IT! Just click the picture below!
See you next time! Bye-bye!