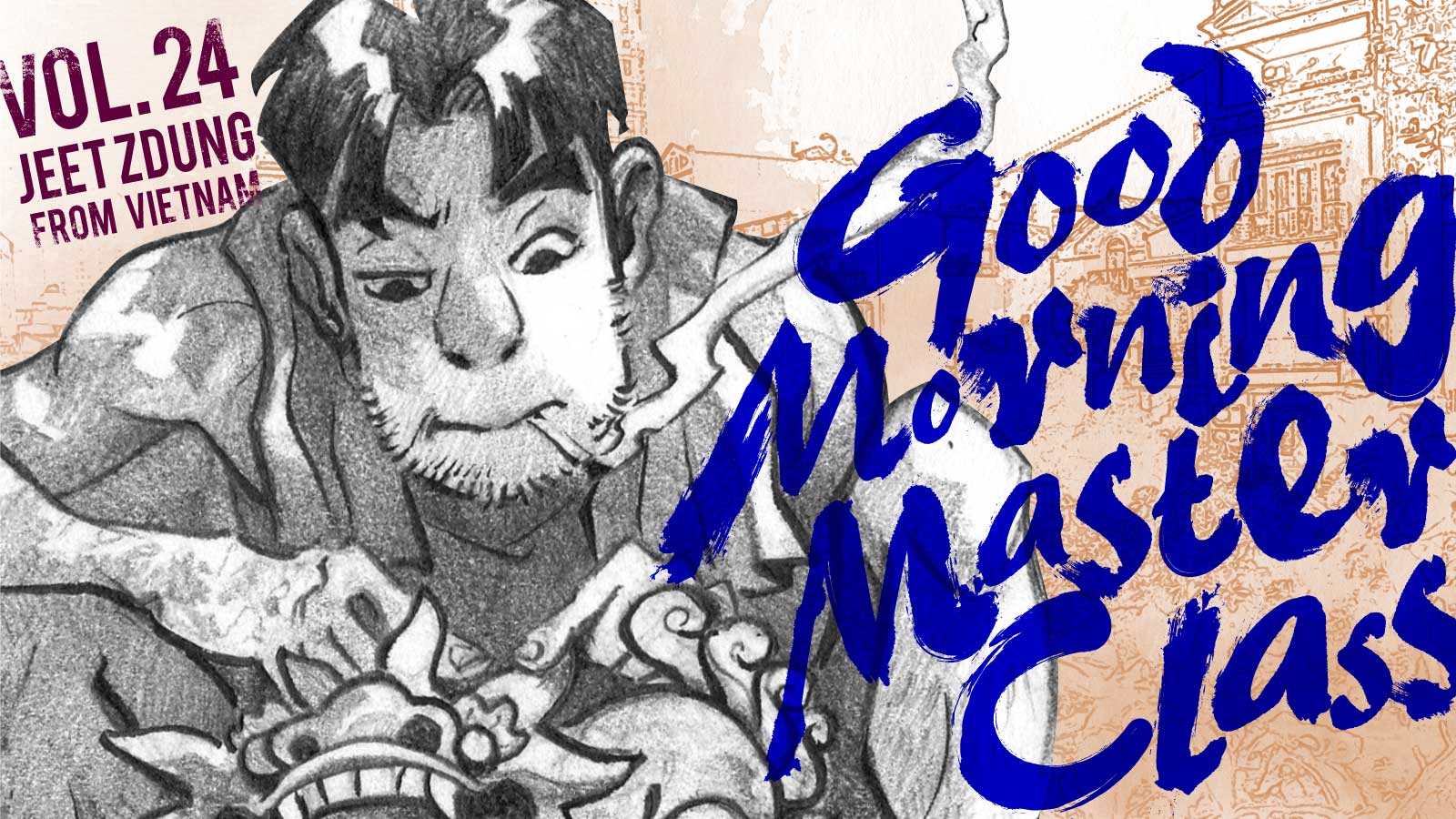 Good Morning MASTER CLASS!!! #24 Jeet Zdung
This week's SMA MASTERCLASS 2017, the 3rd year fresh members who will be coming to Tokyo in 2017, has a bold new vision for the future of manga.  Who is this ambitions man?  He's Jeet Zdung from Vietnam☆ Jeet Zdung fused traditional Vietnamese art and manga to create works full of tradition and innovation! He showed us where that inspiration comes from 😉 Good Morning Jeet Zdung!
---
INTERVIEW WITH Jeet Zdung.
"The level of quietness and even noise here is just right for me to be able to work comfortably."
– Congratulations on becoming a Masterclass member.  It must have been an exciting party when you heard the news.
Yesss!!  Arigatou gozaimatsu!!  I was so excited when I head that news!  Becoming a Masterclass member, I was waiting for this from the first time I joined SMA!  And it has become a reality this month!! I made a party for myself in my off time because I'm so busy.  But, sometime after 17 January I will have a seafood bbq with my girlfriend and best friends!!  We will cook, eat, and talk together, one of us can sing and loves to sing — it will be like a family party, I love it.
– About where you live.  Anything the world should know about the place?
I live in Hanoi, the capital of Vietnam.  Hanoi is a lively city with a lot of motorcycles.  There is diverse street cuisine and the small roads and alleys intersect like mazes. My house is located in a pretty quiet place (which I find quite a fortunate thing).
– Your workplace – Please show us!  Any additional place you visit for inspirations?
Most of my works were created in my room at home.  The level of quietness and even noise here is just right for me to be able to work comfortably.  I love hearing the sound of my cat meowing or the singing little birds in front of my house.  I also like jogging in the park or kayaking to come up with ideas for my scripts.  Sometimes I hop on a day trip to the countrysides, far away from big cities, into the wild.  But, the most convenient place to come up with ideas is my toilet.
– Your toilet is a place you get inspiration!?
It is a peaceful place!!  Nobody bothers you.  I just sit there and the ideas begin to flow very chaotically.  I stay in the toilet maybe an hour, maybe more…until the ideas matchup.
– You don't flush your ideas down the toilet do you?
=)))) Yes, I do.  I flush the ideas I don't like to the toilet.
– Speaking of the toilet, "Chau Chuoc" (SMA5) is about a little girl and the toilet.
"It is so lovely and brings back so many memories."
Yes!  "Chau Chuoc" in Vietnamese is the name of a frog like animal and I named the baby girl that name. My childhood was just like that little girls, running around in my home with my potty chair.  Now.  Now, you cannot see kids do the same in the city.  But, when I travel to remote areas in the mountains in north Vietnam I still see a few kids running with their potty chair.  It is so lovely and brings back so many memories.  They are so lucky, too.  They get to play with dogs, cats, pigs, chickens…so many animals :)).  I never had any animals to play with when I was a child.
– Stepping away from the toilet, are there any artists who had effect on your manga style or respect?
I love the works of Fujiko Fujio, Mitsuru Adachi, Akira Toriyama, Haruki Etsumi, Inoue Takehiko, and Tatsuya Hiruta.  I also like the comic "Usagi Yojimbo" by Stan Sakai.  But, these days I go crazy for the classic art of Hokusai.  I could even say that I see some influences from Hokusai and Vietnamese folklore paintings in the backgrounds.
– Vietnamese folklore paintings and Hokusai influenced you?  Wow.
Yes!!  Once when I went to see an exhibition at a museum I wandered into the gift-shop and saw postcards with a synthesis of Vietnamese folk art paintings.  I had never been interested in them and I suddenly felt it was so beautiful.  I thought, "Hey!  I can draw a manga with this style!!!"  And when I went to the bookstore to find more reference material and I saw a Hokusai art book, ukiyo-e (woodblock paintings) book, and classical manga and thought, "Ukiyo-e, classical manga, and Vietnamese folk art paintings mixed together.  Why not?"
– Did creating manga have any effect on your life? In what ways?
Creating manga forces me to observe the places I've been to more thoroughly and more exquisitely for the sake of finding materials for my works.  Every time I search for visual materials for new works, all those simple, small things I come across everyday suddenly become so lively and marvelous.  Creating pushed me to travel more, observe more, and study more and come back to create better works.  For me personally, it's a positive circle in which I can immerse myself forever.
"Creating manga forces me to observe the places I've been to more thoroughly."
– Manga got you to travel more?
Yes!  I love it!  I have three passions, drawing, martial arts, and traveling.  I love traveling around Vietnam, Laos, and Thailand.  There are many beautiful places that influenced my work, too!!  Loi Krathong (the festival of floating lights) in Chiangmai, Thailand is so beautiful — My girlfriend and I drew on some lanterns and let them fly. haha!— New Year in Laos will make you wet from head to toe, and Son Doong cave in Vietnam is so amazing (like a different planet).
– We've heard Son Doong cave is beautiful.  Can you tell us a little about why you love it?
It is an amazing cave!!  So big, so different!!!  It is the world's largest cave and is like traveling to another planet.  How it is conserved, the intactness, how primitive it is with giant stalactite systems, the 2 areas in the cave with the light from the roof, and the forest in the cave.  They make me feel like I'm so small.
– You must have some great drawing tools to capture all the places you've gone to!
I have a Wacom Cintiq 12wx which I won a comic contest here in Vietnam.  I may have used it for 6 years already and most of my works were created with it.  Despite having gotten old and ugly it still serve me well.  Recently, I started to find the joy in drawing manga with tools like pencils, brushes, water color, and ink.  These tools are really amazing, especially when I'm going crazy with those Vietnamese folklore paintings, ukiyo-e, and Hokusai's old manga.  I like to create an oneshot or a series with such styles.
– You have said you made "Stand Up and Fly" (SMA-EX) with just pencils.  Was that to achieve the Vietnamese folktale look?  How about with your other works?
"Even with my digital drawings I always find a way to make them look handmade."
Yes!  Before I knew about SMA I was practiced drawing with pencils.  And when I decided to join the SMA Extra "Fukushima Sakuramori," I thought, "A manga drawn with pencil.  I want it rough, not too clean, like a sketch.  Could be very cool and it will be a challenge."  After,
"Stand Up and Fly" (SMA-EX)
, I wanted to draw another work with pencil and I'm still practicing. With my other works I like to experiment with different materials, watercolors, and ink.  I want them to feel like they are handmade, without the intervention of machines.  Even with my digital drawings I always find a way to make them look handmade.
– Where do your CHARACTERS come from?  You inspirations, imagination, or influences?
When I was in high school, my main characters mostly came from Bruce Lee, my martial art icon.  These characters were often muscular, incredibly good at fighting, and fought as if they were unstoppable.  They forced me to create a suitable script for them to live out their abilities. Now, my characters often pop up after I get an idea for a particular script.  For example, when I want to create a manga about adventuring in jungles, traveling with motorbikes, protecting wild animals, or fighting for a social cause…I would come up with the ideas for the script, gather what I want to put into the work, and only then create characters that are suitable for the content I want.
– So, when you started creating characters, they were like Bruce Lee.  Now you start creating characters when you have a theme for your story.  What made you change or what changed in you?
I do not really know why I changed.  This really is a difficult question.  I never thought about it at all because everything happened very naturally.  I never realized this until I answered this question.
– We say, "Breathing life into characters" is the magic of manga artists.  Tell us how YOU cast that magic!
"The hard work is to exploit and express them in my works."
I have two ways to breathe life into my characters.  The first one is to play the role myself and the second way is to observe people around me, study them and turn them into my works' characters.  The first method has the advantage of understanding the characters better but that could easily make them have identical personalities and become non-unique, I think this method should only be applied for main characters. The second method is very interesting.  It's like traveling through a fertile land of new things.  I almost don't have to think because those attractive things are right there in front of me.  The hard work is to exploit and express them in my works.  I'm still practicing to do this better.
– You sometimes you observe people for ideas.  When did you see a naked old man dive into a pool for "Childhood" (SMA6)?
I haven't seen that  yet. :))  But, I see so many naked old man dive into river like children.  There is a place near my city, the Red River in the countryside, where some men, old men, come and swim naked in the river.  I swim, too…with my swimming trunks ;))
– Any other good tips to share?
Wandering, traveling a lot with the inseparable tool which is the camera is my number one favorite method.  For me, it's the best way to hunt for new and unique ideas.
– Is there any moment you felt, "Ah I'm glad I entered this competition"?
"'Silent manga' is the perfect contest that allows artist from all over the world to compete without language barriers."
SMA is one of the best things that happened to me in 2016.  "Silent manga" is the perfect contest that allows artist from all over the world to compete without language barriers.  Simple regulation and a lot of manga drawing technique that were explained very thoroughly by Mr. Mocchi and Mr. Taiyo.  I would like to thank all of the people who created this competition.
– Any specific areas of focus when creating your entry?
I love nature.  That's why most of my entries happen in wild nature or in the countrysides with characters that are children, animals, and trees. I also to create a humorous space with a lot of surprises, but is peaceful and cozy for my readers.  Mitsuru Adachi is the one mangaka who does this very remarkably and I'm trying to learn from his works.  I tried to do this in
"Stand Up and Fly" (SMA-EX)
when the little girl tried to help the young birds learn to fly and she fell several times but did not give up.  Or in
"Mask, Smoke, my Childhood" (SMA6)
 when the mother punished the father because he was blowing smoke in the their son's face.  I tried to make it a surprise, but instead I made a cheerful and warm family.
– Any tips to fellow SMAC! contestants?
Through 5 entries participating in SMA, I figured out some things that should be done.  They are be loyal to the round's topic, focus on expressing that topic clearly and powerfully through a simple, easy to understand story line, and try to avoid complicated content.  One entry that is less than 20 page long would be best, too an long entry often makes reader tired.  The priority should be focusing on expressing the characters, instead of meticulously detailing a marvelous background.  It would be great if you can
watch the tutorial videos of Mocchi and Taiyo
.  Everything that is essential to help your manga win the contest is all explained carefully there.
– Keep the story short and focused?  How did you do this with "Childhood" (SMA6) because it was only 3 pages long.
With "Childhood" I thought, "If I only had 10 seconds to make a movie, what would be in that movie?"  Then I went to the bathroom and stood under the shower and thought about all the ideas that might be feasible.  An adult remembering his childhood, to remember when?  Why remember about it?  Something engaging to read?  What will happen in 10 seconds?  After selecting the ideas I liked, I ordered myself to turn it into a manga on paper in one day.
"If I only had 10 seconds to make a movie, what would be in that movie?"
– How do you feel about joining the SMA MASTERCLASS?
"This is a precious chance, but at the same time, a great challenge to create manga in Japan."
I feel honored and very nervous to have a chance to work with professionals in the Manga field.  This is a precious chance, but at the same time, a great challenge to create manga in Japan.  I wish to learn how to create a good manga, but I'm very much worried about my limited English.  I am sure I can understand everything that is presented at Masterclass.  One more thing that makes me very excited is that I get to set foot in Japan for the first time in my life thanks to my own manga.
– Now that you're in the SMA Masterclass, is there anything you can't wait to learn?
I want to learn and practice how to create characters, structure, and attractive scenarios.  Like how to design a nice layout for a comics page or if I want to draw manga in pencil, what I should.
– Any tips you received from a SMAC! Editor or ther editors?
I have learned a lot from
Mr. Mocchi and Mr. Taiyo's videos
.  Most recently, I had a chance to get familiar with and understand more about
KSTK (Ki-Sho-Ten-Ketsu)
.  This is a great structure that help a manga be intriguing.
– What do you wanna create from now on?
I have a script idea for
SMA-EX2
, an idea about a Samurai sensei and his student.  This will be a playful and lovely script and I would like to be able to apply KSTK to it. I also hope that working with SMAC!, I will come up with some ideas for an interesting manga series.  Hmm…Samurai sensei and his student on a wandering adventure to many places and training.  Maybe it can become a series. –
Do you have any final words for the reader?
Manga has made me happy.  Manga can also do this to you.  Let enjoy it together!!
---
Thank you for your time Jeet Zdung
senpai
! We can't wait to read the adventures your Samurai and student will go on! Manga started a comic revolution in Vietnam.  Now new Vietnamese manga creators are about to change manga.  Let's see how they pioneer the new manga frontier as they join the Masterclass!! Please show your worth, by joining & start creating for SILENT MANGA AUDITION® today!