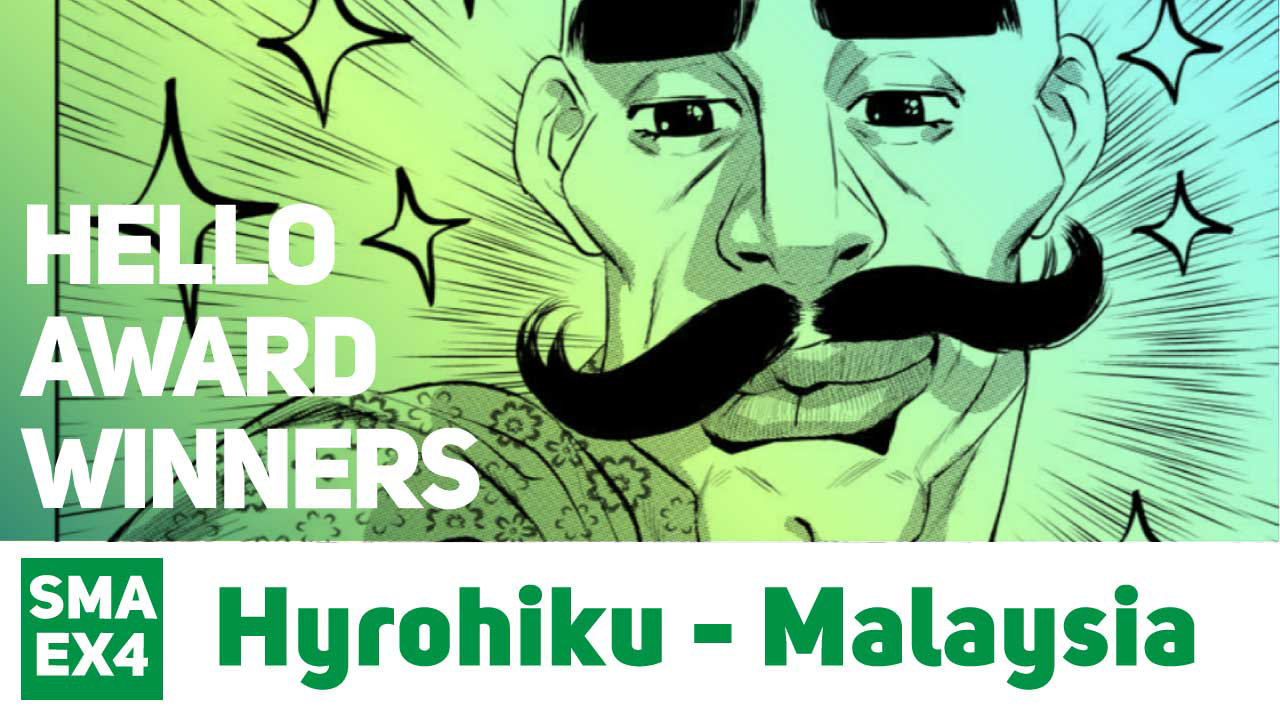 EX4 Interview #6 – Hyrohiku
PROFILE
Name:
Hyrohiku
Age:
37
Country:
Malaysia
Favorite manga:
 The Bride's Stories/Otoyomegatari, Yotsuba!, No Guns Life, Drifting Dragons/Kuutei Dragons 
and
 Atelier of Witch Hat
Favorite movie:
The Terminal
Favorite quote:
"Treat others the way you want to be"
"…I learned how to draw manga backgrounds in a simple and fast way!"
1. How does it feel to win a SILENT MANGA AUDITION® award?
I was so proud and happy when my manga was chosen for the Grand Prix Runner-up award.
2. What were your first impressions of the theme?
My first impression of the theme was that it involved something about overcoming a test, trial or obstacle. I thought it would be an easy theme, but I soon realized I needed to insert an element of charm or encouragement to help drive the story.
3. What was the inspiration behind your winning work?
The inspiration for my entry came from a short movie that I watched on YouTube. It was a movie about a woman taking care of her mother who has dementia.
4. What challenges did you face when making your manga? How did you overcome them?
The biggest challenge I faced was finding the resources to finish it in time! Fortunately I managed to beat the clock by disciplining myself and applying fast drawing techniques.
5. What did you learn from making your manga? Did you pick up any new skills or techniques?
While making this manga, I learned that I need to manage my time and discipline myself better when it comes to procrastinating too much. Yes, I did learn a new skill – how to draw manga backgrounds in a simple and fast way!
Hyrohiku's beautifully detailed illustrations and clean workspace!
6. How important is entering the SILENT MANGA AUDITION® in relation to your professional goals?
SILENT MANGA AUDITION® is an open opportunity for me to achieve my dream of becoming a manga creator in Japan. It also motivates me to do my best in creating manga by providing challenging themes, not to mention the other highly-skilled competitors it attracts from around the world!
7. What advice would you give to people entering the SILENT MANGA AUDITION®?
My advice would be to go read all the award winning entries to date so that you can better grasp the formula needed to win. Upon doing that, I recommend creating multiple entries that consist of the key elements you've spotted on those entries. If something doesn't work, forget about it and move on!
Backgrounds and character's expressions are OVER THE TOP! 
Thank you, Hyrohiku!
For those of you that might have missed his Grand Prix Runner-up award winning entry, click on the banner below!!
AND NOW REMEMBER TO JOIN THE AUDITION!