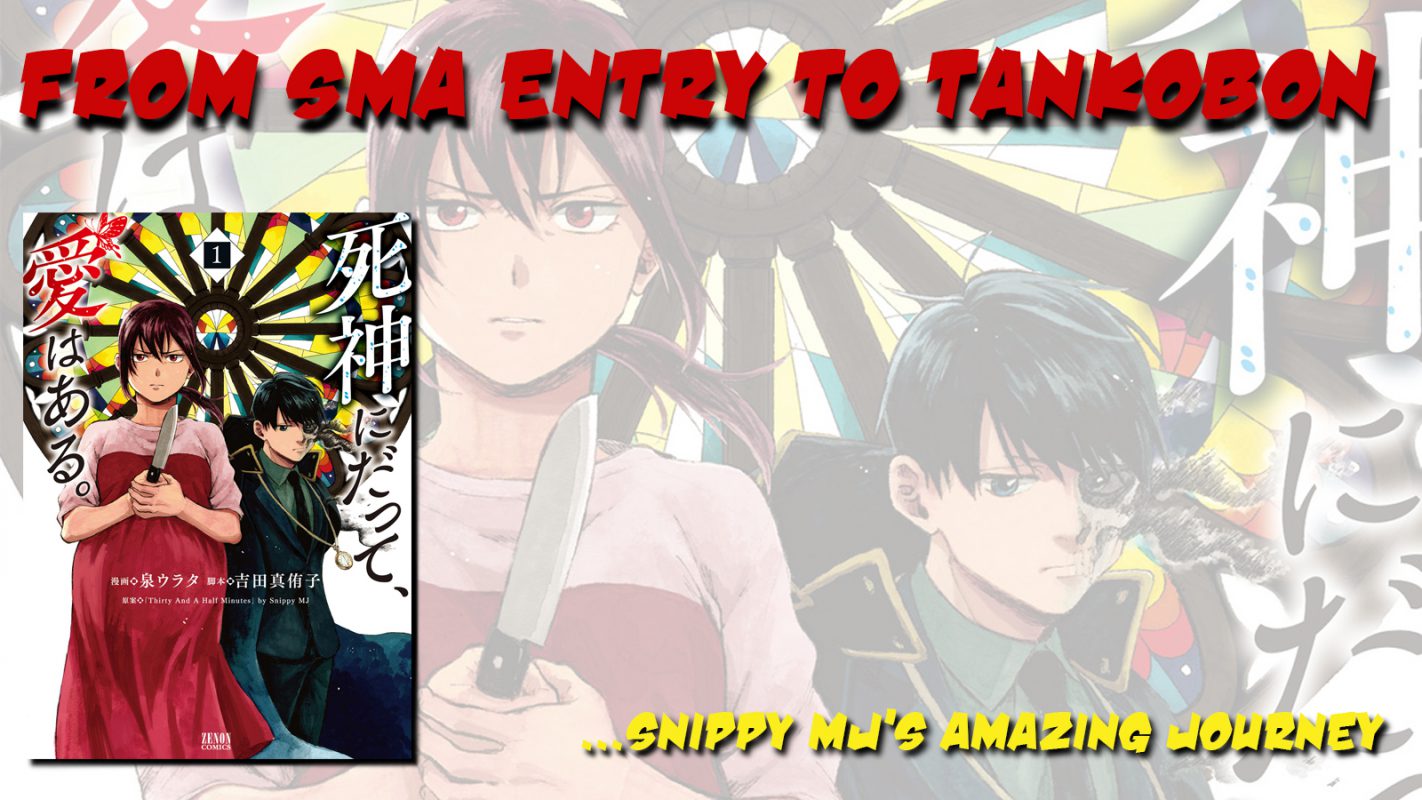 SMAC! Grand Prix winning entry get's its first Tankōbon!
The first collected volume of The Grim Reaper Can Love, Too by Urata Izumi (Kasukano-cho District ½ Detective Agency), the hugely popular manga based on the SMA4 Grand Prix winning silent manga, Thirty and a Half Minutes by Vietnamese creator Snippy MJ will be hitting the shelves of Japan this month.
First realized as a short, live action film, The Grim Reaper Can Love, Too proved a hit with localized Japanese audiences and it didn't take long for the film makers and COAMIX to realize that they had a hit protagonist on their hands.
The debut of The Grim Reaper Can Love, Too in Monthly Comic Zenon.
Though invited to develop Thirty and a Half Minutes into a manga series, the Vietnamese artist was unable to commit due to her academic responsibilities in New York. But with a character brimming with so much potential, the editorial team at Zenon was not about to let this SILENT MANGA AUDTION® winning entry slip through their fingers! With the creator's blessing, along with full credit and remuneration, Izumi Urata, herself an award winner from the domestic SMA rounds, took up the gauntlet and helped to create the entertaining manga we have today.
Izumi Urata's reimagining of Snippy MJ's award winning work, The Grim Reaper Can Love, Too
So how does Snippy MJ feel about this fantastical journey from submitting her first SILENT MANGA AUDTION® entry to being the architect of a popular manga series in Japan?
"SMAC! holds a very special place in my heart. I'd heard of SMAC! a few years before I joined, and had tried several times and began many mangas for submission, though never following through with any of them, due to time constraints, lack of ideas or lack of confidence" she told us, no doubt echoing the feelings of many potential SMAC! members.
Title page to Snippy MJ's original silent manga.
"I joined SMAC! to prove to myself I could finish a project on time. Just by submitting a finished work to SMAC! was a big win for me, because I overcame my own problems and put out a story to the world."
The first step is always the hardest, but what has helped to keep the momentum going?
Page from the original SMA4 Grand Prix winning work.
"The confidence and support I've received from SMAC! has been invaluable for me as an artist and person, I am very grateful to the SMAC! team for giving me this amazing experience."
So there we have it! From those first tentative steps with her SILEN MANGA AUDITION® submission to entertaining Japan, Snippy MJ proves that if you have a simple, charismatic and entertaining character that resonates with the audience, then you too could potentially have your own series. Thank you for this amazing gift Snippy MJ, we can't wait to see what you'll create next!
https://youtu.be/2BOJu8F0TU8