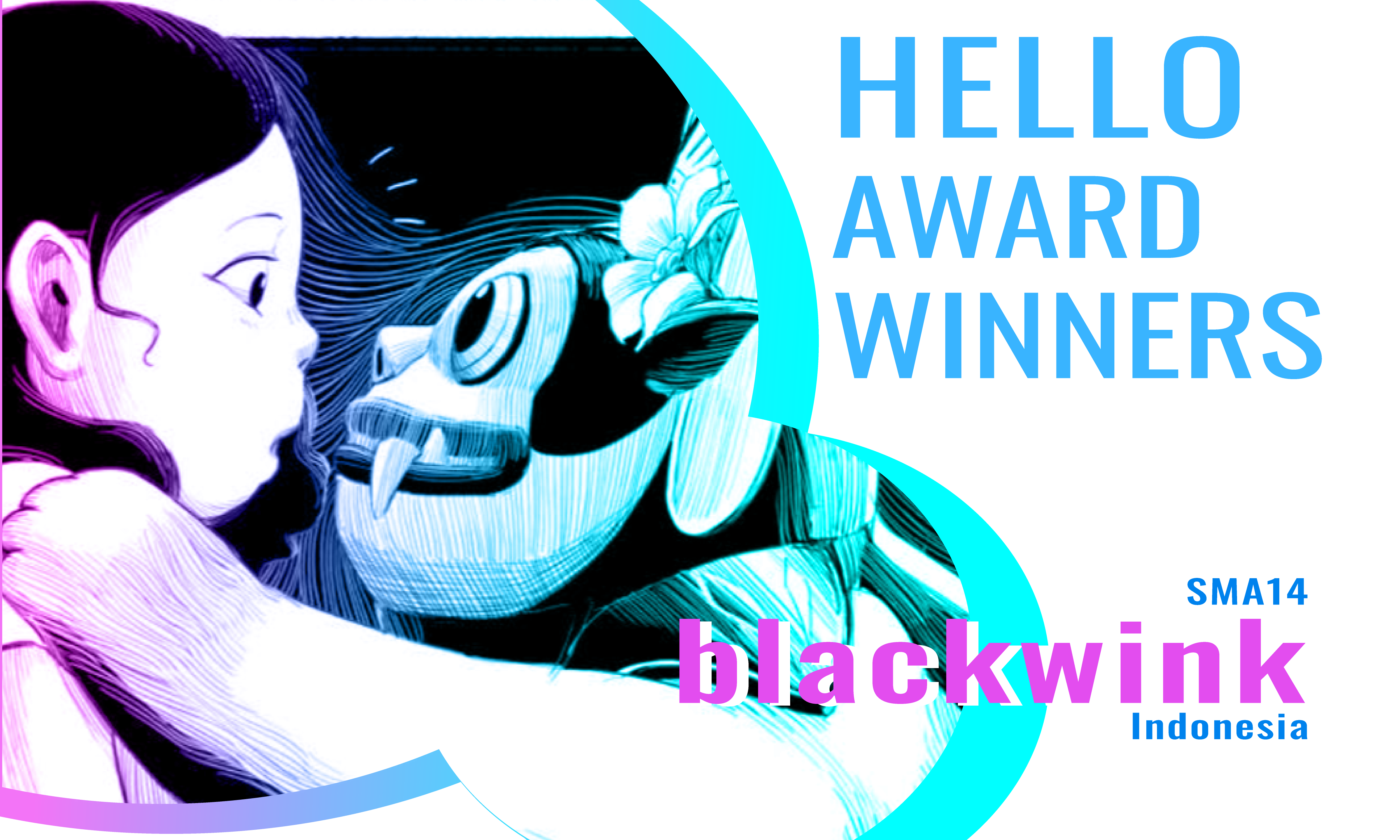 HELLO SMA14 AWARD WINNER: Blackwink
Pen-Name:
Blankwink
Round:
SMA14: "Creature, Spirits and Monsters"
Manga:
Blooming Flower
Award:
Grand Prix Runner Up
Name:
Salma & Ado
Age:
21
Country:
Indonesia
Favorite manga:
Detective Conan
(Salma),
Dragonball
;
One Piece
(Ado)
Favorite movie:
Whisper of the Heart
(Salma),
The Wind Rises
(Ado)
Favorite band/musician:
John Mayer (Salma), Hivi! (Ado)
QUESTIONS
ABOUT THE SMA
How does it feel to win a SILENT MANGA AUDITION® award?
We feel so glad, grateful, proud, excited, joyful, blessed, motivated and lucky! All of these feelings mixed into one. We simply feel pure happiness!
What was the inspiration behind your winning work?
We were inspired by the work of past SMA winners. Their manga is so awesome, we really enjoy reading them! We wanted to make an awesome manga too, so everyone can enjoy the story we wanted to tell.
What challenges did you face making your manga? How did you overcome them?
We don't have any background in manga making, so not very experienced – but we enjoy reading manga! Because of that, we are constantly learning how to make entertaining manga. It helped us develop a lot! Secondly, we were working at a distance of 447km from each other because of the Corona situation, which was very challenging. It wasn't easy and there were troubles along the way, but we managed to overcome them with good communication and a shared goal to finish the manga we started 😀
ABOUT MANGA
How and when did you start making manga? Any advice for beginners?
We've both been interested in manga since elementary school, though purely for fun. Advice? I would say, don't be afraid to start. Learn the basics of manga making, like story structure, paneling and character designs and build up your experience.
What was the first manga you picked up?
Salma:
Doraemon
Ado:
Naruto
Which manga changed your life?
Salma:
Oyasumi Punpun
! For me, the manga is a beautiful depiction of emotions and the reasons behind them. It shapes how humans behave, and even inspired me to learn more about psychology. Ado:
One Piece
. Ever since I was a child, I've been obsessed with movies and anime. But when I picked up
One Piece
from chapter 1, I just couldn't stop reading. I realized how exciting manga can be, and how it can trigger so many emotions while sparking the imagination like nothing else! Very exciting!
Which manga character do you most identify with? Why?
Salma: Mari Shimura from
Kocchi Muite! Miiko
(lit. "Look This Way, Miiko!"). I was introduced to the manga in elementary school, and was instantly drawn to Shimura's drive to realize her dreams of becoming a manga artist. As a child who liked to draw, the character really resonated, inspiring me to draw a manga that was published in the school magazine! Ado: Son Gohan from
Dragonball
. Gohan has the potential to be the strongest fighter, but his Mother just wants him to lead a normal and tranquil life. He failed to become the strongest because he left his training, which is something I really identify with.
What kind of manga do you want to make next?
A simple story that is subtly deep and heart-touching.
ABOUT YOU
What do you do when you're not making manga? How do you relax?
That's a funny question because for us, nothing is more relaxing than making manga! Haha!
What industry do you work in (If manga making isn't your primary job)
Salma: Animation Illustration: Illustration
Where do you see your manga career in 5 years time?
We can't really see that far ahead, but we know we'll be much better at making manga!
What advice would you give to people entering the SILENT MANGA AUDITION®?
Don't miss out on all the amazing knowledge and resources SMAC has provided on the website and YouTube. The Sensei's and the editorial team have provided a lot of information and tips on how to make manga, so we highly recommend you absorb it all before making a manga for the SMA 😀