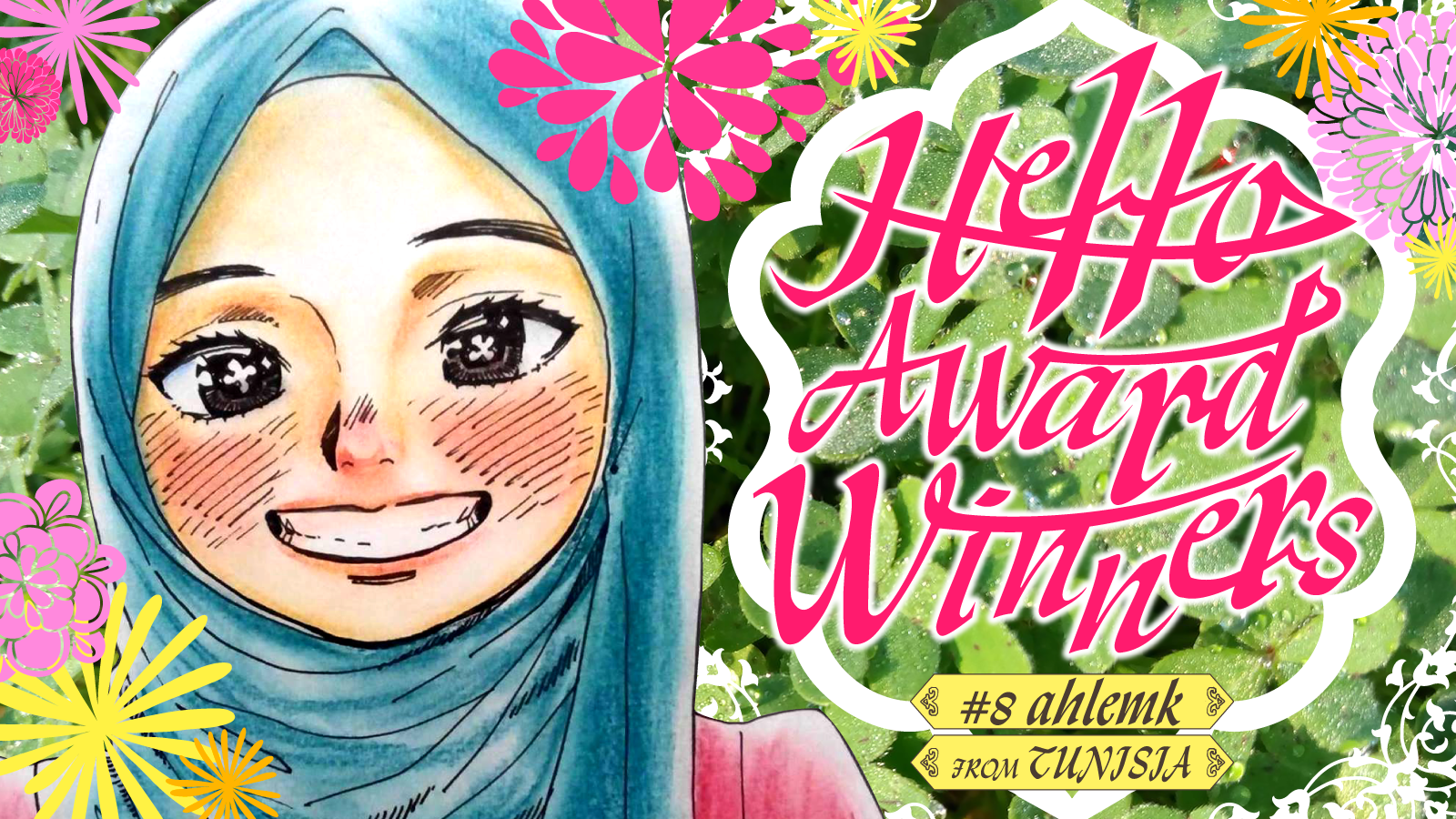 The patriotic Tunisian manga artist! "Reality" and "imagination" perfect balance – Hello Award Winners #08 Ahlemk
Several entries came from Tunisia during these years! Most of them from the same manga artist: Ahlemk! This incredibly talented girl never created a manga before her encounter with SILENT MANGA AUDITION®! Along with the event, Ahlemk's art style has become better and better and now is finally time to have a long interview with this patriotic mangaka! Hello, Ahlemk!
---
Can you please introduce yourself by using only three words?
Hardworking, introvert, imaginative.
"I never drew a manga before Silent Manga Audition."
How did you start to create manga? 
It all started when a friend sent me the SILENT MANGA AUDITION® link on my
FACEBOOK PAGE
. He is an illustrator and found out the website when he was looking for some inspiration for his next job. Because he knows my passion for manga, he immediately sent me the link. It was my first experience in manga creation in general. I never drew a manga before Silent Manga Audition.
Wow! Do you mean without SMA you would have never been a manga artist? 
Yes, exactly. And now I'm having this interview with you. Today is a beautiful day.
Thank you very much for your warm words. What do you enjoy the most about creating a silent manga? 
I like to draw silent manga very much. I want to express everything through my art skill, without using words. I feel like there are no disadvantages. Rather, my ideas become more clear and organised, because I can focus on characters' emotions. I enjoy expressing my feelings through my characters. It's like making my dreams or fantasy real. I can realize my inner desires and present my vision an imaginary world.
Who are your favourite manga artists? 
I love the works of Kaoru Mori sensei and Mika Yamamori sensei. I can say my art style was influenced by them. Kaoru Mori's manga gave me the inspiration about how to create an emotional story in which my characters can be represented realistically. Even though her stories are classics, I admire how she describes reality without fantasy elements. This is what I am aiming to do in my manga too. Mika Yamamori sensei's background art style and characters' emotions left a strong impression on me. My favourite manga is from Yamamori sensei. It's called "Hirunaka no Ryuusei" (Daytime Shooting Star).
Some other inspirations?
I also love Takehiko Inoue sensei's manga so much! He's a genius, and his art is so unique from the other Shonen Manga I read. When I read a page of Inoue sensei's manga, I feel like I'm entering an entirely new world in which human beauty has its maximum representation.
Which manga by Inoue sensei do you like?
The first manga of Inoue sensei I ever read was "Slam Dunk". I used to watch the anime on television. When I found out there was a "Slam Dunk" manga, I decided to read that too. From that moment, I started to read any manga, mostly shoujo, but I still admire Takehiko Inoue style and recently I finished reading his masterpiece "Vagabond".
In what kind of environment do you work when you create your manga? 
I create my stories in my house. I draw in a very lively environment, with all my family around me. By talking with them, I can get some good ideas for my next story. When it happens, I start asking more specific questions and collecting ideas. After that, I spend some time by myself organising the information and creating the plot. Then, finally, I start drawing.
"I want to describe Tunisia's thousand-years old civilisation."
What do you like the most about your country, Tunisia?
I live in a city called Mhamdia. There is nothing much to do, except staying at home, reading my favourite Manga and drawing. Nonetheless, I love my country, Tunisia. I want to describe it in the most realistic way possible in my manga. I love its culture, its food, and its incredible landscape in which Beduins stay and make up villages from nothing. I want to describe Tunisia's beautiful country side and its thousand-years of civilisation in my manga, to make everyone aware of how much history is hidden here.
You just mentioned "food". What is your favourite local dish? 
My favourite local cuisine is couscous! It's so delicious. I eat it once a week with all my family. I wish I can eat it more!
How people around you see Japan and manga culture? 
Japan and manga are not popular here in Mhamdia. I don't have many friends with whom share my passion. I decided to create my Facebook page to reach more people around the world and have more manga friends. I know the most popular anime right now in Tunisia are "One Piece" and "Naruto". I saw many cosplayers joining several manga events from SNS posts, but I have never been there. I wish I could spend some time in a Japanese manga event in the future.
"The entry story is based on my mom's personal experience."
Now, let's talk about your award winning entry. Congratulations! How long did it take to finish the manga? 
I created four entries for SMA7; each one took me about one week to be completed.
Impressive! Is your "Excellence award" entry's "My dear friend" story based on some personal event? 
The story is based on my mom's personal experience when she was a kid. She lived on a farm along with the animals there. Goats and sheep were like her family, and she loved them so much. Mom still tells us stories of her young age, when she was with her beloved animals. When I was thinking of a story for SMA7, I had a conversation with her, and realised how perfect her experience would be for the "Unforgettable taste" theme. Once she told me a story about a sweet lamb. I liked it so much and used it as a base for my entry. Then, I added additional elements like the wolves and the reunion of two old friends. The kid lives in the same village where my mother lived in the past, Kasserine.
In your manga, the little lamb is the protagonist. Do you like lambs? 
I love them! My favourite animals are goat and sheep. I created a manga about my two favourite things: my beloved mother and animals.
And what about the wolves? Are they common in Tunisia?
Wolves are a real problem for any countryside's Shepherd here in Tunisia, so is quite common to fight with them to protect the herd off our animals. Sometimes, my friends said they faced some wolves along the streets here in Mhamdia too.
The kid gives the lamb some bread. It's that a typical Tunisian bread? 
Yes. It's called "Kisra", and it's like fermented bread. My mother used to feed animals with Kisra as well. Here in Tunisia feeding animals with handmade food is common. We treat animals like friends.
Which SMA7 award winning entry do you like the most? 
I like "Our promised land" by Zevania and Nattorin.  I like the art style very much. Also, the events are really clear, and all the story is easy to understand. I think the manga is smoothly made, indeed.
"I want to create manga with more complex stories."
What your future dreams? 
I want to become a pro. It's my life goal. When I will be a professional manga artist, I will create manga with dialogues, because I know my stories need to be explained. Until that moment, I will keep practising silent manga, by learning from your useful
Youtube videos tutorial
 at SMAC!.
There's something else you want to share with the community? 
Never give up on your dreams. Just keep trying, and you will succeed for sure! Thank you for this interview, SMAC! editorial team, I can't wait to come to Japan and eat a lot of sushi with all of you!
---
Thank you, Ahlemk! We are waiting for you in Japan for having a fantastic sushi night all together! Please, keep doing your best with your original "Tunisian manga", and you will be with us in a very little time! We are really hoping to read more stories about your country as well, dear SMA-Community! Tell us about your culture, your history, and share it with the world by joining the next SMA8 round! You have time until September 30th to be next award winning of our competition! Don't miss this chance!
See you next time! Bye bye! ^^