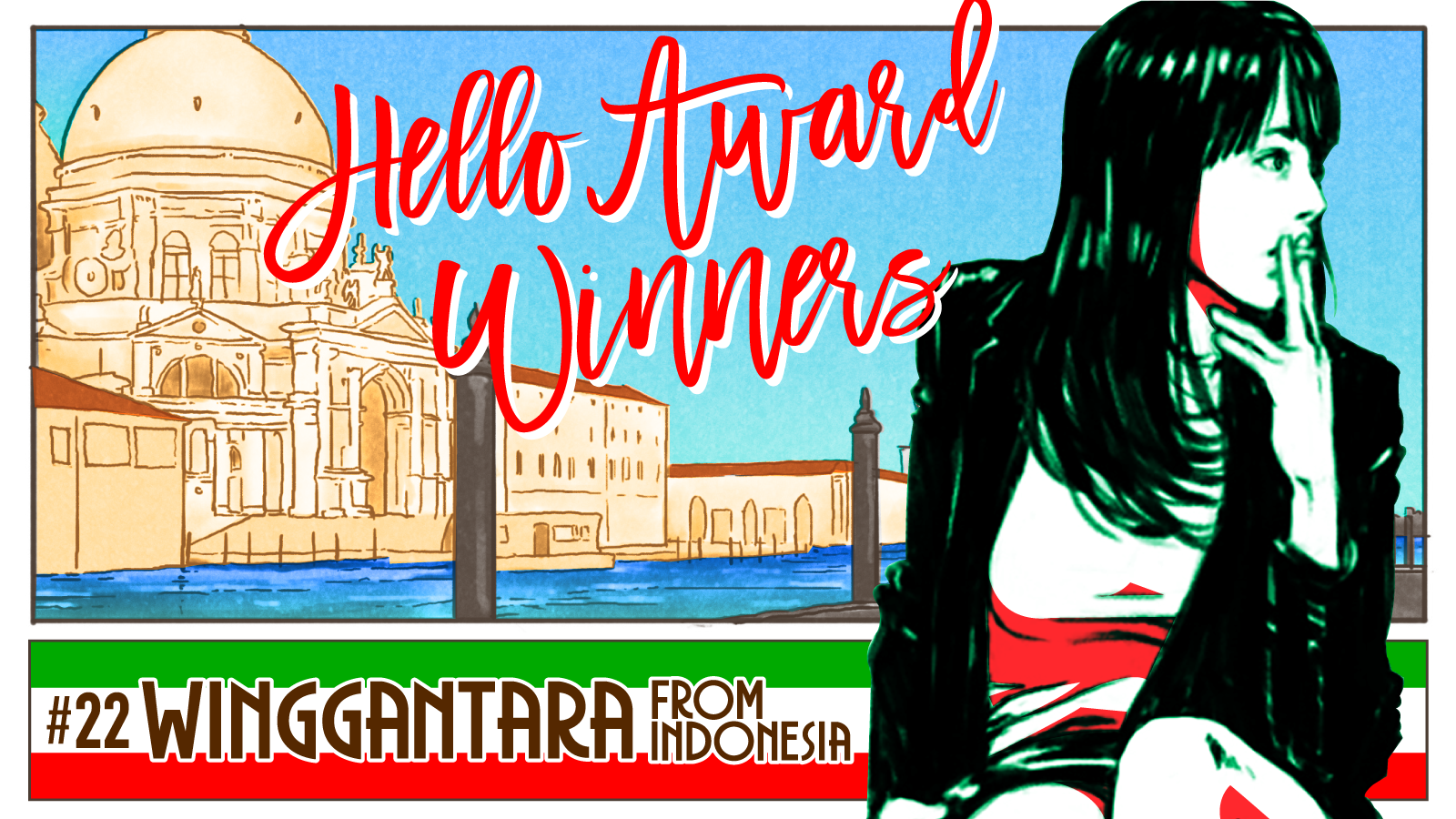 Creator lives manga 24h/24! The Italian nostalgic manga made in Indonesia 
- Hello Award Winners #22 winggantara
NO LIMIT FOR THIS MANGA FAST LEARNER! Inspired by his friends, he's keeping improve himself! From his manga studio in Indonesia to the SMA-Community (the creators, the readers and the editors) and the world! Hello, winggantara!
---
"I wouldn't consider manga as something I would do as a job."
1) How did you begin creating Manga?
When I was a child, I liked reading any books I could find. Luckily, there was a little library near my house, and it had lots of comics. By reading them, I started to understand how to link "pictures" and "words". Even if I've enjoyed drawing, I wouldn't consider it as something I would do as a job. However, things changed in 2015, when I helped a friend of mine with several comic commission projects. As we continued to create comics, more and more people came to my friend's house to help the project. The house quickly became full of creators who share the same dream. That's how we started our manga studio, "RAIA". Now we create manga/comics to improve ourselves, and joining manga contests (like SILENT MANGA AUDITION®) is one of the ways to become better!
2) How do you create your manga?
The first step is to think about the premise I want to show in my manga (with a theme it's easier to develop ideas). Next step is to draw the Name. I think this is the hardest part because I have to think about the story from the beginning to the end. After finishing the Name, I ink my work and add colours.
3) What is your working environment like? Are you an analogue or digital person? Any unique tools you use to draw?
I work in a manga studio, that is my friend's house. I don't use any particular tools during the drawing process since I use digital tools to create manga.
"I live in a studio with my manga creators-friends!"
4) Anything the world should know about where you live? Interesting events/sights/foods/culture etc?
I live in Bandung, Indonesia. It's a city with an altitude of 700m above the sea with a comfortable climate, with many Sundanese ethnic people (an ethnic group native to the western part of the Indonesian island of Java) and lots of delicious food (like roasted pork and spicy noodles). The place is full of green, and cute girls! 😃
5) Popular comics/manga in your part of the world at this moment?
I don't really know very much about local comics, but I can say that Japanese manga are very popular here compared to comics from other countries. The most famous character among Indonesians is Japanese, though: "Doraemon"!
6) What are your favourite manga?
"Jing: King of Bandits" by Yuichi Kumakura sensei and "One Piece" by Eiichiro Oda sensei! Both these manga are fuel for my spirit. I like their imaginative world. My dream is to create something like that.
7) Are locally created comics/manga popular in your place? Do you know any local creators?
I don't particularly know them in person, but there's a lot of creators in Indonesia. I'm friend with
Sweta Kartika
,
Tita Larasati
and I work with creators like winsoy.
"I wanted to use Italy and FIAT 500 in my manga."
8) How long did it take to create the Manga?
About two weeks, more or less.
9) Where did you find the inspiration for the entry?
No particular inspiration for the entry, I just let my imagination flow after seeing the theme. It was pretty inspiring itself, I would say.
10) Is any part of the story, based on an experience of your own?
Not really. But I always wanted to create something linked to "Taste" and "Memories".
11) Where does the story take place? Why did you choose that location?
The place is Italy. I wanted to set my entry in a country which reminds everyone of "wine". My first choices were Italy or France, but because I wanted to use the FIAT 500, I decided for Italy! 😃
12) The FIAT 500! Do you like that car?
Yes, I like its shape, it looks like a little bug. 😂 I find it very stylish and symbolic!
13) How the protagonist's girlfriend pass away?
I didn't think about that when I was drawing the entry. It's their 50th wedding anniversary so anything could happen during the years.
14) On the car, it says "Oggi sposi (Just married)". Is this their honeymoon?
Yes, it is! It's an important day for both of them.
15) Which SMA7 Award-winning entries do you like?
I like "Our Promised Land" by Zevania & Nattorin. It's so entertaining to read!
"I started creating manga in 2015 thanks to my manga studio friends!"
15) How/What you wanna create from now on?
I want to keep on challenging myself more and more. When I was a kid, I liked to draw because I thought it was fun, but then I left my passion behind. I started drawing manga again, all because of my friends at the studio. They give me new inspirations, and the passion to keep drawing. Now I won't stop anymore! It's super fun! 😁
16) What do you expect to achieve by taking part in SMACommunity – The readers, creators and the Japanese pro editors?
I'm still studying manga creation. I want to improve my drawings, and I feel that manga competitions are the answers. Well, who knows!
17) Anything else you would like to share with the community?
I think you guys are people with dreams and dedication. I want to be part of it.
---
Thank you, winggantara! You're already part of the world largest manga community in the world: SMAC! shares the same, strong passion for manga creation! We're hoping you will find in it your next source of inspiration! SMAC!, do you looking for the next inspiration for your manga? Start to draw your manga TODAY for SMA9! Now you can choose THREE themes:
FAIRNESS
,
RESPECT
and
TEAMWORK
!
Click the picture below and be part of the community! FEEL INSPIRED!
Inspiration can also come by reading other SMAC! creators' interviews! Look for all the
GOODMORNING MASTERCLASS
and
HELLO AWARD WINNERS
! interviews! The SMACommunity is becoming bigger and bigger day by day! See you very soon! Bye~!