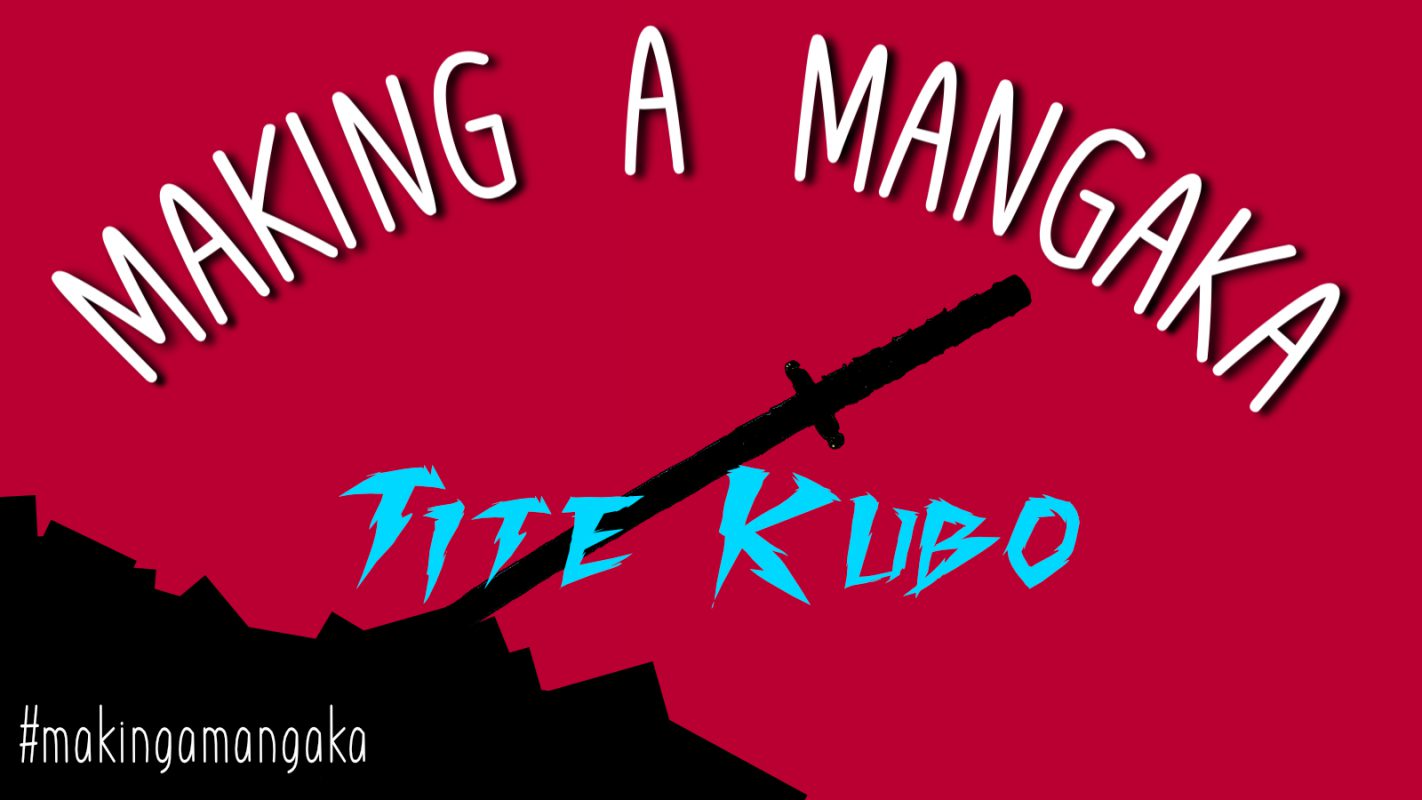 Making a Mangaka: #13 Tite Kubo
From battling the Weekly Shonen Jump deadline to defending humanity from evil spirits, this week's #MakingAMangaka knows well the struggle for success. This week, I plunge into the spiritual mind of Bleach author, Tite Kubo!
Name: Tite Kubo (久保 帯人 Kubo Taito)
Born: June 26, 1977
Place of Birth: Fuchū, Hiroshima, Japan
Speciality: Mixing together rare ingredients for manga!
ABOUT…
Born in Fuchū, Hiroshima Prefecture, Tite Kubo knew from an early age he wanted to be a manga artist. From the very moment he picked up a copy of Saint Seiya in elementary school, the aspiring mangaka focussed all his energy on his dream, despite protestations from his Town Council member father.
In 1996, Kubo submitted his first one-shot to Shueisha's Weekly Shonen Jump magazine. Though lacking the artistic flourishes of much of his later work, Ultra Unholy Hearted Machine firmly established his passion for intricate plots twists. The same year he produced the one-shot Rune Master Urara, with his next one-shot, Bad Shield United coming out the following year.
Kubo's first serialization, Zombiepowder debuted in 1999. Not only was this his first experience of manga success, it was also his first taste of the grueling workload required of serialized manga creators. Unaccustomed to weekly deadlines and the creator/editor relationship, the fledgling mangaka forewent his artistic instincts and relied wholeheartedly on his editor's input, putting a huge strain on his health in the process.
Running to only 27 chapters, Zombiepowder was cancelled a year later. Undaunted by the mistakes of his previous work, Kubo immediately began work on a new story, submitting to Jump soon after. Though initially rejected by Shueisha, Dragon Ball creator Akira Tariyama intervened upon reading the story, giving Kubo the chance to develop the story that would later become his biggest title to date.
Bleach burst onto the pages of Jump in 2001, becoming an instant hit for the iconic manga magazine. Originally envisaged for a 5 year run, the popularity of Bleach enabled the tale of a hotheaded schoolboy, turned Shinigami to run for a staggering 15 years and 686 chapters.
The success of Bleach catapulted Kubo into the big leagues. A career dedicated to further developing his hit creation soon followed, including contributing to the Bleach anime and live action movies, plus co-authoring a novel with Makado Matsubara for Shueisha's Jump Books imprint.
With the success of Bleach firmly established, Kubo has recently began work on a new one-shot for Shueisha. Debuting in the pages of Weekly Shonen Jump's 50th Anniversary issue, the highly anticipated Burn the Witch promised a return to form, with the tantalizing words "witches," "dragons" and "Reverse London." With more than a whiff of Hogwarts about it, we can safely say the "magic" is still with Tite Kubo.
The 50th Anniversary issue of Shueisha's Weekly Shonen Jump, featuring
Kubo's latest one-shot Burn the Witch.
MY THOUGHTS…
Tite Kubo is the archetypal mangaka. Driven by the urge to create from a very young age, the Hiroshima Prefecture native became a sponge for the stories around him. From the hugely successful homegrown manga of Japan to Hollywood blockbusters and sweeping sci-fi epics, Kubo approaches the creative process by cherry picking the themes and settings of established works, while firmly stamping his own unique take on the storytelling.
This sense of mashing together of genres was keenly exhibited in Kubo's serialized debut. Zombiepowder tells the story of John Elwood Shepherd and his band of miscreants as they search for the Rings of the Dead, powerful artifacts that can resurrect the deceased. With its mix of Spaghetti Western, dystopian sci-fi and occult magic, Zombiepowder garnered a lackluster response from Jump's domestic audience, perhaps because it relied too much on the dazzle of its setting, propped up with heavy violence.
With the hugely successful Bleach, Kubo had learned from the mistakes of Zombiepowder and created a work with a perfect balance of influence and originality. Taking his cue from Mizuki's folk infused masterpiece GeGeGe no Kitarō, the manga mixes liberal amounts of Japanese influenced mythology with the tried and tested "coming of age" fable. Coupled with a heroic mission and fault ridden characters, Bleach unleashed a fresh and exciting action story that perfectly resonated with its target audience.
The recent 61 page one-shot Burn the Witch, offers much the same. With heavy hints we are still in the universe of Bleach, the manga's protagonists take on roles almost identical to Ichigo Kurosaki and his comrades in the "Society". Universe building territory indeed!
With the release of the latest, live action adaptation of Tite Kubo's biggest manga breaking box office records, Japan is currently going through a Bleach retrospective. With worldwide sales of the manga reaching 120 million copies, Kubo can rest safe in the knowledge that through him and his work, the very influences the propelled his career will reach the world's manga creators of the future.
MANGA…
Ultra Unholy Hearted Machine – One-shot (1996)
Rune Master Urara – One-shot (1996)
Bad Shield United – One-shot (1997)
Zombiepowder (1999–2000)
Bleach (2001—2016)
Burn the Witch – One-shot (2018)