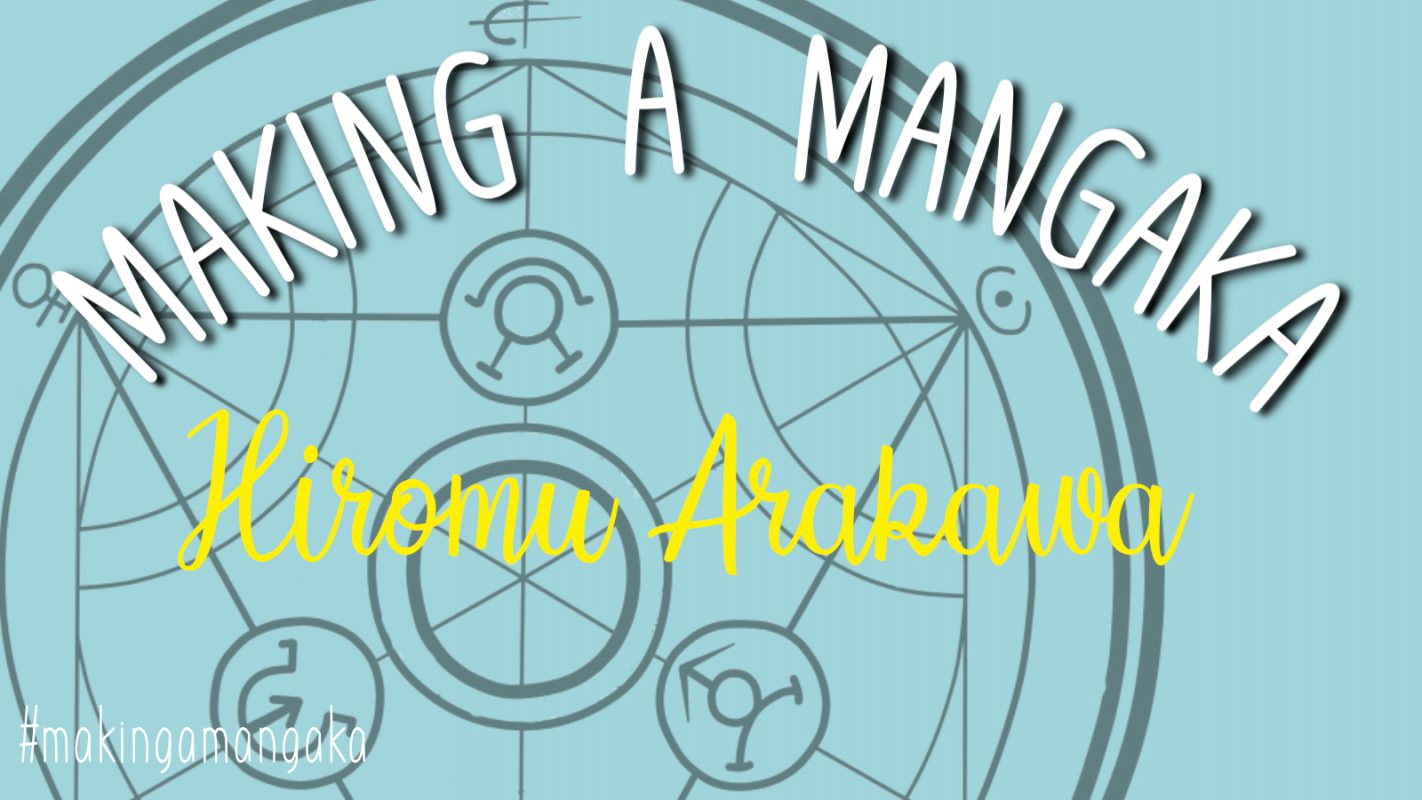 Making a Mangaka: #12 Hiromu Arakawa
From honest toil in the fields to creating one manga's biggest titles, this week's #MakingaMangaka is no stranger to hard work. With over 70 million volumes sold worldwide, the author of Fullmetal Alchemist has used her tireless work-ethic to achieve record breaking status. This week, I transverse the magical mind of Hiromu Arakawa!
Name: Hiromu Arakawa (荒川 弘 Arakawa Hiromu)
Born: May 8th, 1973
Place of Birth: Makubetsu, Hokkaido, Japan
Speciality: Social Justice Mangaka
ABOUT…
Growing up on a dairy farm in southern Hokkaido, Hiromu Arakawa is no stranger to hard work. Born into a large family, the future manga star was instantly gripped by the work of manga pioneer Suihō Tagawa, spending hours doodling away in her text books in an effort to emulate her hero.
After graduating high school, Arakawa began work on the family farm. Juggling cow milking duties with oil painting lessons, the need to create was never far from her mind. It was around this time that Arakawa started to get serious about making manga, forming a Dojinshi group with her friends while also submitting Yonkoma's for publication.
With her mind made up, Arakawa fully committed to pursuing a manga making career with a move to Tokyo in 1999. Assisting Hiroyuki Etō on his comedic fantasy adventure Mahōjin Guru Guru (Eng title: Magical Circle Guru Guru), Arakawa began her long association with publisher Enix's Monthly Shōnen Gangan magazine. The determined creator also saw her debut work, Stray Dog published the same year, winning her the 9th "21st Century Shōnen Gangan Award" in the process.
In 2001, Hiromu Arakawa's published her biggest title to date. Serialized till 2010, Full Metal Alchemist proved an instant hit with the readers of Monthly Shōnen Gangan, paving the way for global domination with record breaking sales. With its heady mix of the occult, fantasy and fascistic overtones, the manga firmly established the lass from Hokkaido into the Manga Hall of Fame.
Channelling the spirit of her farming forebears, Hiromu Arakawa ploughed on with her work schedule, despite giving birth to her first child in 2007. Foregoing maternity leave, the tireless creator went onto to create Hero Tales under the creative pen-name Huang Jin Zhou (a collaboration between Arakawa and studios Genco and Studio Flag).
With three works now running concurrently, Noble Farmer, Silver Spoon and Heroic Legend of Arslan, Arakawa has earned the respect of readers and contemporaries alike. With this earthy determination, Hiromu Arakawa will be making manga till the cows come home!
An a-moooo-sing upbringing. Flickr/Kabsik Park
MY THOUGHTS…
Hiromu Arakawa is a manga creator with a conscience. Heavily affected but the world around her, Arakawa makes good use of allegory in her stories, highlighting social issues such as oppression, discrimination, political intrigue and war. This social awareness, coupled with an expert execution of comedy has allowed her work to reach a huge and varied audience that spans the entire globe.
In Full Metal Alchemist, the Scarred Man, or Scar is perhaps her most complex character creation. Infused with hatred, the character is a manifestation of Arakawa's own feelings when dealing with her ancestral history. The Ainu, the indigenous people of Hokkaido were driven to near annihilation, an atrocity Arakawa's forebears took a part in. With their culture and language stripped away, the Ainu people represent a dark mark in Japanese history, but it was the discovery of certain Ainu helping to disenfranchise their own people that inspired the actions and mentality of this multilayered character. Enraged at the loss of his people to the powerful Alchemists, Scar uses their own alchemy to aid in his blood soaked quest to obliterate them from the earth. 
Arakawa also shows a fierce pride in her own upbringing. After the success of Full Metal Alchemist, both Arakawa and her editor wanted to explore her range as a creator, paving the way for the hugely popular, "slice-of-life" manga Silver Spoon and autobiography Noble Farmer. Both center on the life of a farmer, a profession she knows only too well.
In Silver Spoon, student Yuugo Hachiken abandons mundane suburbia, along with his disagreeable family for life at a fictitious agricultural college in Hokkaido. Whereas Noble Farmer offers a series of comedic vignettes of life growing up on a dairy farm, allowing Arakawa to not only speak from experience, but from the heart.
When it comes to creating manga, Hiromu Arakawa is an innovator with a strong, unwavering sense of what is right and wrong. Cherry picking the most interesting aspects of history and infusing them with a sense of social justice, she carries on a long and noble tradition of using the arts to make a point. Unafraid of shying away from her own ancestral past, Arakawa practices manga making with the steel will of the farming stock she hails from. Compared to the family business, serialized manga must be a walk in the park.
MANGA
Stray Dog (1999)
Shanghai Yōmakikai (2000)
Fullmetal Alchemist (2001–2010)
Raiden 18 (2005)
Sōten no Kōmori (2006)
Hero Tales (2006–2010)
Noble Farmer (2006–)
Silver Spoon (2011–)
The Heroic Legend of Arslan (2013–)