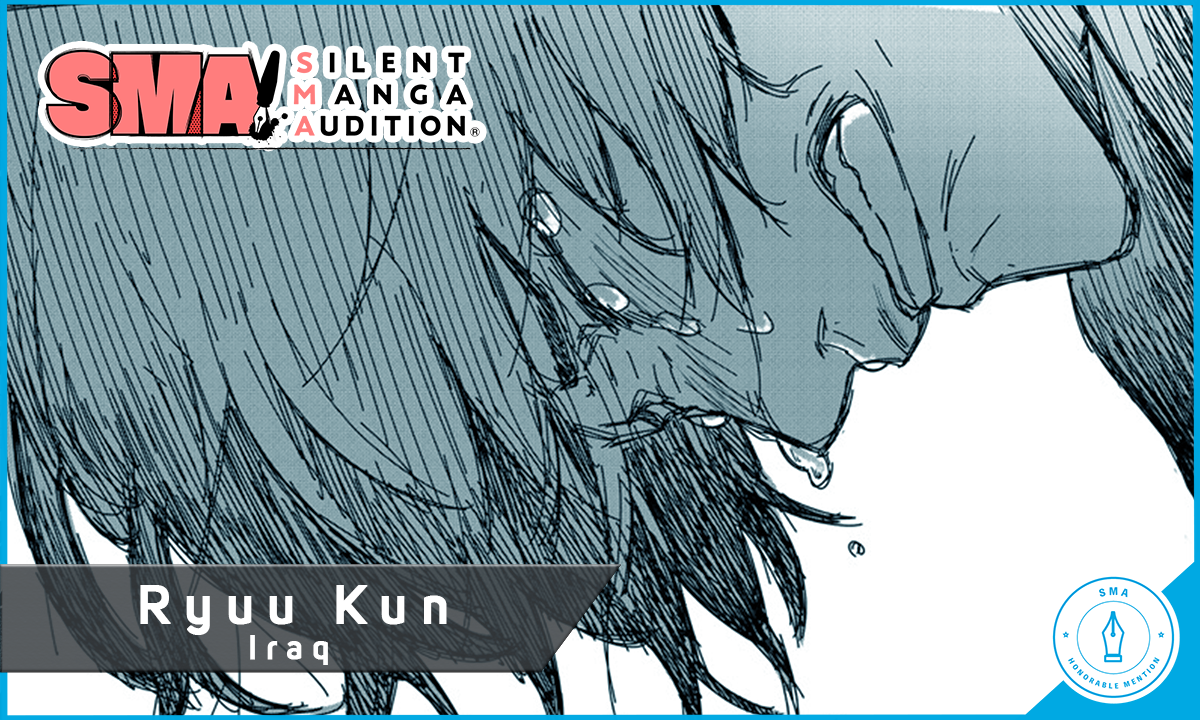 HELLO SMA19 AWARD WINNER, Ryuu Kun!
PROFILE
Pen Name: Ryuu Kun
Age: Mid-twenties
Country: Iraq
Favorite manga: Berserk, Goodnight Punpun, No Longer Human, Bakuman, ONE PIECE
Favorite movie: Hmmm maybe Control?
Favorite quote: "I'm responsible for my own happiness? I can't even be responsible for my own breakfast!" – BoJack Horseman

Entry title: "The End Is Where We Begin"
Round: SMA19: "Overflowing Tears"
Award: Honorable Mention
---
"Pick up your pencil and start drawing!"
About SMA
How does it feel to receive a SILENT MANGA AUDITION® award?
Since it was my first time winning, I felt happy and grateful that my work finally got recognition, but I wasn't really satisfied either because I haven't done well enough to win one of the highest prizes.


What was the inspiration behind your awarded work?
I guess art in general! I have always viewed art as a way of letting sad or unwanted feelings go, I thought maybe to free the protagonist from his sorrow and pain is to go with painting.

What challenges did you face while making your manga? How did you overcome them?
Time management! It was really hard to manage my time for drawing my entry while working on many other projects at that time, but I'm happy it paid off.
READ Ryuu Kun's SMA19 ENTRY HERE!

---
About your Manga


How and when did you start making manga? Any advice for beginners?
I started making manga around 2019, and my first manga was an entry for SMA too!
My advice would be to learn the fundamentals and copy from good artists first, then start making your own stuff.
Do you draw your manga digitally or by hand? What are your go-to digital or analogue tools?

I draw digitally on my laptop along with a Huion Kamvas Pro 22, and I use Clip Studio Paint.

What was the first manga you picked up?

Liar Game.
Which manga changed your life?

Bakuman
for sure, and
Berserk
too.
Which manga character do you most identify with? Why?

I would say Punpun, mostly because I'm a bit shy and don't talk much.
What kind of manga do you want to make next?

I want to create dark themed works like Usamaru Furuya-sensei's; I'm obsessed with all of Furuya-sensei's works.
---
About you

What do you do when you're not making manga? How do you relax?
I don't have much to do, so I just play video games mostly. I'm playing
Yakuza
right now. 
What industry do you work in (if manga making isn't your primary job)?

I used to work as a webcomic artist.
Where do you see your manga career in 5 years time?

It's hard to answer, but I hope I'll be able to publish the story I always wanted to tell.
What manga making advice would you give to your younger self if you could?

Pick up your pencil and start drawing; it doesn't have to be perfect. And don't be afraid of making mistakes.
What advice would you give to people entering the SILENT MANGA AUDITION®?

Give the winners' entries a read and try to figure out why the judges picked them. Stick with the theme of the contest and never make a complex story. Good luck!
---
Thank you, Ryuu Kun! We're eagerly expecting your next manga masterpiece!
There's time until December 4th to join SMA20 and have a chance to develop your potential as a manga creator with us in Japan!